How To Tip Your Food Delivery Driver & Make Sure They Get The Cash They Deserve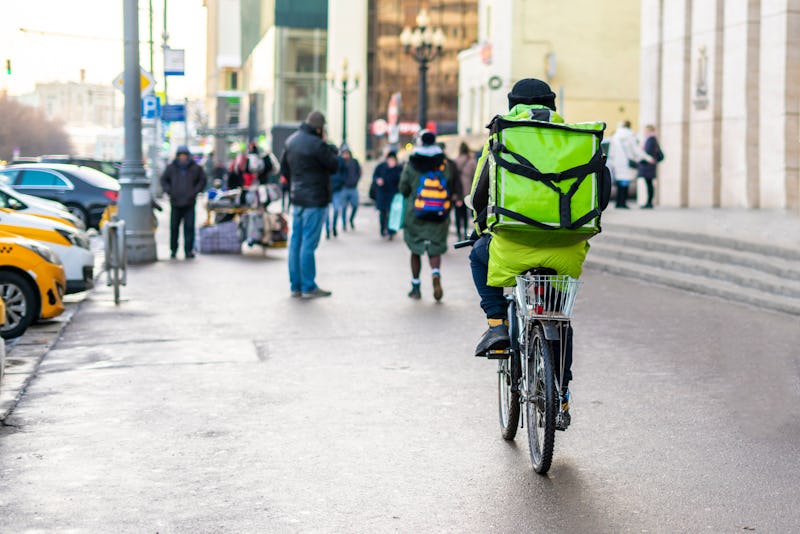 Shutterstock
If you've ever used a food delivery app, you know they're basically a saving grace. After spending just a few minutes ordering on your phone, your fave food shows up at your doorstep — usually within minutes. Recently, though, these apps have been getting some negative attention, especially after a July 21 New York Times article laid bare some of the tipping issues delivery app workers deal with. If you're curious about how to tip your food delivery drivers in light of these conversations, there are several guidelines you can use to make sure you are properly compensating people.
The author of the aforementioned New York Times article, Andy Newman, began working for several popular food delivery apps to explore what it's like to be a food delivery person. In the process, Newman found that one of the apps — DoorDash — was using tips to subsidize its workers' pay.
For example, if DoorDash promised to pay a delivery person $6.85 for one delivery and that person received a $2 tip, they would still only receive $6.85 total in compensation, Newman explained. $4.85 would be supplied by DoorDash and the other $2 would come from the customer's tip. If the customer didn't tip anything, then DoorDash would pay the entire $6.85 amount it guaranteed the delivery person for the order.
As Slate reported, after outcry following the publication of the New York Times' article, DoorDash changed its policy. "Going forward, we're changing our model - the new model will ensure that Dashers' earnings will increase by the exact amount a customer tips on every order," DoorDash CEO Tony Xu wrote on Twitter on July 24.
In addition to prompting changes from DoorDash, the New York Times piece has also sparked a larger conversation about how to appropriately tip food app delivery workers. Ahead of your next order, it's helpful to keep these four tipping suggestions in mind.