Here's How You Can Track Hurricane Irma, The Next Major Storm Heading This Way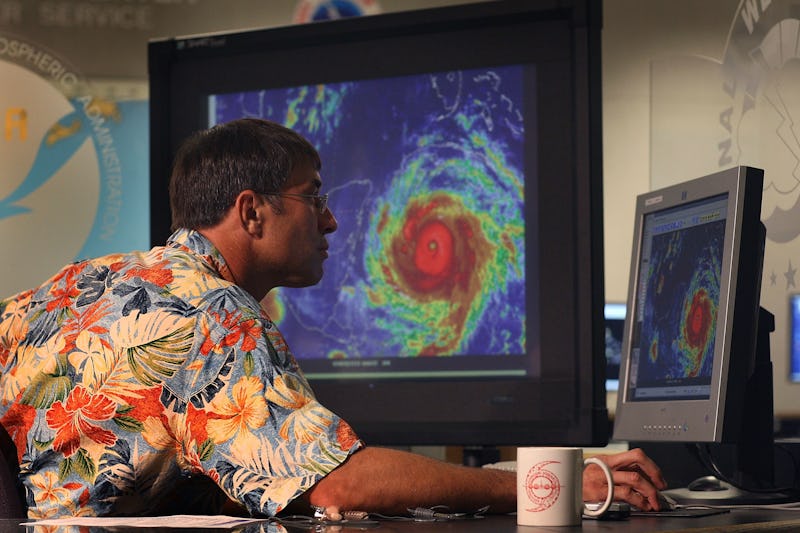 Joe Raedle/Getty Images News/Getty Images
Texans are still responding to Hurricane Harvey and floods of historic proportions, but another storm is already making its way across the Atlantic. If you're concerned about yet another natural disaster hitting the United States before the dust from Harvey has even settled, here's how you can track Hurricane Irma.
Hurricane Irma may affect U.S. residents, but don't panic just yet: Meteorologists say it's too soon to tell where and if it will make any significant impact on the United States. Hurricane Irma, currently classified as a Category 3, has the potential to reach Category 4, like Harvey did, when it reaches peak intensity. Weather experts estimate it will arrive to the Caribbean Sea in the middle of next week. They warn that residents of the eastern Caribbean islands, the Lesser Antilles, should closely monitor Hurricane Irma's progression.
Irma is known as a Cabo Verde hurricane, a tropical Atlantic Ocean hurricane that's formed in low latitude. Only 15 percent of Cabo Verde hurricanes strike U.S. land, the last "noteworthy" ones being Ivan in 2004, Isabel in 2003, and Georges in 1998, said scientist Michael Lowry of the University Corporation of Atmospheric Research.
The intensity of Hurricane Irma could fluctuate, but AccuWeather reports conditions are favorable for tropical development and this heightens the threat Irma could make to the Caribbean and United States. Steering winds could potentially guide the storm to Puerto Rico, said meteorologist Brian Thompson. If you want to track Hurricane Irma, here are four outlets you can use: