Here's How To Keep Track Of Hurricane Maria As It Tears Through The Caribbean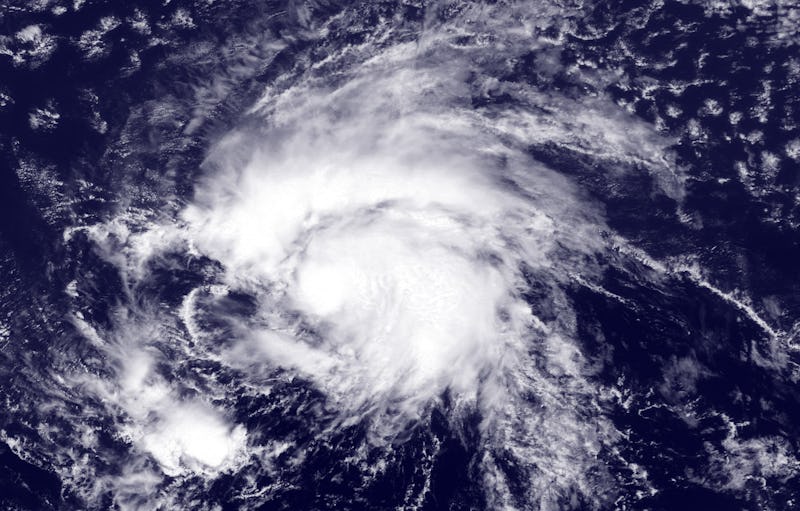 Handout/Getty Images News/Getty Images
If anything's been consistent over the past month, it's been the extent to which a sizable portion of the national consciousness has been taken up by one hurricane after another, as they slowly make their way through the Carribbean towards the east coast of the United States. In some cases, like Hurricane Harvey and Hurricane Irma, they've made landfall, battering the states of Texas and Florida respectively with severe winds, flooding, and damage. But will the next one follow suit? Here's how to track Hurricane Maria, because it's still pretty unclear just what will happen over the next several days.
There are some very simple, reliable, dedicated resources out there to help you stay on top of the situation. The folks at the National Hurricane Center have been monitoring each and every one of the recent spate of tropical storms and hurricanes, and offering their best predictions and forecasts on what paths they'll take.
It's been a busy month for them, no doubt about it. In the past month alone, the NHC has had to keep an eye on a slew of hurricanes: Harvey, Irma, Jose, Katia, and now Maria. There's also a tropical depression named Lee lurking further out in the Atlantic, but it's Maria that's the chief issue in the days to come. According to the agency's forecast, it could make landfall in Puerto Rico as soon as Wednesday morning, and it's currently classified as a Category 4 hurricane.
The best way to track Hurricane Maria as it makes its way through the Carribbean, assuming you're not able to stay glued to a television screen with updates playing 24/7, is to pay an occasional visit to the official NHC website to see how its projections are looking. The site breaks down each individual storm, and includes both two-day forecasts and five-day forecasts.
Needless to say, the two-day forecasts are more reliably able to predict what's going to happen than the five-day ones, though as a means to stay informed and prepared in the event the worst happens, both are hugely valuable resources.
As far the immediate impact of Maria is concerned, the Leeward Islands and the U.S. territory of Puerto Rico looks to be at great risk. According to The Weather Channel, it could even strengthen into a Category 5 by the time it's expected to hit Puerto Rico on Wednesday morning.
The various categories fall on the Saffir-Simpson hurricane scale, and they relate to the wind speed of a storm. Category 4 storms have wind speeds from 130 miles per hour to 156 miles per hour. The most severe classification, Category 5, requires wind speeds in excess of 156 miles per hour. For a sense of perspective, Hurricane Irma was at one point a Category 5 storm.
It's too early to say with exact precision what route Hurricane Maria will take, although luckily for residents of the American southeast, the most recent NHC projections have it curling northwards before reaching the coast. That won't help matters for residents of Puerto Rico, however, who now likely have less than 48 hours until Maria reaches their home. It remains to be seen how well the island will stand up to the impact of the storm; when Irma was moving through the Caribbean, it missed Puerto Rico narrowly, passing about 50 miles to its north.