How You Can Track The Southern California Wildfires Ripping Across The State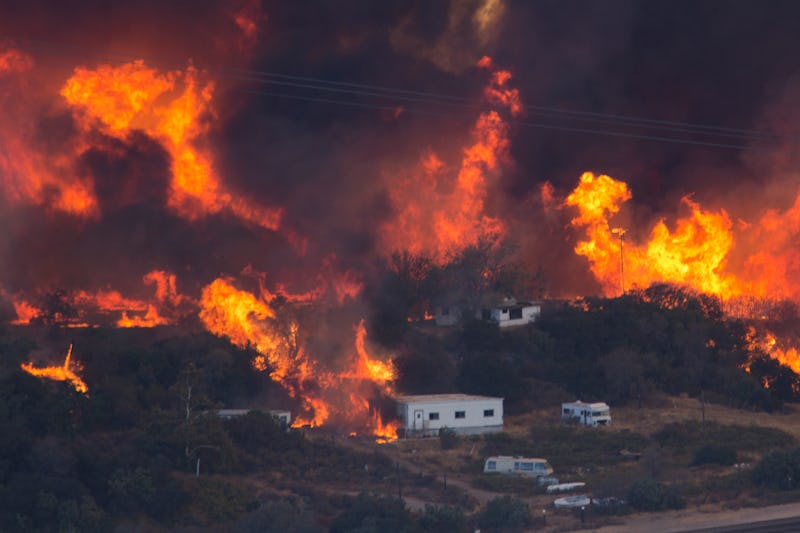 David McNew/Getty Images News/Getty Images
Extensive flames have engulfed large sections of Southern California, causing acres of damage and forcing hundreds of thousands of residents to evacuate. On Wednesday, a new fire bubbled up in the middle of Los Angeles, raising the number of active fires across the state to five. Because the unpredictability of wildfires often results in people fleeing with little time to prepare, tracking the Southern California wildfires could be useful for anyone in the area, or for anyone concerned about loved ones in the area.
Los Angeles Mayor Eric Garcetti has declared a state of emergency for two of the fires, one dubbed the Skirball Fire and the other the Creek Fire. The California Department of Forestry and Fire Protection (CAL FIRE) has created an online map showing where all the fires are located. Graphics of red flames indicate an active fire and blue flames symbolize contained fires, and the department provides information on where they're located and to what extent they're contained.
Public radio station 89.3 KPCC also created an online tracker. You can click on an individual fire to see how many acres have burned and what state and local resources have been deployed to help.
Another option is following live updates from news organizations such as the Los Angeles Times and CNN. As the local paper on the scene, the LA Times is constantly updating its wildfire thread with the latest. One such update from The LA Times' Alene Tchekmedyian, Joseph Serna, and Sarah Parvini read:
A red-flag warning has been extended through Saturday across much of Southern California as firefighters struggle to get a handle on several wildfires raging across the region. The warning, which indicates extreme fire danger because of gusty winds and low humidity, will be in effect through Saturday in Los Angeles and Ventura counties, where fires have scorched more than 80,000 acres and destroyed many homes.
The LA Times is also on top of public warning from the California Highway Patrol informing people what roads to avoid. Parvini, Louis Sahagun, and Cindy Carcamo wrote Thursday morning:
The return of powerful winds Thursday pushed the destructive Ventura County fire closer to several communities, prompting new evacuations. Communities both on the coast and inland were under threat. At 4 a.m., officials closed the 101 Freeway between Routes 126 and 150. According to the California Highway Patrol, that left no open routes between Santa Barbara and Ventura counties. The freeway was reopened around 7 a.m.
CNN is also providing live updates on the multiple fires enveloping Los Angeles, giving a quick synopsis of each major fire:
The Thomas Fire: The wildfire burned about 90,000 acres in Ventura County and forced more than 50,000 people to evacuate.
Skirball Fire: The brush fire scorched at least 475 acres near the Getty Center in Los Angeles and forced tens of thousands of residents to evacuate.
Other fires: The Creek Fire and Rye Fire scorched more than 18,000 acres combined in Los Angeles County.
CNN's latest update on the Thomas fire explained that it's expected to continue expanding for another day.
At least 2,000 firefighters tackled flames as the fire spread northeast toward Ojai on Wednesday. The fire has destroyed at least 150 structures. Ventura County Fire Department officials said the fire could grow significantly in the next 24 to 48 hours.
As always, watching the local news is a good way to get updates if you live in the area. You can also sign up to receive text alerts from CAL FIRE, as well as follow CAL FIRE's Twitter, Facebook, and Instagram accounts to stay up to date on how each fire is progressing.