The New iPhone Will Have The Ability To Contour Your Face Even Better Than A Kardashian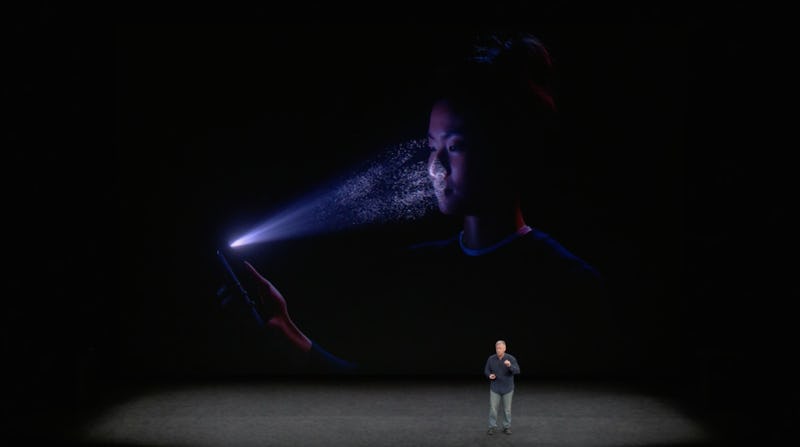 Forget those Youtube contouring classes with Kim Kardashian my friends. Now, thanks to the geniuses over at Apple, the latest advancements in contouring technology has arrived in the form of the new iPhone 8 and iPhone 8 Plus. That's right fellow selfie-lovers, your photos just got a whole lot brighter — I mean better — with the announcement of the latest iteration of iPhones on Sept. 12. The iPhone 8, iPhone 8S, and iPhone X will all include something called contour mode, which when used will make your photos look even more professional.
Made from "the most durable glass ever found in a cell phone," the cameras in the latest iterations of iPhone have been improved upon once again to reflect high definition and color accuracy in each photo you take.
"Perhaps the most beloved feature of every new generation of iPhone is the camera," Phil Schiller, Senior VP of Marketing for Apple said on Sept. 12 from Apple's new HQ in Cupertino, California. "People love taking photos." Tell us something we don't know, Phil. But really, the big news here is that once again Apple knows what up and is giving the people what they want. Better selfie potential with new improvements to the portrait-mode feature.
According to Schiller, the new iPhones camera's will have better color saturation, a better dynamic range and better pixel processing for sharpness and texture in each image. Additionally, iPhone 8 Plus has not one but two new censors as well as dual camera lenses including a wide angle with an f-1.8 aperture and optical image stabilization, and a telephoto lens with a f-2.8 aperture. Now that may not mean much to non-photo nerds, but basically, it means you can adjust to different lighting scenarios easier take higher quality photos.
The 8's portrait mode which was also improved upon from earlier iterations of iPhones, will use the camera's wide angle and telephoto lens as well as feature a 12-megapixel censor. "The point of it is to enable and entirely new experience," Schiller said.
Last year, iPhone 7 users were introduced to "portrait mode," which is one of the coolest in-camera features to date. Banking on that success, iPhone 8 Plus has improved on it once again, by enabling the camera to brighten the background and even the lighting on the subject itself. The new feature is called "Portrait Lighting," will use the cameras multi-focus feature to separate the subject in the shot aka you from while gently blurring out the background much like it did before. However the big difference here is that now using portrait mode, the camera will examine the contours of your face and adjust accordingly.
While the feature is still in beta, the idea behind it is you will take your photo in portrait mode and the dual cameras and the ISP will sense the scene, and map the subject from the background to create facial landmarks that actually work to change the lighting of the contours over your face. This all happens in real time as you compose your shot, Schiller demonstrated on Sept. 12.
There's even a new menu for you to select different effects depending on what you want to shoot. "These aren't filters," Schiller explained. "This is real time analysis of light on your subjects face. You can go in later and change the lighting effect depending on which one you want to use on your photo.
Video capture is another feature with improvements. According to Schiller, "iPhone 8 has the highest quality video capture ever in a smart phone." The video feature has been optimized once again to capture higher quality images at a faster rate. Taking things one step further, the iPhone 8 will even include a new video option in the way of Augmented Reality (AR) to look at real time graphics and information say for instance like calories in that Weight Watchers dish or sports stats just by holding your phone up to the image in question. Pretty exciting stuff.