Instagram Launched A "Close Friends" Feature To Keep Your Stories Private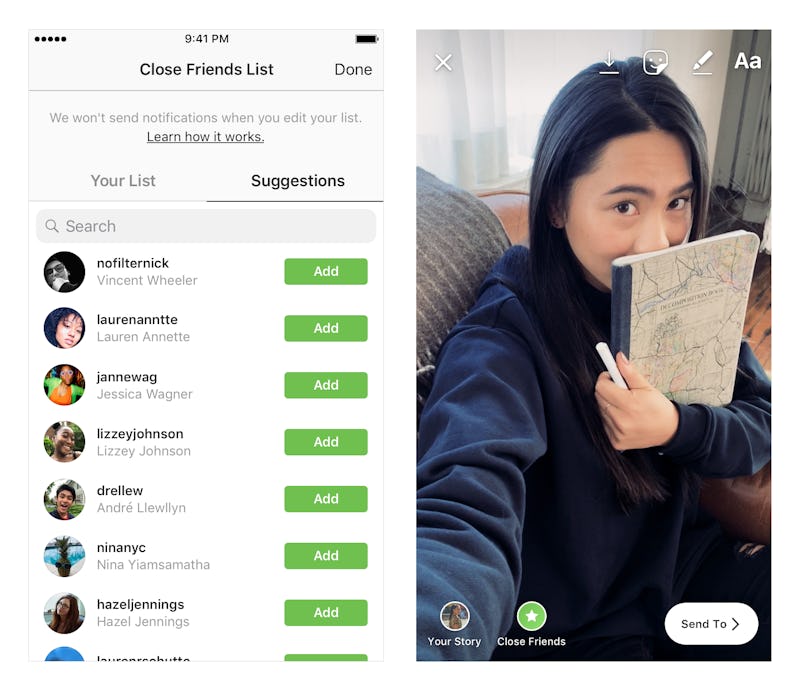 Instagram
Friends are great, but not all friends are the same. It's just a fact that we all know and accept. And now, Instagram has added a new feature that lets close friends interact without involving everyone else. On Instagram, users can now keep Instagram Stories private using Close Friends, an appropriately named setting that allows you to share Stories with only a select group of people. This means there's no need to worry about exes, bosses, or that friend of a friend who insisted on exchanging handles viewing your Stories if you don't want them to.
To use Close Friends, you first have to make a list of which friends are your "close friends." Kinda takes you back to the MySpace Top 8, doesn't it? (Don't worry, no one will see who you choose this time.) To make the list you go to your profile and in the sidebar click "Close Friends." After adding your friends to the list, when you share a Story, you'll have the option to share it with only your Close Friends. When you post a Story, the people on your list will see a green ring around your profile photo instead of the usual purple and orange ring. They will also see a green star badge when watching your Story.
Of course, this all also works in the other direction too. If you have been added to someone's list, you'll start seeing a green ring around their Stories if they post one that is shared with their list.
You can change your list at any time and users cannot request to be added. This way no one who is not on your list knows if you even have one. That said, if you add someone to your list, consistently post Stories that they can see for six months, and then remove them, they'll probably get suspicious. Also, in another potentially awkward social media meets social reality situation, someone could in real life request to be added to your list, leaving you to confirm or deny them in person or say something like, "Oh, yeah. I'll add you later. My battery's super low."
In a press release about the feature, which was launched on Friday, November 30, Instagram explained that the point of Close Friends is to make things more personal in a way that they might have been when many users first joined the app:
Instagram Stories has become the place to express yourself and share everyday moments, but our community has grown and sometimes what you want to share isn't for everyone. With Close Friends, you have the flexibility to share more personal moments with a smaller group that you choose.
The update is reminiscent of Snapchat, which lets users choose who they are sending each post to. Instagram's Close Friends doesn't offer as much flexibility — at least not yet. There is only one pre-set, but adjustable, list, which means that you have to go through multiple steps if you only want, say, three people to see your Story, rather than the six you tend to keep on your list. Perhaps in the future Instagram will add a setting for multiple lists where users can have one for close friends, family, coworkers, etc. For now, though, users can rest easy knowing that they can get a little more expressive with their Stories.