Lush's Newest Product Lets You Paint IN Bubbles, So Bath Time Just Got Even Better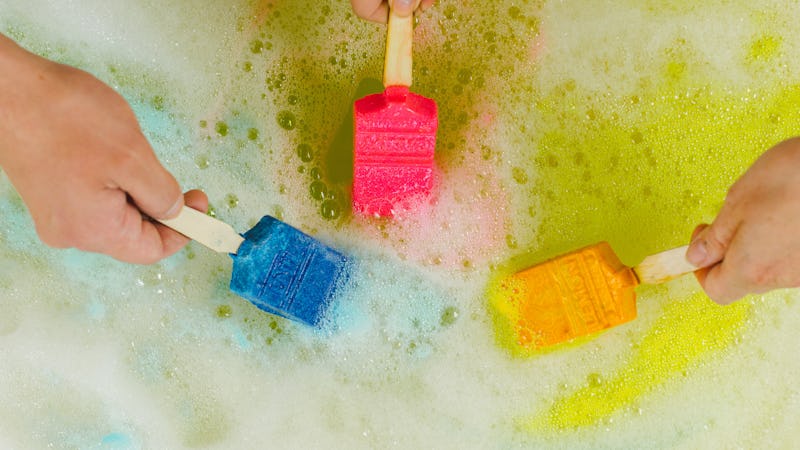 Courtesy of Lush
Bath time is always a good time when Lush products are involved. The skin-pampering tub treats beautify and scentify the water, transforming your bathroom into a spa-like retreat. Lush's Bubble Brushes are the brand's latest innovation and they are as playful as they are pretty. They also look like yummy albeit inedible popsicles — complete with biodegradable sticks.
The paint brush-shaped bubblers allow Lushies to exercise their creativity, too. You are so about to up your #bathart game to utterly epic levels since basically paint with the bubbles. Bubble Brushes come in pink, blue, and yellow and you can create bath-terpieces! The treats add pops of color to the water while you soak. You can draw designs or leave behind messages for your loved ones in your bath water. #Romance
Lush is also dropping a Bubble Blower and it's a modern update to one of your fave childhood toys. It's constructed of wood rather than plastic so there's no waste after you are done playing with it. It can be composted immediately after use, too.
The Bubble Brushes and Bubble Blower arrive at Lush boutiques and the brand's site on Friday, Aug. 24.
While most Lush products usually function as part of your relaxing rituals, these bubblers turn tub time into a party.
You can indulge you inner Picasso or Da Vinci while you slip under the bubbles.
Look — it's art! You will heart bath time even more, thanks to the latest Lush-novations.
Here's a rundown of new Lush-iousness. Considering it your shopping list before you head to your local Lush location to stock up!
1. Candy Bubble Brush
2. Lemon Bubble Brush
3. Mint Bubble Brush
4. I'm Forever Blowing Bubbles
5. Pink Petitgrain Bubble Spinner
These Bubble Brushes and Bubble Blower don't simply you to indulge your fancy-free side all the while softening your skin and filling the air with super yummy fragrance. They'll take you back to a simpler, easier time. They are the perfect way to spend a Friday evening and to cap off a busy work or school week.
Enjoy a deep dip in the tub and draw swirls, hearts, stars, the name of your beloved, messages of hope and positivity, or whatever doodle you wish while rinsing away the stress of the day.