Here's How To Use Snapchat Now That It's Been Completely Redesigned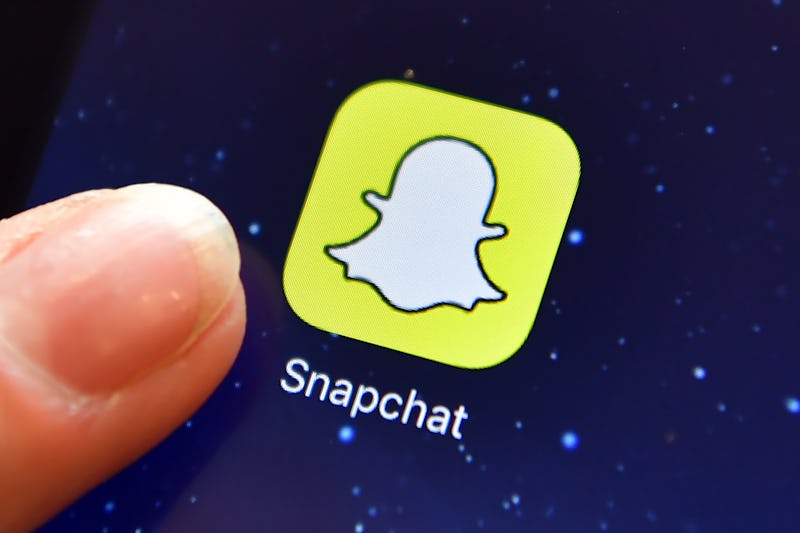 Carl Court/Getty Images News/Getty Images
If your phone's operating system has been updated recently, you might have opened up Snapchat to find a little update. The social media platform famous for stories and snaps with a life span of seconds to 24 hours has done a little redecorating in its app. If you're turned upside down and inside out over the new Feng shui of Snapchat's design, we'll fill you in on how to use the Snapchat update. Change is hard, I get it. But as humans we naturally adapt and this is a redesign you can totally conquer.
While it can take some getting used to, this update is ultimately for the best in terms of streamlining the app. As a a spokeswoman for Snapchat tells Bustle, "Updates as big as this one can take a little getting used to, but we hope the community will enjoy it once they settle in." Additionally, the new design was announced a while ago, on Nov. 29, 2017. Now, it's beginning to roll out globally.
Because the first wave of updates has officially started to roll out across the UK and US, we can at least be prepared. Knowing how to use the new design will ease the experience of using an updated app. I promise you that it's not that difficult to grasp. Just a few new swiping steps to reorient yourself is all! And then you can go back to your regularly scheduled Snapchatting.
How To Locate Your Friends' Stories
This is just slightly different: Swipe left to find your friends. All of them. In one place. There lives the friends page — and instead of just listing your chats, the page will now include Snap story updates from friends you follow as well.
You'll be able to tell your friend has a story to watch when their icon is highlighted by a blue ring, and you'll be able to watch it by tapping as you normally would. To rewatch a story, Snapchat's support page advises, "Tap a Bitmoji on the Friends screen to view their profile, then tap their circular Story to watch."
Swipe Right For Discover Page
When you swipe right, you'll find the Discover Page. It will still be full of content from brands and companies, including Snapchat made shows.The Daily Mail reports that Snapchat CEO Evan Spiegel has said about the redesign, "Your friends aren't content, they're relationships. We're reorganizing Snapchat around your relationships to make it more personal." That makes sense. Instead of sifting through stories and content, what's distinct is branded content and your interaction with friends.
How To Send A Snapchat To Friends And Create Stories
The app will open up to a camera, as per usual. But the "Send To" page might look different. A new algorithm helps organize who your "best friends" are and you'll find they're always at the top of your "Send To" page. You'll also be allotted up to 8 best friends that you can easily chat and snap with at any time.
The Snapchat support page directs users to the top of the "Send To" page to create their own stories.
How To Access Your Profile
You'll be able to access your profile through the icon in the top left corner of your screen. Once on your profile page, you'll be able to update your story, add new friends and manage your settings. You'll have the ability to delete snaps from your story and see who has viewed your ~surely~ award-winning 30 second story.
See? It's really not terribly difficult to figure out. Before you know it, you'll be connecting to friends through Snapchat like this update is the new normal. My advice? Have fun exploring the redesign.