Will Controversial Drama 'A Million Little Things' Be Aired In The UK?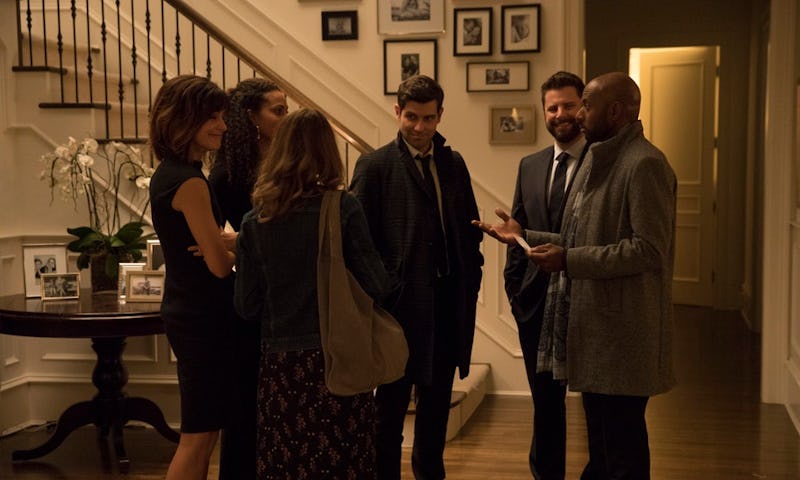 Jack Rowand/ABC
After the international success of U.S. family drama and certified tearjerker This Is Us, it's little wonder that other new shows are attempting to mine a similar vein. One example? ABC's A Million Little Things. The show centres on a social group in the aftermath of one friend's startling suicide; recognisable faces in the cast include Night School's Romany Malco, Battlestar Galactica's Grace Park, 13 Reasons Why's Allison Miller, and Ron Livingston of The Conjuring. Viewers on this side of the pond might be wondering how to watch A Million Little Things in the UK; the answer, however, is likely to disappoint.
According to Geektown, no UK broadcaster has picked up A Million Little Things to date. It's not available on any UK streaming services, and while episodes are listed for purchase on Amazon, they're only able to buy for those with a U.S. billing address. ABC's streaming service, ABC Go, isn't accessible to UK viewers. It's likely, however, that if the show builds up steam in the U.S., a UK channel will snap it up, just as Channel 4 did with This Is Us. And some early reviews of A Million Little Things have been positive: TV Insider called it "ABC's tear-stained and soapily addictive answer to This Is Us," while Collider said the show has "the potential to stand on its own as a solid slice-of-life drama."
But A Million Little Things has also met with considerable criticism, particularly concerning the series' use of suicide. Claire Fallon, writing for the Huffington Post, points out that the show's central narrative thread — Jon's friends and family attempting to discover why he killed himself — is overly simplistic, noting that "suicidal ideation is rarely simple or reducible to one reason such as a straightforward wrong done to someone." Fallon also comments that the show, by suggesting Jon's death is the reason for Rome's survival, "manages to cast Jon's death in a hazily noble role" — a deeply problematic presentation of suicide.
For Variety, Daniel D'Addario writes, "Moments in the pilot hint that we'll eventually come to learn the thing that "pushed Jon over the edge." For the sake of not glamorising a public-health concern, I sincerely hope we don't." And in the New York Times, Margaret Lyons criticises A Million Little Things' depiction of suicide as "some beautiful mystery to be examined," adding that "the show approaches Rome's depression and despair as quirky traits rather than devastating, life-threatening conditions that require immediate and persistent attention."
A similar debate emerged upon the release of Netflix's 13 Reasons Why, which, like A Million Little Things, focuses on the aftermath of a central character's suicide and the motivation behind it. Both shows depict suicide attempts on screen, which, as Zoe Williams writes in the Guardian, violates Ofcom guidelines.
Similarly to 13 Reasons Why, A Million Little Things presents Jon's suicide as a puzzle to be solved. Williams explains of the former, "13 Reasons Why breaks the cardinal rule: don't look for external causes or circumstances that could happen to anybody when you're dealing with suicide. The important thing is not to present it as a reasonable, if extreme, response."
As Bustle notes, the show's creators have denied that the show romanticises suicide, or approaches it irresponsibly. Speaking at the 2018 Television Critics Association Summer Press Tour, as the Los Angeles Times reports, executive producer DJ Nash said, "We're not romanticising the story; we're telling it in an authentic way." He continued, "If anything, it's a cautionary tale of what can happen. It is something we take unbelievably seriously." While subsequent episodes of the show might come to more closely reflect the creators' intentions, however, early reviews of A Million Little Things suggest viewers should approach with caution.
If you or someone you know is experiencing suicidal thoughts, call the Samaritans on 116 123 or email jo@samaritans.org. You can also reach out to Switchboard, the LGBT+ helpline, from 10 a.m. to 10 p.m. on 0300 330 0630.