Don't Worry, You Can Watch BBC Radio 1's Biggest Weekend & Avoid The FOMO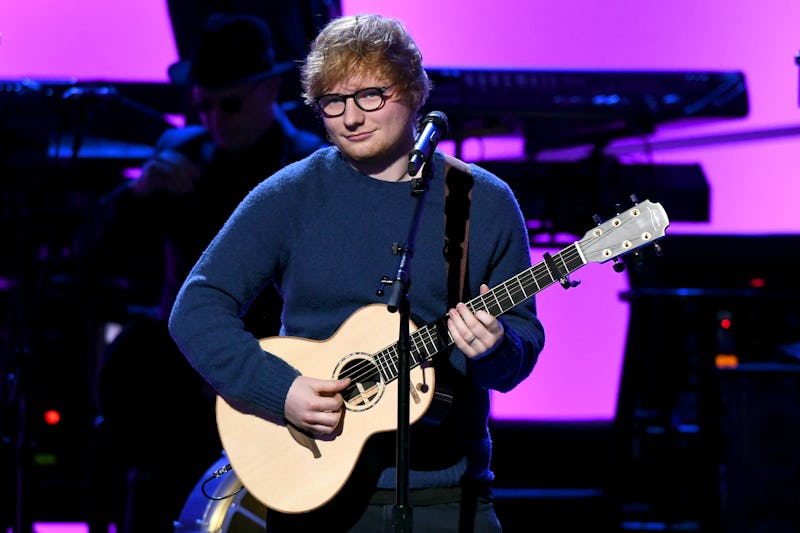 Noam Galai/Getty Images Entertainment/Getty Images
BBC bosses deserve a round of applause. They've managed to round up Taylor Swift, Ed Sheeran, Liam Payne, Sam Smith, and Craig David to keep us entertained this Saturday and Sunday at its epic May festival. But did you remember to bag yourself a ticket? No? Well, chin up because we've got you covered with this little guide on how to watch Radio 1's Biggest Weekend without actually being there.
Expect a little something for all music tastes from the multi-city, two-day extravaganza, from nostalgic '80s greats through to contemporary pop gems. While the Biggest Weekend Coventry is a slightly more guitar-centric offering, with Liam Gallagher, Stereophonics, and Snow Patrol on the bill, the Belfast edition is the most edgy event, with the likes of Beck, Franz Ferdinand, and The Breeder all set to hit the stage. Over at the Biggest Weekend Perth, Simple Minds, Jamie Cullum, and Noel Gallagher's High Flying Bands are headlining, but surely it's Swansea that's really worth tuning into. As well as headliners Swift and Sheeran, there's Demi Lovato, Florence + The Machine, Rita Ora, and Camila Cabello. Check out the awesome full line-up here.
Now, before you start kicking yourself for not getting a ticket, you can tell your FOMO to jog on, because here is a complete guide to making sure you don't miss a thing this weekend.
Watch Live On BBC One, BBC Two, & BBC Four
Thanks to TV, you won't have to miss out on watching any of your fave acts. The BBC will be broadcasting performances from all four locations across the weekend.
Hosted by Graham Norton, BBC One will air live from Swansea across both days when Sheeran, Swift, Jess Glynne, and others take to the stage.
Meanwhile BBC Two will feature headliners Florence + The Machine and Sam Smith in Swansea, Emile Sandé and Noel Gallagher's High Flying Birds in Perth, along with Liam Gallagher in Coventry.
On BBC Four, there will be coverage across all four locations, including highlight performances from Chvrches and Wolf Alice in Swansea, and Simple Minds in Perth. The channel will also air some of the classic heritage artists performing in Coventry such as Billy Ocean, Snow Patrol, and local legends The Selecter.
Watch on BBC One, BBC Two, and BBC Four.
Catch Up On iPlayer
If you're out and about during the weekend or don't fancy tuning in live for whatever reason, then God bless iPlayer, as they will be streaming over 120 hours of music and performances to choose from. The Biggest Weekend website already has a load of video content to prep you for the big event. And when the time comes, just check out iPlayer and use the search box to find any events you want to stream.
For more information on scheduling, click here.
Watch on iPlayer.
Catch Up On iPlayer Mobile
If you're more of an on-the-go kind of gal, then worry not, you can also watch the coverage while on the bus, alongside cooking your dinner, or even in the bath via your smartphone or tablet. The iPlayer app will have all the same coverage as the website and you can stream it directly from your device. If you've not used the iPlayer app before, then find out what devices it is compatible with and how you can use it here. Alternatively, simply download it from the app store.
Find out more about the iPlayer mobile coverage.
Listen On BBC Radio
If you're probably not going to have the chance to tune in and watch any of the performances but wouldn't mind lapping up a little bit of the atmosphere, then why not tune into the audio coverage? You could get the radio going while you soak up some sunshine in the garden or pop it on in the car. BBC Radio 1 will be airing live from Swansea on Saturday and Sunday. Meanwhile, Radio 2 will bringing listeners backstage interviews from 3pm onwards across both days, with the likes of Claudia Winkleman and Sara Cox at the helm.
Elsewhere, Sean Rafferty be airing highlights and interviews on Radio 3 from Perth, where the station will have its own stage set up. Expect clips from the festival to be broadcast throughout the week. And it'll be Lauren Laverne kicking-off Radio 6 Music's coverage from 10am onwards over the weekend.
Find out more about the radio and audio coverage.
So there you have it, the many different ways you can watch the action, either live or at a time that is convenient for you. Happy tuning in.