How To Watch Cynthia Nixon's First TV Interview Since Declaring Her NY Governor Run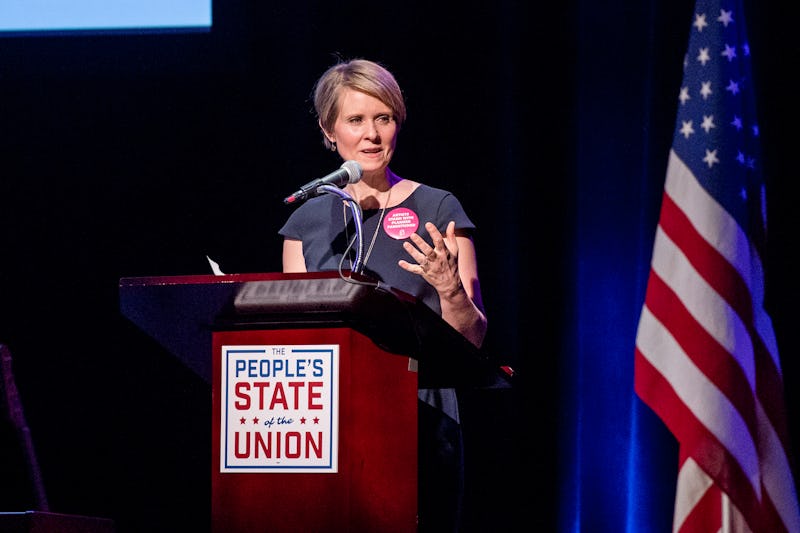 Roy Rochlin/Getty Images Entertainment/Getty Images
On Wednesday, April 4 a former Sex and the City actress and now New York gubernatorial candidate will have her debut television interview on the Wendy Williams Show. If you wish to watch Cynthia Nixon and Wendy Williams' interview, there are a variety of ways that you can tune in.
Nixon announced her candidacy for governor on March 19. The former Sex and the City actress is running against incumbent Governor Andrew Cuomo in the state's Democratic primary. Nixon announced her run in a video posted on social media, in which she stated, "Something has to change ... We are sick of politicians who care more about headlines and power than they do about us. It can't just be business as usual anymore."
Nixon has selected the Wendy Williams Show to conduct her first television interview since announcing her candidacy. As Variety reported, at first glance, Nixon's appearance on the show might perhaps be unexpected, as Williams' show tends to focus on pop-culture and entertainment. However, as the outlet noted, Nixon's campaign spokesperson, Rebecca Katz, said that Williams' ability to draw and connect with large audiences is a big appeal. "We win by getting her in front of voters, because we actually want them to see the real Cynthia ... And that's what we get with Wendy. Her viewers are a large and crucial part of the electorate, and her show reaches all corners of the state," Katz said.
If you wish to watch Williams' interview with Nixon, there are several ways you can tune in. Williams' show is on cable and primarily distributed through local affiliates of the CW, Fox, and MyNetworkTV (MNTV) — though affiliates of other networks sometimes air the show as well. You can easily check the air time and station of the Wendy Williams Show in your area by going to the "Showtimes" section of the show's website. You can then select your state and the website's tool will provide a list of cities and their respective channels and air times for the show.
In addition to watching the show on television, it is likely that you should also be able to watch the show online. Though, you may have to wait until after it airs on cable. On the Wendy Williams Show's website, there's a section entitled "Episodes" in which the show posts clips from recently-aired shows. The show's YouTube channel also posts similar recent clips. Thus, there's a strong chance that you will find the Nixon interview online via either one of these outlets after it airs.
Finally, if you do not wish to watch the interview via cable or online, but want to follow along and witness people's reactions to it, consider using social media. If you type keywords related to the interview, such as "Cynthia Nixon" and "Wendy Williams" into Twitter's search bar, its search engine should pull up a variety of reactions to the interview — which you can browse through at your leisure. Moreover, you can also consider checking the Wendy Williams' Show's Facebook page to observe any reactions people are having to information that the show posts about the interview.
According to Variety, Nixon last appeared on the Wendy Williams Show in 2012, where she discussed her role in the play, Wit, and chatted about Sex and the City. As Variety reported, Williams' show is exceedingly popular and averages up to 2 million viewers a day. The outlet also noted that the show is one of the most-watched television programs in the state of New York.
Thus, Williams' popularity, coupled with the excitement of Nixon's first television interview and her newly-announced bid for governor, could mean that the interview draws in quite a few viewers. Indeed, many people will likely tune in to see exactly what Nixon may bring to the table as a candidate.