Here's How You Can Watch George HW Bush's Funeral To Remember The 41st President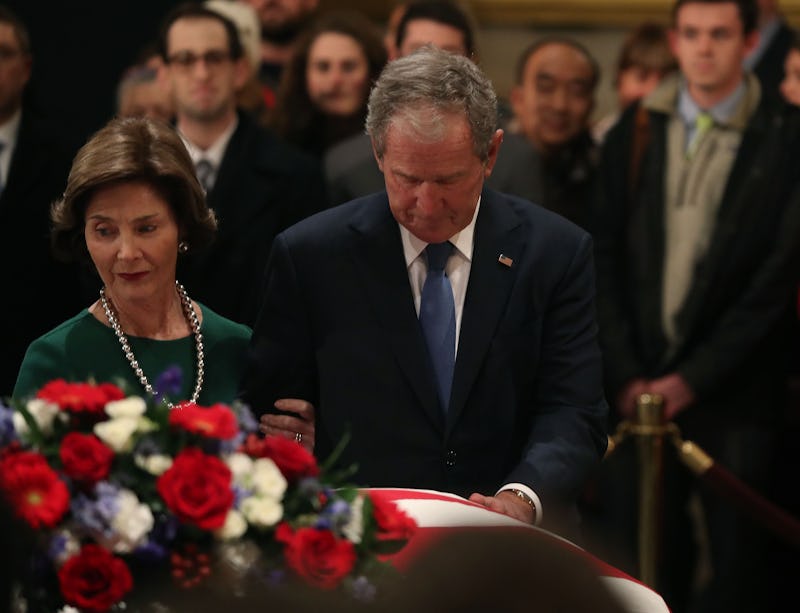 Mark Wilson/Getty Images News/Getty Images
People from all over the world will pay their final respects to the United States' 41st president on Wednesday. The service will start at the Washington National Cathedral at 11 a.m. ET, by which point the hall will be packed with friends, family, former presidents, and foreign leaders. If you want to watch President George H. W. Bush's funeral, too, here's how to go about it.
Whether you're hoping to tune in with a TV or through the internet, you've got a lot of options. C-SPAN will broadcast the ceremonies online and had already begun its coverage as of 10 a.m. ET on Wednesday. CNN is offering a livestream that's accessible to all site visitors, too, regardless of whether or not they're cable subscribers. TVNewser reports that networks like ABC, CBS, NBC, PBS, CNBC, and Fox are also covering the funeral live. Those streams will all be accessible on television, and in many cases, online as well.
Bush's body lay in the U.S. Capitol Rotunda all throughout Tuesday and grievers gathered there to pay their respects. At 10 a.m. ET on Wednesday, his casket was taken by motorcade to the Washington National Cathedral for the funeral, per PBS. The service, which begins at 11 a.m. ET, is expected to last for about an hour and a half.
According to Deadline, there will be four eulogies at the event. They'll be delivered by President George W. Bush, former Sen. Alan Simpson (whom The Washington Post described as an "old friend" who met Bush in 1962), Pulitzer Prize-winning Bush biographer Jon Meacham, and former Canadian Prime Minister Brian Mulroney (a friend of Bush's who told The Globe and Mail that Bush was "such a big part of my life").
Many famous faces will be in the audience. President Donald Trump will be there, along with the first lady. So will all of the former U.S. presidents who are still living: President Barack Obama, President Bill Clinton, President Jimmy Carter, and of course, Bush's son. According to the BBC, foreign dignitaries like German Chancellor Angela Merkel, King Abdullah II of Jordan, President Andrzej Duda of Poland, and Prince Charles of Wales will also attend.
Bush died on Friday at the age of 94 after a long life full of service to his country. Most notably, he was the 41st President of the United States, a position that he held for a single term beginning in 1989. Just prior to that, he worked as President Ronald Reagan's vice president for eight years. Earlier in his life, he served as director of the CIA, U.S. Ambassador to the United Nations, a navy aviator in World War II, and a U.S. Representative from Texas.
After Wednesday's events, there will be one more, private funeral on Thursday at Houston's St. Martin's Episcopal Church, according to the Houston Business Journal. Then Bush's body will be taken back to Texas and laid alongside his late wife. Barbara died in April; the couple was married for over 70 years.