If You Want To Keep Up With Hurricane Harvey, Here's How You Can Watch It In Real Time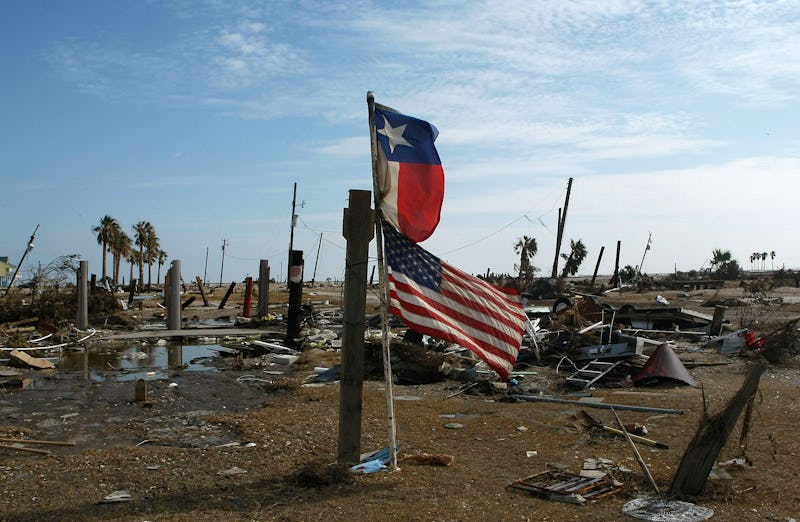 Mark Wilson/Getty Images News/Getty Images
Residents in coastal Texas towns are bracing themselves for the arrival of Hurricane Harvey, which strengthened to a Category 2 hurricane overnight Thursday as it swept through the Gulf of Mexico and toward the Texas coast. Meteorologists have projected Harvey will make landfall as a Category 3 hurricane or higher near Corpus Christi sometime early Saturday. Whether you're an amateur meteorologist, an armchair storm chaser, or merely have a love of truly frightening television, you can watch Hurricane Harvey in real time with nothing but a computer and an internet connection.
Hurricane Harvey is expected to bring heavy rain, winds of at least 111 miles per hour, and potentially dangerous storm surge to coastal and inland cities and towns. According to the National Weather Service, Harvey could bring life-threatening storm surge some 6 to 12 feet above ground level to coastal areas of the Lone Star State with potentially devastating flooding. Rainfall estimates from the National Weather Service have projected up to 25 inches of rain in many areas.
Several webcams streaming live from areas along the Texas coast may enable viewers around the country to watch Hurricane Harvey's approach live. Between Corpus Christi, Crystal Beach, Galveston, and South Padre Island there are at least 25 webcams — all laid out in this handy list from AL.com — showing various views of the Texas coast. However, as Harvey pummels the Texas coastline with heavy rain and high winds, conditions may cause some, or all, webcams to go offline.
You can also keep up to date with Harvey via the KRIS6 News Livestream out of Corpus Christi. The local news channel will provide continuous news and weather updates through a livestream on its website. Viewers of the KRIS6 Livestream are also able to replay recent broadcasts.
For a deceptively calm view of Hurricane Harvey, check out Earth, an visually striking, if not ethereal, interactive map that visualizes current global weather conditions. The animated map, which was created by Cameron Beccario, is updated every few hours by supercomputers and perfect for those who wish traditional radar doppler was a bit more beautiful.
Those seeking to track Hurricane Harvey in real time may also find it helpful to stay abreast of updates from the National Hurricane Center, which regularly provides updated information on Harvey's location, moving speed, maximum sustained wind speed, as well as public advisories.
As Harvey begins to sweep toward the Texas coast, bringing with it life-threatening storm surges, flooding, severe wind, and heavy rain, mandatory evacuations have been ordered in at least seven coastal counties, The New York Times reported Friday. The National Weather Service in Houston has warned some parts of South Texas may remain "uninhabitable for weeks or months" due to Harvey, which could prove as powerful and devastating as Hurricane Katrina.