'Killing Eve' Is FINALLY Coming To The UK & This Is How To Watch It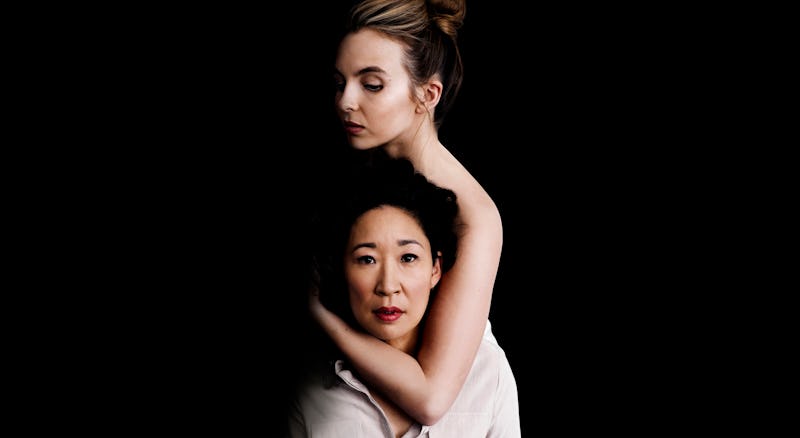 BBC/Sid Gentle Films/Jason Bell
It's truly excruciating, sometimes, to be a film and TV devotee in the UK, since major U.S. releases often take months to float across the Atlantic. And no wait has been more painful than the one for Killing Eve, the psychological spy thriller starring Grey's Anatomy's Sandra Oh. The show's attracted rapturous critical acclaim and a devout audience; what's more, it secured Oh an Emmy nomination for Outstanding Lead Actress in a Drama Series, making her the first woman of Asian descent to be nominated in that category. So here's how to watch Killing Eve in the UK, because frankly, you do not want to miss it.
Let's get straight to the details for those impatient to start watching: Killing Eve will premiere on BBC One on Saturday, September 15 at 9.15 p.m., according to Radio Times. I'd strongly advise clearing your Saturday evening schedules, but there's no need to panic if you're really, entirely sure you can't: the entire series will be available to watch on BBC iPlayer after the first episode airs. Maybe ensure the fridge is fully stocked before you plunge in, because it's highly unlikely you'll be leaving the house before you finish the series.
And for the uninitiated, what's Killing Eve about? As the Guardian reports, the show is based on a series of novellas by Luke Jennings, titled Codename Villanelle. Sandra Oh, the BBC says, plays Eve Polastri, "a bored, whip-smart, pay-grade MI5 security officer whose desk-bound job doesn't fulfil her fantasies of being a spy." Jodie Comer, who you'll recognise from Doctor Foster, plays Villanelle, "a mercurial, talented killer who clings to the luxuries her violent job affords her."
Eve becomes fixated on finding Villanelle and bringing her to justice — and in return, Villanelle becomes obsessed with her pursuer. The series was adapted for the screen by Fleabag's Phoebe Waller-Bridge, as Radio Times reports.
Critics adored Killing Eve upon its U.S. release via BBC America: the Guardian called it "a superbly acted and amply suspenseful drama," while the New York Times deemed the show "entertaining, clever and darkly comic." As Deadline reports, Killing Eve has become BBC America's "No. 1 digital series ever with more than 1 million full episode views to date," while "the premiere has become the most watched digital episode in network history."
Phoebe Waller-Bridge received an Emmy nomination for "Outstanding Writing for a Drama Series" for her work on Killing Eve — but it's Sandra Oh's performance, also Emmy-nominated, that's drawn the greatest acclaim. Vulture named her the best actress on TV, saying Oh "anchors the story and enacts more character growth than anyone else." The New York Times called her "consistently smart and funny in equal, abundant measure."
What's more, Oh's role as Eve — and her subsequent Emmy nomination — breaks major ground for Asian women in television, who remain dramatically underrepresented in the media. Oh, who's Korean-Canadian, told Vulture that on receiving the script, she assumed she'd been offered a supporting role; she said, "I didn't even assume when being offered something that I would be one of the central storytellers." Of Hollywood racism, she told the publication, "I think about that moment a lot. Of just going, how deep have I internalized this? [So] many years of being seen [a certain way], it deeply, deeply, deeply affects us."
As Vanity Fair reports, Oh is the first woman of Asian descent to receive an Emmy nomination for lead actress in a drama (why has it taken the industry so unforgivably long?) Only two Asian actors have ever won an Emmy, according to the magazine: Archie Panjabi won the supporting actress award in 2010, for her role in The Good Wife, while Riz Ahmed won best lead actor for The Night Of in 2017. Oh told Vulture, "I am exceptionally honored that I am able to hold this moment, not only for myself, but what it may mean for our community."
In summation, Killing Eve is a record-breaking, landmark-achieving, critically adored spy thriller that's so acutely watchable, it's already been renewed for a second season, as the Hollywood Reporter reveals. You've got one week to complete your deadlines, reschedule social events, and load up on popcorn, friends. Once you start Killing Eve, you'll have no desire to do anything else.