'GBBO's Liam Has A New Cooking Show With His BFF Weyland & It's The Sweetest Thing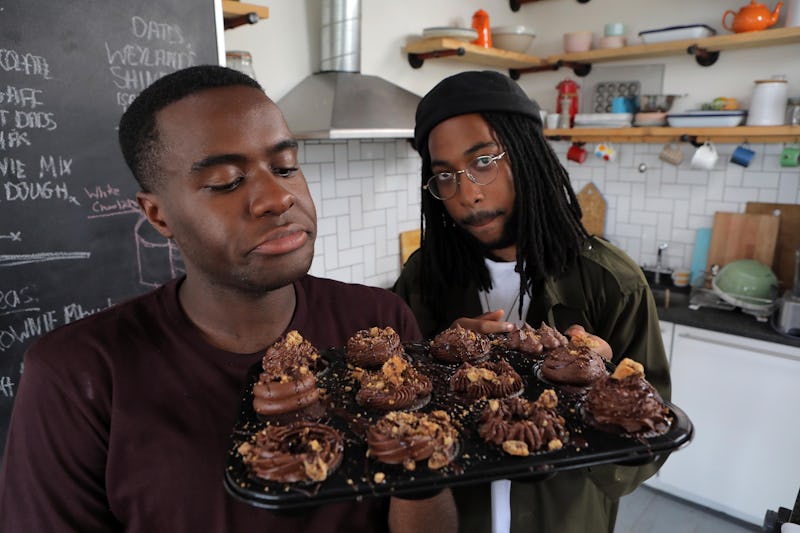 Channel 4
The Great British Bake Off is as famous for delivering the best contestants on television as it is sweet treats and bread-based disasters. You only have to watch the 2018 final to know the show attracts the best people. However, there was one 2017 export that really was a cut above the rest. Who could forget Liam Charles? With his quick wit, infectious laugh, and delicious bakes he was my winner. And praise the baking gods, Channel 4 have answered our prayers and Charles is back with his own series. So here is how to watch Liam Bakes.
If you have missed his cheeky smile then you need to watch his baking spin off show which will explore what life was like growing up in north London. The first instalment in Charles' six part delicious series aired at 8 p.m. on Nov. 12. Viewers were introduced to Charles' best pal Weyland, and I am already obsessed. The chemistry between the pair of them means they'll have you in fits of giggles. If you missed out on the first episode and want to catch up (you should) it is already on All 4. The next episode will be on on Nov. 19 at 8 p.m. on Channel 4. You won't want to miss it.
As well as whipping up insane bakes in the kitchen, Charles also takes viewers around the area he grew up and the places that mean a lot to him in his community. You get a little insight into the people and places that have inspired him the most and where he goes to hang out with friends to eat. You get to know Charles a little better and who wouldn't want that? I am dying to be best friends with him.
The spin off show has been a massive deal for Charles who, whilst only 21 years old, has the perfect personality for our TV screens. Speaking about the series on his twitter feed he said, "Ahaha oh lord I'm shaking. The reception of the first ep has been amazing. Honestly everyone.....thank you so much for the support. ROLL ON NEXT WEEK AHHHHH MAN ABSOLUTELY BUZZIN!" And he deserves all the praise he has got. Watching Weyland and Charles throw together the most delicious looking chocolate cupcakes or eclairs was like watching two of your mates muck about in the kitchen. If only any of my friends could produce outstanding tasty treats like that at the end of it.
And if you need any more persuasion that you need to catch up on All 4 and tune in next week, Twitter exploded after the first episode aired on Monday night with one fan comparing Charles to TV mega chef Jamie Oliver when he first started out.
If, like me, Charles was the highlight of The Great British Bake Off 2017, you will adore Liam Bakes. He is charismatic, funny, and completely likeable, and the bakes he produces look incredible. While it can feel like our TV schedules are a bit saturated with cooking shows, Liam Bakes is one to watch, and with his talent I have a feeling he is going to be around for a long time. You can catch the next episode of Liam Bakes on Nov. 19 at 8 p.m. on Channel 4.