Maxine Waters Will Give A State Of The Union Response & It's Going To Be FIRE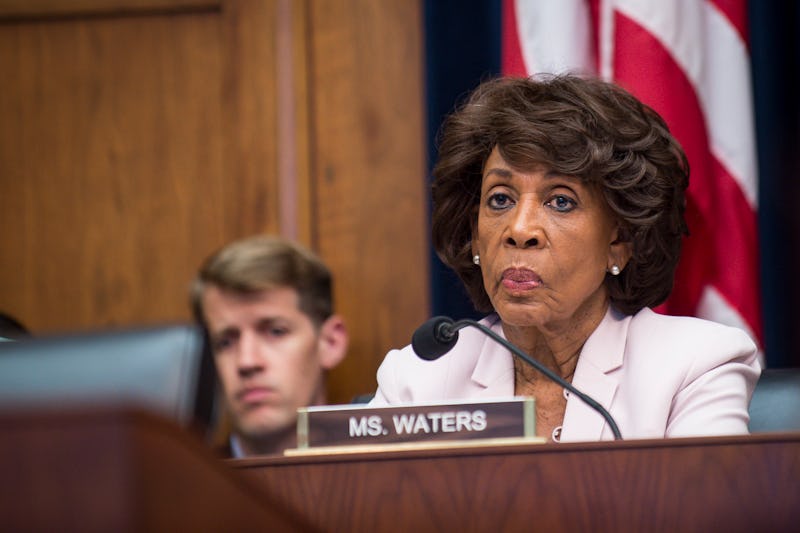 Pete Marovich/Getty Images News/Getty Images
Tuesday evening is going to be a full one if you're a person who follows American politics. First, you'll have President Trump's State of the Union address to watch. Then, you'll have plenty of responses to choose from (including one in Spanish). But plan some extra time into your schedule for Wednesday night, because you absolutely need to watch Maxine Waters' State of the Union response.
While Rep. Joe Kennedy will be giving the official Democratic State of the Union response, frequent Trump critic Waters will be giving her own statement on BET the following day. She'll be joining Angela Rye's State of the Union, along with several other activists and public officials. BET has announced that the show will air quarterly, and will discuss the most important issues facing black people in America.
"Queen Maxine is going to hit the facts quick, she's going to do it as only she can, but we're not going to linger over his nonsense," Rye, a political commentator/analyst and CEO of IMPACT Strategies, told The Root in an interview. Rye said the show will focus on what Trump's first year has meant for black Americans:
We're going to talk about our solutions, our way. We're not here to just entertain, we're here to teach, inform, and talk about issues important to us.
Waters, a member of Congress since 1991, has quickly become one of Trump's foremost critics in the Democratic Party. She's always made a point of speaking up for women, and black women in particular, when she thinks that Trump has slighted them. Following Trump's comments about "shithole countries," Waters said that the country was "represented by the most despicable human being that could possibly ever walk the earth" and that she didn't "know when Americans are going to tire of this lying man."
It was no great surprise, then, when Waters announced that she would join other Democratic politicians in not attending Trump's State of the Union speech. The reasons she gave for skipping the speech didn't hold back, either:
These are ceremonial exercises. These are exercises where we honor the president, and people are shaking hands, smiling. It is an occasion where people are basically sending the message that everybody's working together, everything is going well. I don't quite see it that way. I don't honor this president. I don't respect this president. And I'm not joyful in the presence of this president, and so I will not be attending tonight.
While the State of the Union speech itself will of course determine what Waters has to respond to, it's likely that her response will include at least a discussion of impeachment. She's repeatedly suggested that Trump should be impeached, on Twitter and in speeches.
She's been particularly focused on the Trump/Russia scandal, claiming that his team colluded with Russia to win the election and that he has obstructed justice along the way. To Waters, these are both impeachable offenses.
Two major topics that Trump is expected to touch on in his address to Congress are his $1 trillion infrastructure plan and his immigration goals for the next year, which include both making a major crackdown on legal and illegal immigration and offering citizenship to current DACA recipients and others like them.
In his first address to a joint session of Congress, Trump gave a speech that many agreed was "presidential," as opposed to the way he so often speaks at rallies and on Twitter. His speechwriters will likely have the same goal for this speech, as there are few occasions where he'll have this level of viewership for any speaking engagement. However, there's always the chance that he'll stray from the script that he's given.
To see what Waters has to say about Trump's first State of the Union, you can tune into BET at 10 p.m. ET on Wednesday. She'll be up first on their show, so don't wait. BET also has streaming apps on Chromecast, Roku, and AppleTV, so if you don't have cable, you can watch it that way, too.
Correction: A previous version of this story incorrectly stated when Maxine Waters would give her SOTU response. It has been updated.