Melania Trump Is About To Unveil Her Official White House Platform — And You Can Watch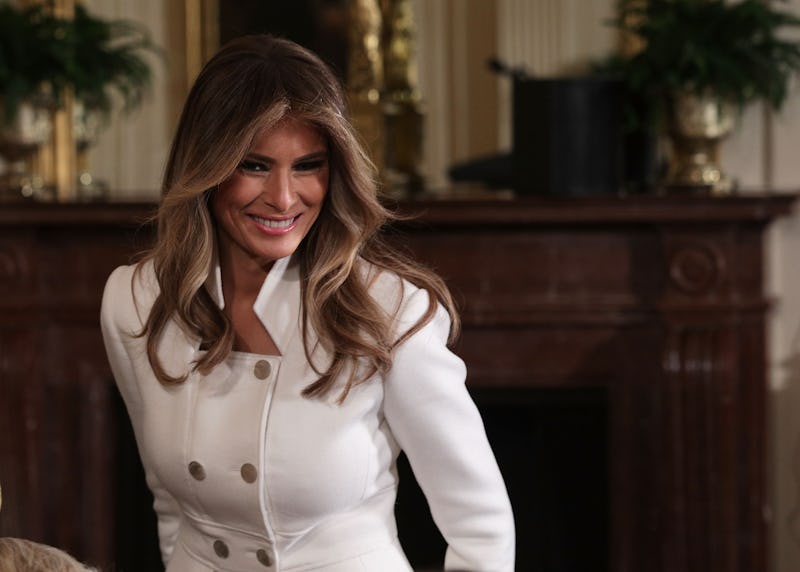 Alex Wong/Getty Images News/Getty Images
After being in the White House for nearly a year and a half, the current first lady plans to publicly announce her formal agenda for her tenure in Washington, D.C. Her plan will focus on child well-being, and if you're wondering how to watch Melania Trump's press conference on Monday to learn more, you have a few options.
On Twitter on Sunday afternoon, Trump tweeted that those who wanted to view her announcement live would be able to do so by tuning into the White House's Twitter account at 3 p.m. ET on Monday. If the live event plays out like most other briefings and formal announcements, links will be shared, directing viewers to a stream on the White House website.
"Tomorrow is the day!" Trump tweeted on Sunday. "Very excited to announce my initiatives."
It's also likely that major news media organizations will also stream the event on their own websites and social media accounts. If you have a preference for news consumption, it would be a good idea to check out those Twitter and Facebook accounts shortly before mid-afternoon on Monday. The White House website should otherwise be a fairly reliable source.
According to CNN, Trump will make her announcement from the Rose Garden, and it will be the first time ever that she has spoken from the location. The garden borders the White House's West Wing, and has become known, especially since President John F. Kennedy's tenure, as a location for historic ceremonies and announcements.
As for what Trump will actually say, her spokeswoman has said that her formal agenda as first lady will be more sweeping than it is hyper-focused on any one task. That being said, it will broadly emphasize the country's youth.
"As has been evidenced by the many events Mrs. Trump has participated in during her time as first lady, her focus will be the overall well-being of children," her spokeswoman, Stephanie Grisham, told CNN of the impending announcement. She highlighted that Trump's agenda would be unlike many of her predecessors' plans:
Something unique though: She has not narrowed her platform down to just one topic as has been done in the past. Mrs. Trump wishes to help the next generation by creating change through awareness on a variety of issues that affect children.
Historically, first ladies have zeroed in on one particular issue, usually social in nature. Michelle Obama was famous for working to combat childhood obesity, and for encouraging high standards of childhood nutrition. As first lady, she launched her iconic "Let's Move" initiative, which promoted exercising. She also grew a vegetable garden, and was widely considered a driving force behind the Healthy, Hunger-Free Kids Act of 2010, which raised the nutrition standards for school lunches.
Before her, First Lady Laura Bush backed an initiative called, "Ready to Read, Ready to Learn," which aimed to make sure that children could read by the time they entered school. It also worked to ensure that quality teachers worked in all schools, including those in low-income neighborhoods.
In the past, Trump has said she intended to work to combat cyberbullying. The first time she said so was while campaigning for her husband during the 2016 election cycle.
"We must find better ways to honor and support the basic goodness of our children, especially in social media," Trump said in the fall of 2016. "It will be one of the main focuses of my work if I'm privileged enough to become your first lady. I will also work hard to improve everyday life for women."
Whether her announcement on Monday will harken back to her goal of combating cyberbullying isn't clear. In the past, she has been criticized for choosing to take on internet-based hostility, given her husband's penchant for lashing out at his enemies on his Twitter account.
But as she said at the time, "I am well aware that people are skeptical of me discussing this topic. I have been criticized for my commitment to tackling this issue and I know that will continue. But it will not stop me from doing what I know is right."