'RuPaul's Drag Race' Season 11 Is Coming To The UK, So Here's How To Avoid FOMO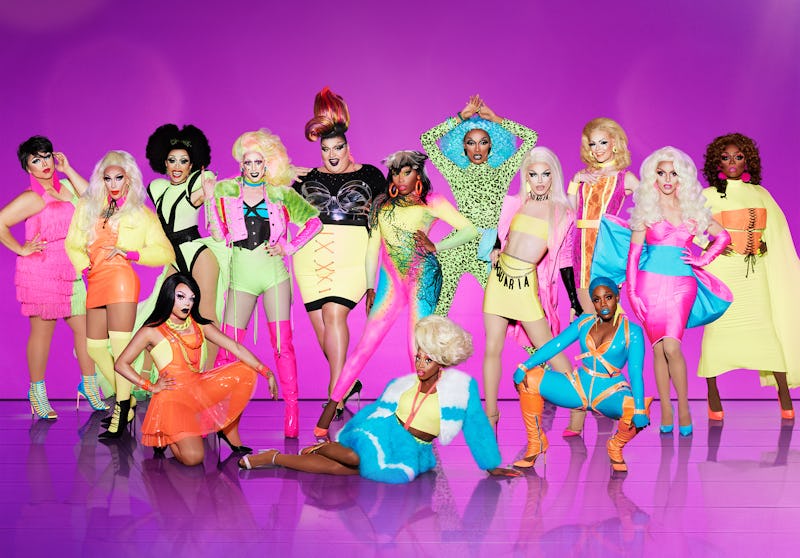 VH1
In recent years, the U.S. reality competition show RuPaul's Drag Race has skyrocketed into a pop culture phenomenon. The show, which made its fabulous debut on Logo back in 2009, has now enjoyed a landmark tenth series, as well as three All Star editions. So if you're a long-time fan or eager to know what all the fuss is about, you might be wondering how to watch RuPaul's Drag Race in the UK.
Well, you don't have to look far, because Seasons 8, nine and 2018's Season 10 are all available to stream on Netflix. And if you'd like to sashay your way into earlier seasons of the hit show, you can indulge in Series 2 through to 6 on Hayu, the reality TV streaming service.
If you're looking to catch up on the equally fierce Rupual's Drag Race All Stars, a spin-off show which features past queens competing for a place in the "Drag Race Hall of Fame", you can do so on Comedy Central UK (Sky Channel 112) — which currently offers the entire third season on their On Demand service.
Earlier this year, VH1 confirmed that Rupual's Drag Race will return for Season 11, and is set to air in 2019. When discussing the show's renewal, RuPaul himself commented "After 10 sickening seasons, the Drag Race phenomenon is just getting started," as Digital Spy reports. "I want to thank VH1 for providing this amazing platform for a whole new generation of super talented drag queens."
The groundbreaking drag competition show originally aired on Logo in the U.S., however, in 2017 made the move over to VH1 for it's ninth season. Pamela Post, the senior vice president of original programming and development at VH1 couldn't contain her excitement at the news of the upcoming 11th series. She said: "We are thrilled that Drag Race will continue to lead the conversation of inclusion and diversity as the show embarks on its 11th season. It's unprecedented for a show to continue to grow on the scale that Drag Race has, and it's just the beginning."
However, the news of a brand new series came as no surprise due to the success of Season 10, which became the most-watched series so far. Passionate fans of the competition show are equally as excited for new Drag Race episodes, and have already begun speculating on what to expect.
The cast and crew of RuPaul's Drag Race had yet more reason to celebrate earlier this month when the reality show emerged victorious at the 70th annual Primetime Emmy Awards. The show won the award for Outstanding Reality-Competition Program, a category which has previously been dominated by rival competition show The Voice U.S., which has won the award for the three previous years.
During his acceptance speech, RuPaul thanked co-stars Michelle Visage, Carson Kressley, Ross Mathews, and of course the competing drag queens. Paul said: "This is so lovely. Thank you so much. We are so happy to present this show. I would like to thank you on behalf of the 140 drag queens that we have released into the wild!"
He then concluded his speech with one of his best-loved catchphrases: "This is for all of the dreamers out there! Listen, if you can't love yourself, how in the hell are you gonna love somebody else? Can I get an amen?"
The 11th run of RuPaul's Drag Race is set to begin airing in the spring of 2019, along with juicy spin-off show Untucked. And with a fourth season of All Stars also confirmed to be returning, 2019 couldn't come quick enough.