Here's How To Watch The VMAs Red Carpet Because It's All Everyone Will Talk About Tomorrow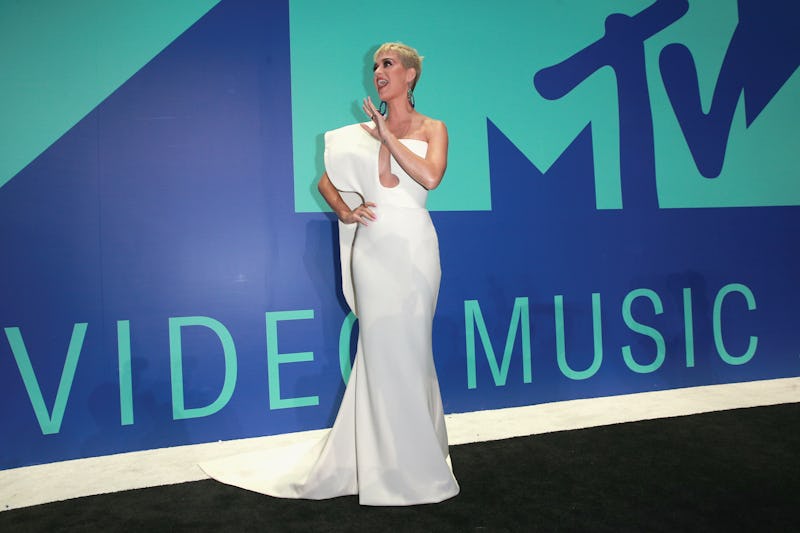 Rich Fury/Getty Images Entertainment/Getty Images
The annual MTV VMAs red carpet is always one of the wildest and most thrilling sartorial showings of the awards show calendar year. The 2018 MTV VMAs red carpet fashion action is not to be missed. What happens onstage and in the auditorium — the ongoing Kanye West vs. Taylor Swift battle, Miley Cyrus turning twerking into a household term — is usually unforgettable and often breaks the Internet. But the clothes are equally as memorable.
That's because the VMAs are much looser than more formal events like the Grammys or the Oscars. Whereas celebs usually rock super fancy couture, gowns, and tuxes to those ceremonies, the VMAs allow them to have fashion fun and to rock all sorts of outrageous ensembles.
The VMAS have returned to Radio City Music Hall in New York City for 2018. The broadcast will air live at 9 p.m. ET on Aug. 20 on MTV on your cable provider. The pre-show festivities began at 8 p.m. and will air live on MTV, as well. The pre-show includes performances by The Backstreet Boys and more, as well as all of that red carpet action.
Basically, you need to park yourself on the couch and in front of your TV or mobile device at around 7:45 p.m. so you don't miss any of this fashion fiesta.
However, if you don't own a TV set, do not despair for being digitally minded. You can stream the VMAs live via your cable provider. As Footwear News reports via this post, the network will also post footage on the MTV YouTube channel and through other online streaming services.
Therefore, you have plenty of options and won't miss a single outfit, pair of shoes, the accessories, or amazing hair and makeup.
There's another awesome — albeit unofficial — way to watch the red carpet action. You can tune into the official MTV social media accounts on Twitter and Instagram, along with the official feeds of your fave nominees, presenters, and performers. You will get a bird's eye view of the behind-the-scenes happs.
Many celebs usually post photos of their pre-show activities and their "getting ready" rituals. They will share shots while getting their makeup and hair did, offer a rundown of the products their team used to create their VMAs look, and perhaps a sneak peek at their outfit.
Therefore, scrolling through the Insta feeds of the attendees is a good way to keep up with the fashions and the beauty looks, too. Keep your phone at hand, follow all of those who are slated to show up, and remain fixed on the #MTVMAs hashtags, official or not, and any variation thereof!
The pre-show will be hosted by Terrence J, Nessa, and Jersey Shore faves Pauly D and Vinny Guadagnino. Celebs to look out for include Ariana Grande, Millie Bobby Brown, Kylie Jenner, Jennifer Lopez, Nicki Minaj, Tiffany Haddish, Post Malone, and many more.
Enjoy the entertainment, clothes, hair, and makeup at the 2018 MTV VMAs. The Internet will surely be talking about all of them tomorrow morning and beyond.