Here's How You Can Tune In To This Year's National Christmas Tree Lighting Ceremony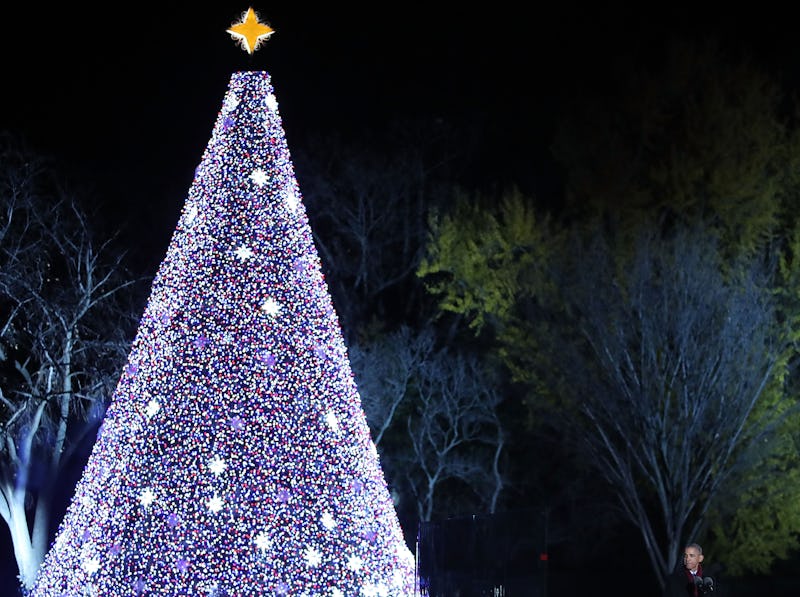 Mark Wilson/Getty Images News/Getty Images
Sure, Christmas may be several weeks away, but who said you can't enjoy the 2018 National Christmas Tree Lighting? Here's how to watch the festive ceremony, which has been taking place for the past 96 years.
The event will take place on Nov. 28 at 4:30 p.m ET in President's Park in Washington, D.C. President Donald Trump, Melania Trump, and other members of the first family will be present to mark the highly popular lighting celebration, according to The National Park Foundation.
For those who can't make it to the actual event in person, there's always the option of tuning in on TV. For The 2018 National Christmas Tree Lighting, the National Park Service and the National Park Foundation announced in October that cable network REELZ and the channel Ovation would broadcast the lighting event. Just tune in at 10:00 p.m. ET on Dec. 2.
The CEO of REELZ, Stan E. Hubbard, gave a statement on the decision to broadcast the celebration. "We're thrilled that REELZ and our sister network Ovation are partnering with the National Park Foundation and National Park Service to celebrate the holiday season by broadcasting the National Christmas Tree Lighting," Hubbard said.
"It's an honor," he added, "to share one of the nation's oldest and most revered traditions with our viewers and we look forward to watching this cherished American pastime." Apart from that, you can also just check Twitter and Facebook for live broadcasts on Nov. 28, as well as media outlets' livestreams.
Now, if you're in Washington, D.C., and you have your ticket for the event, you can see the lighting ceremony in person by simply heading over to President's Park on Wednesday.
But you should keep a few things in mind before stepping out. For one, it won't hurt to keep an eye on the official website for The 2018 National Christmas Tree Lighting Ceremony. That's because you can learn about more certain roadblocks and traffic influxes on that day.
At the moment, The National Park Service, United States Park Police and Secret Service have announced road closures taking place from 1:00-8:00 p.m. ET. For Constitution Avenue, Madison Drive, Pennsylvania Avenue, New York Avenue, and a few other places, you can expect the roads to blocked from 2:00-8:00 p.m. ET.
And if you're wondering why you can't get a ticket for the event anymore, that's because the open ticket lottery for the lighting ceremony is officially closed. But, hey, there's always next year.
If you want a glimpse into the lineup for this year's lighting ceremony, just head on over to the official website for tree lighting day. It's a mixed batch of country music, indie beats, the United States Army Band, and a Christmas-y performance by the Dominican Sisters of Mary.
Fair warning, though, The National Park Service prohibits attendees from bringing aerosols, selfie sticks, balloons, drones, firearms, and a few other items you can read more about here. But even if you're not in the capital, you can still check out lighting event from the very comfort of your home.