Starbucks Is Airing A PSL Livestream & You're Not Going To Want To Miss A Second Of It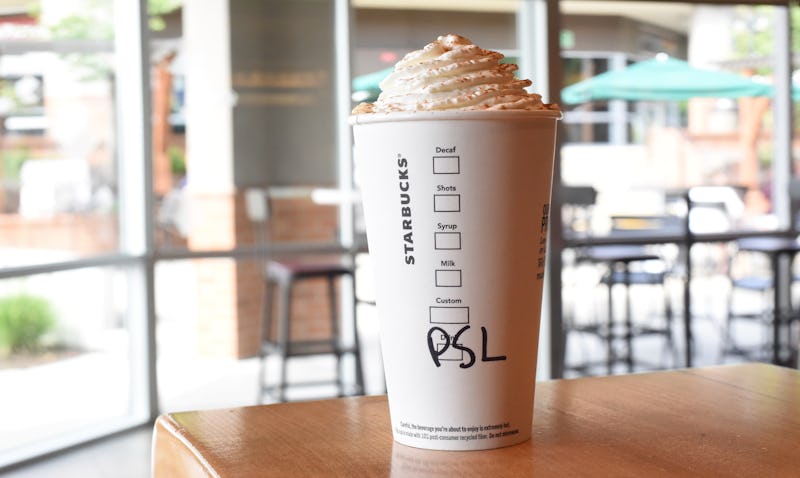 Starbucks
By now, you may have heard that something big is happening on the Starbucks Facebook page on Sept. 1 in relation to the Pumpkin Spice Latté. Well, now that it's Sept. 1, we finally know what it is: A livestream featuring a myriad of activities to celebrate the Pumpkin Spice Latté will be airing on Starbucks' Facebook page throughout the weekend. But, how can you watch the Pumpkin Spice Latte livestream? Luckily, it's super easy.
First things first, head to Starbucks' official Facebook account at 11 a.m. ET, located right here. And... well, that's it! You should see the livestream on its page, so all you have to do is hit play to check it out. Oh, and it's running all weekend long, which means you have until Monday to get in on all of the festivities. And I do mean festivities — guided meditations, musical performances, celeb guests, and adorable kittens are all part of the livestream lineup this weekend, so you are going to want to check it out. All of this seems to be leading up to something big — and guys, I am here for it. What could be better than celebrating your love for the PSL while watching the PSL livestream?! Pumpkin Spice Latte season is officially upon us, and if you're not already in the spirit, watching this will definitely help you get there.
As for when the PSL is going to return — well, that info hasn't been released yet. But! This livestream definitely means something huge is happening, so hopefully by the end of it, we'll all finally have more information about the fall drink's triumphant 2017 return.
Grab some popcorn, cancel your Labor Day plans, and settle in. It's going to be a great weekend, indeed.