How To Watch Trump's Speech On The Las Vegas Shooting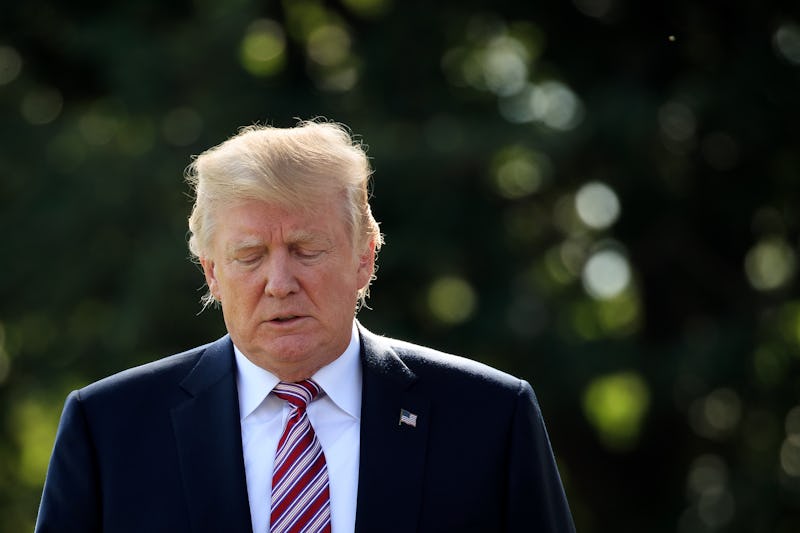 Drew Angerer/Getty Images News/Getty Images
The morning after dozens of people and more than 400 people were injured at a country music festival in Las Vegas, the president gave a speech addressing the tragedy that's being called the worst mass shooting in United States history. If you want to watch President Trump's speech on the Las Vegas shooting, it won't be difficult. The White House itself streamed it, and you can tune in below.
The White House often streams events live on its website at whitehouse.gov/live. It can also be rewatched afterward, since it's hosted on YouTube.
Trump quickly tweeted his condolences to the shooting victims Monday morning, writing, "My warmest condolences and sympathies to the victims and families of the terrible Las Vegas shooting. God bless you!" First Lady Melania Trump tweeted, "My heart and prayers goes out to victims, families & loved ones! #PrayForLasVegas," while the president's daughter Ivanka Trump added, "America woke up this morning to the horrific news of a devastating mass shooting in Las Vegas. Our collective hearts are breaking for the victims and their families."
Trump's speech was anticipated because while he has already overseen tragedies like Hurricanes Harvey, Irma, and Maria, this is the first extreme act of mass violence he's been the leader of the United States for, and the way he responds to it will be crucial.
According to authorities, the shooter was on the 32nd floor of the Mandalay Bay Resort in a hotel room and shot into a crowd of approximately 22,000 people. It was the last night of the Route 91 Harvest Festival, a three-night country music festival where Jason Aldean was performing the final set.
Officials said the shooter had around 10 rifles in his room, and witnesses said the gunfire seemed to go on for more than 10 minutes. Nevada has some of the least strict gun control legislation in the country. As Newsweek reported, open carry and concealed weapons are allowed, there is no limit on how many firearms a person can own, and gun owners to not have to have a license or register their guns in order to possess one.
During his speech, Trump called the massacre an "act of pure evil." However, he refrained from calling it terrorism, stating, "He brutally murdered more than 50 people and wounded hundreds more."
Trump also used several Christian references, including a citation of Psalm 34:18, which states, "The Lord is near to the brokenhearted and saves the crushed in spirit." He continued:
To the families of the victims, we are praying for you and we are here for you and we ask God to help see you through this very dark period.
The president ordered that flags be flown at half-staff "in memory of the fallen" and said he will visit Las Vegas on Wednesday to meet with first responders and families of the victims. He is visiting Puerto Rico on Tuesday to survey the damage Hurricane Maria caused.