You'll Be Able To Watch Khloé Kardashian's Creepy AF True Crime Series SO Soon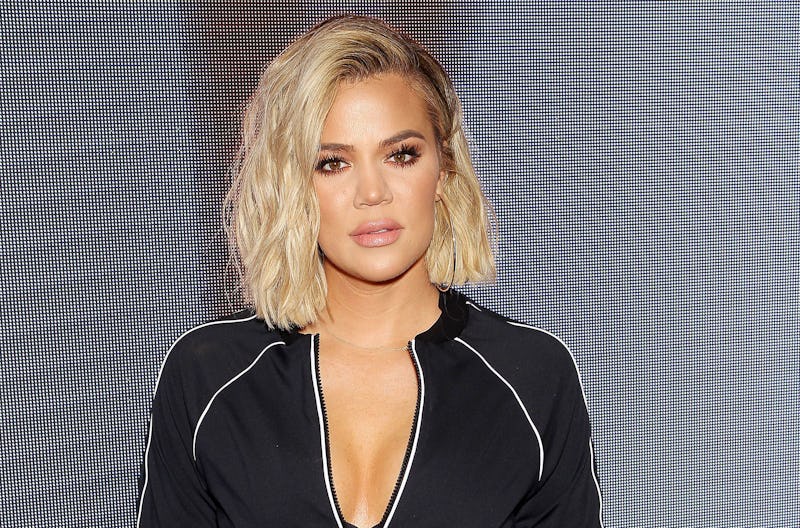 Marion Curtis/StarPix for SIX:02/Shutterstock
Imagine that you're one of the most famous sisters in the United States. You've appeared on a globally-known reality show for over a decade. You own your own clothing brand. What's your next move? Well, if you're Khloé Kardashian, you executive produce your own true crime series — and you centre it entirely on sisters, of course. Sounds epic, right? Well, here's how to watch Twisted Sisters in the UK because if you're true crime stan like me, you'll want to get in on the action.
In the U.S., the show airs on Investigation Discovery. Once set for a 2019 launch, the series premiere for American viewers was bumped up and actually aired on Monday. But what about UK viewers? Can we get in on the sinister sibling action?
Good news, my fellow Kardashian/true crime fans. A quick search on the Investigation Discovery UK website reveals that the first episode, "The Naked Truth", will air on the channel on Thursday at 11 p.m.
The plot? "A cold blooded murder shocks the community of small town Oregon. As police uncover the bizarre truth behind the homicide, it tears apart not one, but two families."
Of course, there's a little more detail than that on the U.S. Investigation Discovery site, which teases, "A cold-blooded murder in a devout prayer group triggers a bizarre investigation in Oregon. As police uncover the unlikely culprits pulling the strings, chilling beliefs are brought to light." Alright, Kardashian, you've completely sucked me in.
According to Discovery, the show draws on "a series of interviews with immediate family members and close friends to learn what triggered their path towards a life of crime." The press release adds, "Investigators and law enforcement anchor each story as they recount firsthand their unraveling of the case and try to make sense of the crimes committed."
The show traces the troubled lives and complex events that led each pair of sisters to commit their startling crimes, according to the Discovery network press release. "Each hour-long episode investigates the how and why this pair, bound by blood, has descended into darkness," the network revealed. "Sometimes these sisters work together to commit a crime but often the duo can turn against one another with the deadliest of outcomes."
Kardashian herself said: "I am so excited to be bringing you Twisted Sisters. As a self-proclaimed 'true-crime addict' there is no better way to tell these tales about the bonds that sisters possess and how they can go so terribly wrong."
According to Deadline, Twisted Sisters is a six-part series that centres on "the most outrageous and provocative crimes ever committed by the unlikeliest of pairs — sisters."
So how did the first episode of Twisted Sisters go down in the U.S.? Some true crime (or Kardashian) devotees were thoroughly gripped:
Others, however, suggested the narrative was somewhat difficult to follow — a little too twisted, perhaps:
Make your own mind up when Twisted Sisters launches in the UK — Investigation Discovery, Sept. 13, 11 p.m. Just don't blame Kardashian if you can't quite look at your sister the same way afterwards.