How To Style Fall's Go-To Boot, According To Experts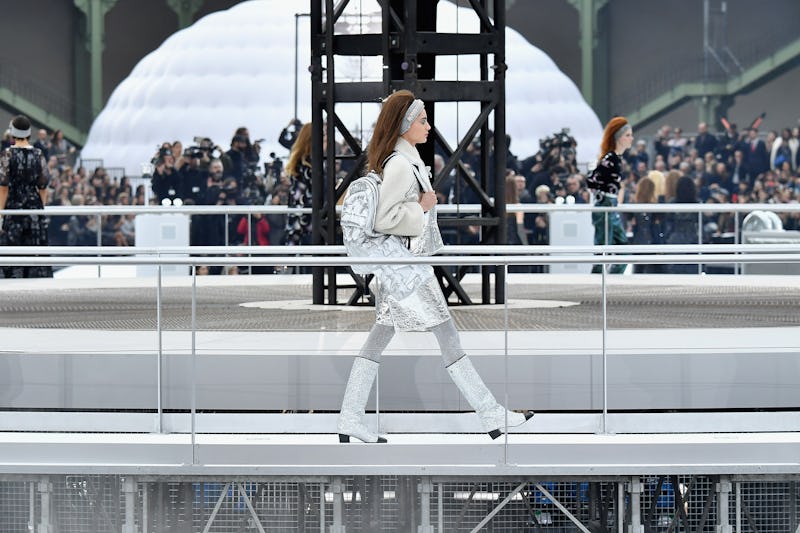 Pascal Le Segretain/Getty Images Entertainment/Getty Images
Bustle and Coveteur are working together to bring you the best mix of the season's fashion and beauty releases, shopping tips, and service stories in ways that are both inspirational, and attainable. Check The Fall Style Edit channel weekly to see what we're up to.
Despite being on top of current trends, every so often we'll spot something—a top style, an accessory, a pair of standout shoes—and think, "Hey, how do I pull that one off in real life?" This fashion month was no different: as editors, celebrities, and influencers posed for photos, Chanel's sparkly silver boots kept catching our eye. We 100 percent needed them...but how would we justify that (serious) investment, and pull off those boots day after day?
To help solve this particular dilemma, we reached out to four different stylists, who dress some the most photographed faces in the industry. Read and and shop their suggestions, which will turn this statement-making investment piece into an everyday item.
The Boots
High Boots, $1,757, Chanel
Who He Works With: Taraji P. Henson, Yara Shahidi, Kiersey Clemmons
"With pieces like this it's always fun to dress them down and make them everyday! This glitter boot by Chanel is über cool and classic Chanel. One way I would love to see this worn is with a skirt and an oversized vintage army jacket. Another way to wear them would be under a very proper gown to add an instant bit of edge. Tracksuits are a huge trend that seemed to come back out of nowhere. You can pair these Chanel boots with a tracksuit—I know, unexpected!—for a chic high-low look."
Coveteur's picks based on Jason's suggestions:
Clockwise from upper left:
Carven Checked Wool-Blend Mini Skirt, $350, Net-A-Porter
Dion Lee Cargo Parka Jacket, $1,445, Farfetch
Philosophy Di Lorenzo Serafini Open Back Dress, $2,345, Net-A-Porter
Off-White Embroidered Patch Tracksuit, $1,331, Farfetch
Who She Works With: Emma Watson, Elizabeth Olsen, Ilana Glazer
"I'd definitely let these boots do the talking. I would likely pair with a long sleeve, mod mini dress, likely black or white, and then finish off with a handful of stacking rings and statement earrings."
Coveteur's picks based on Sarah's suggestions:
Clockwise from upper left:
Catbird 14-karat Gold Diamond Ring, $350, Net-A-Porter
Jennifer Fisher Samira Gold Plated Hoop Earrings, $500, Net-A-Porter
Ileana Makri 18-karat Gold Multi-Stone Ring, $6,445, Net-A-Porter
Apiece Apart La Sierra Pintucked Crinkled Silk-Georgette Mini Dress, $515, Net-A-Porter
I+I 14-karat Gold Diamond Ring, $365, Net-A-Porter
Who He Works With: Taylor Swift, Kerry Washington, Olivia Holt
"I recommend taking this boot to a more casual, edgy place instead of pairing it with pieces that feel more buttoned up. Wearing a full-on sparkle boot as a day look can be tough, but cool pieces [like the ones I picked out] from Farfetch have a great relaxed, badass, street style feel and make these boots shine in the right way for day. Another tricky element to these boots is that they aren't really a knee boot. They land in a unique spot under the knee that might visually shorten the length of one's legs. If this happens, I recommend pairing them with a black opaque knee high sock or stocking that would make up the difference and give the effect of a knee high boot. When these boots walked the runway, they were always paired with matching silver opaque tights which visually lengthened the models legs."
Joseph's picks:
Clockwise from upper left:
Magda Butrym, $2,855, Farfetch
R13 Skull Print T-Shirt, $297, Farfetch
Balmain Branded Lion T-Shirt, $647, Farfetch
Off-White Camouflage Print Jacket, $1,922, Farfetch
Clockwise from top:
Stella McCartney Star-Studded Mini Falabella Backpack, $1,160, Farfetch
Unravel Project Oversized Bomber Jacket, $1,786, Farfetch
Falke No. 1 Finest Cashmere Ladies Knee-high Socks, £75, Falke
Who She Works With: Nikki Reed, Brittany Snow, Sarah Silverman
"My first thought is that these feel like a modern gogo boot, so I would go retro and pair them with a 70's inspired mini skirt. To balance out the length of the mini, I would pair it with a feminine high-neck long-sleeved white blouse and top it off with a masculine duster."
Lindsey's picks:
Clockwise from top:
Bonded Knit Chuck Duster Coat, $125, Topshop
Wilfred Free Karmen Skirt, $85, Aritzia
Lace Crinkle Highneck Top, $75, Topshop
Want more stories like this?
Meet Mimi Cuttrell, the Stylist Behind Gigi Hadid's Best Outfits
3 Unexpected Ways to Make Your Wardrobe Stand Out
The Spring '18 Trend You Can Wear Now, Using Clothes You Already Own