How To Wear Your Favorite Boots, No Matter The Temperature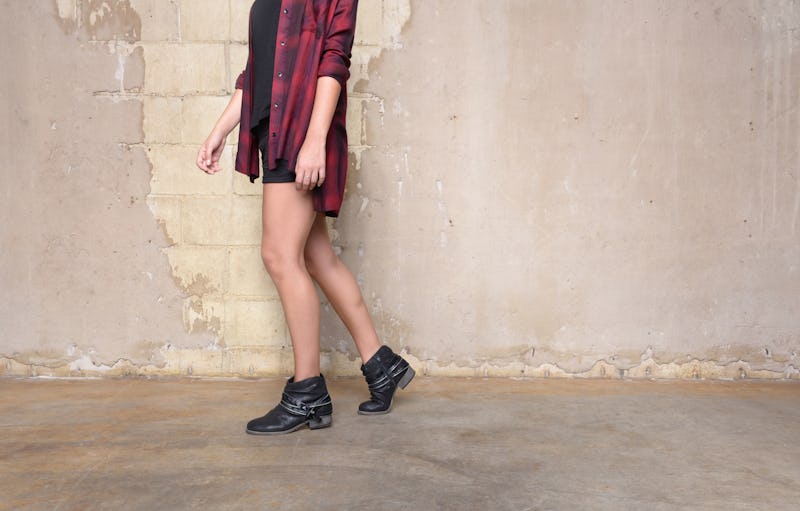 There's really nothing better than slipping on a pair of freshly purchased shoes. But when you're picking up a pair of shoes for a new season (like a great pair of fall boots), it feels like you're forced to wait until the temperature takes a plunge to actually wear them. But all of that is about to change.
You heard that right: Gone are the days of hanging on to strappy sandals and flips flops for dear life during those last weeks of warm weather. The right pair of boots can work for any occasion—from hot days in the city to the coldest days of the year. To show you how to style your boots for whatever the weather brings, we've teamed up with Shoe Carnival for some easy tips on wearing the boots you love most. The key to wearing your best fall footwear as early as tomorrow is to pair them with lightweight skirts, shorts, and dresses in fall textures and color palettes. Then, when your city finally gets the fall weather memo, just add a few extra layers and you're good to go. Your boots are officially made for walking all year long. Here are a few ways to wear your favorite boots, no matter what today's forecast may bring.
Denim Darling
Shoe Carnival
Shoe Carnival
Combat boots are one of the most versatile silhouettes you can add to your wardrobe. Pair them with a neutral skirt and denim top for now, then tuck your favorite pair of distressed skinny jeans into them later on in the season.
The Long And Short Of It
Shoe Carnival
Shoe Carnival
Black denim works with any pair of boots in your closet — especially these moto-inspired ankle booties. Try a pair of jean shorts with an up-to-there hemline for warmer days, and go longer when there's a chill in the air.
Dress It Up, Dress It Down
Shoe Carnival
Shoe Carnival
Every girl knows that the right ankle booties work with just about anything—from a little floral dress to dressed down denim. A good rule of thumb is to opt for this classic pair of boots anytime you want to reach for a pair of white leather sneakers. Consider this the ultimate fall fashion footwear swap.
Bohemian Paradise
Shoe Carnival
Shoe Carnival
Remember that hippie chic dress you wore on repeat to the beach all summer long? Keep it in your wardrobe rotation now, and wear it with the perfect stacked heel booties. For cooler days, pair corduroy pants with extra layers for work, play, and everything in between.
This post is sponsored by Shoe Carnival.