People Are Pissed Trump Held His Umbrella Over Himself & Not Over His Wife Or Son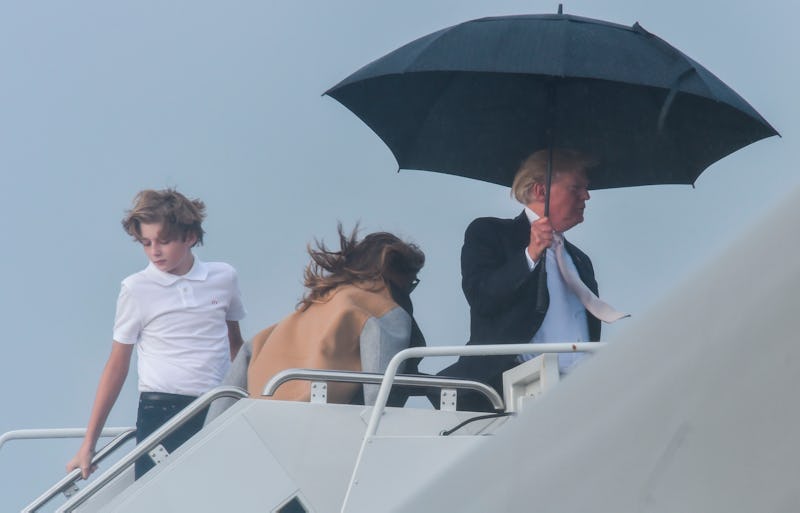 NICHOLAS KAMM/AFP/Getty Images
On Monday, the first family headed back to Washington, D.C. after spending a long weekend at Trump's resort in Mar-a-Lago, Florida. As the family boarded Air Force One during a rainstorm, Trump appeared to not share his umbrella with Melania or Barron — perhaps further contributing to a perception held by some that Trump is not very considerate of others, particularly his wife.
The British tabloid newspaper Daily Mail shared photos and a related article depicting the first family boarding Air Force One in rainy weather at Florida's Palm Beach International Airport on Monday. The series of photos show Trump heading up the steps of the plane with a large black umbrella over his head. In the photos shared in the article, Melania and Barron follow behind the president, sans umbrellas.
It is unclear if, at any point, Trump offered to share the umbrella with his wife or son. Notably, Trump had previously been criticized for seemingly not sharing his umbrella with Florida's Attorney General Pam Bondi in 2016, but further photos of the incident showed that the two did, in fact, end up sharing an umbrella).
This also is not the first time Trump has received criticism for seemingly not exercising consideration for members of his family. Indeed, on Inauguration Day, the media widely reported that, as soon as his car arrived at the White House, Trump instantly exited the vehicle, not taking time to open Melania's door and/or escort her to the Obamas, who were waiting to greet the couple at the top of a flight of stairs.
A widely shared photo depicts Melania alone, several feet behind the president and still near the vehicle, while Trump is already shaking former President Obama's hand. Another photo depicts both Obamas leading Melania into the White House with their hands placed on her back, while Trump enters the residence alone, ahead of the group.
Trump received extensive criticism among media outlets for the way in which he interacted with his wife at his inauguration, especially because, as Vanity Fair reported, Presidents Obama, Bush, and Clinton all escorted their wives when they first arrived at the White House on their respective Inauguration Days — seemingly rendering Trump's actions even more egregious in a comparative sense.
If Trump's apparent snubs of Melania do indeed reflect a lack of consideration and respect for his wife, a January 2017 article from Vogue argues that the public should not necessarily be surprised by this behavior. After all, the article argued, Trump has a history of not respecting women and him not engaging in courteous behaviors toward his wife would seem to reflect this unfortunate stance.
The article then listed ways in which Trump has failed to respect a myriad of women, including when he essentially admitted to sexual assault on the leaked Access Hollywood tapes and when he made fun of the appearance of a woman who had accused him of sexual assault, among others.
Trump now denies that it is his voice on the Access Hollywood tapes and denies that any allegations of sexual assault or misconduct against him are true.
Appearing to not hold an umbrella for his wife and son on a recent trip certainly does not fall into the same category as many of Trump's other reported actions and words that reflect a lack of respect for others. However, if he did indeed neglect to offer Melania and Barron access to the umbrella, many argue this would fall in line with his history of behavior toward others.