How Trump Spent His First Day Of Thanksgiving Break Probably Won't Shock You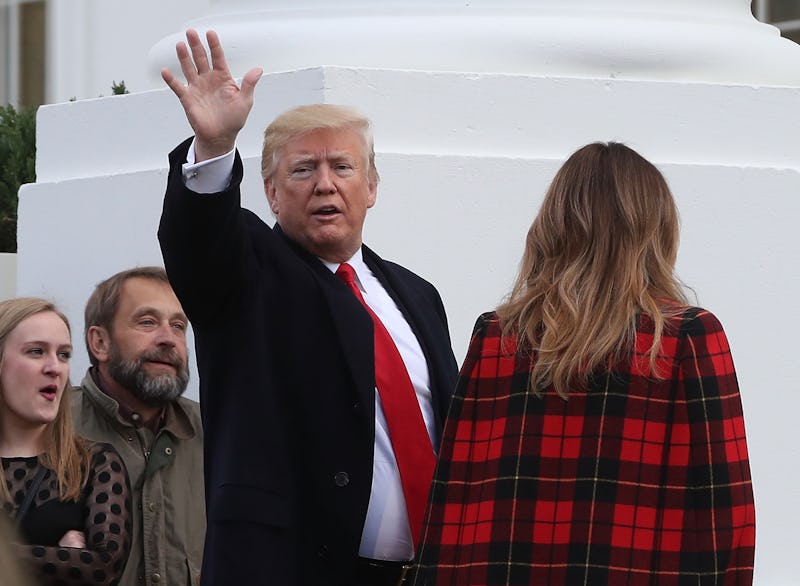 Mark Wilson/Getty Images News/Getty Images
For anyone out there who's wondering how Trump is spending his Thanksgiving break, you won't be surprised to know that he's doing what he does on most vacations: golfing at Mar-a-Lago. According to Bloomberg, Trump even played a "quick round" on Wednesday with retired golfing pro Jack Nicklaus. The outing also included Nicklaus' son (also a professional golfer), and his grandson G.T. This is one of many outings Trump has made with professional golfers in recent years.
Nicklaus, who has won more men's golf championships than anyone else in the world, is currently retired. However, he still plays on his own time, and has played with Trump on a number of occasions. Nicklaus has also been a supporter of Trump's political career from the beginning.
In May of 2016 to CBS Sunday Morning, Nicklaus said, "I've done several things with Donald on golf courses, and he's absolutely treated me great. He's been aboveboard."
Nicklaus continued, "He's turning America upside-down, he's awakening the country. We need a lot of that." He further pointed out that although Trump didn't tend to be politically correct or polished during his time as a presidential candidate, he believed Trump would learn.
"He's not stupid," Nicklaus said. "He didn't get to where he's at because he's dumb."
Trump's Thanksgiving getaway is the first trip to Mar-a-Lago of the season. Bloomberg notes that he spends Thanksgiving, Christmas, and a handful of winter weekends at his private resort in Florida. What's more, he's known to play golf with several professional players during his stints in Florida, including Dustin Johnson and Tiger Woods.
Prior to heading down to Florida, Trump participated in one of the Thanksgiving traditions at the White House: he gave presidential pardons for two turkeys, named Peas and Carrots. Trump even peppered a few political jokes in during the event. At one point, he said, "This was a fair election. Unfortunately, Carrots refused to concede and demanded a recount, and we're still fighting with Carrots."
He then warned that Democrats might not honor his pardon, and that they might try to reverse it shortly after.
POTUS has faced criticism recently for his decision to stick to spending Thanksgiving at the "winter White House" while thousands of American troops are currently stationed at the southern border between the United States and Mexico. Trump has refused to allow 5,000 or so troops to take holiday leave.
Secretary of Defense James Mattis has defended Trump's decision. To a reporter earlier in the month, he said,
Rain or shine, light or dark, cold weather or hot weather — we have an all-weather force that's on duty 24/7. Drive around the Pentagon on Thanksgiving Day, and look at the number of cars in the parking lot of people who work right through the holidays.
According to Newsweek, the Thanksgiving feast at Mar-a-Lago tends to be nothing short of spectacular. In the past, the dinner has consisted of upwards of 24 dishes, including everything from turkey, to stone crab, to ahi tuna martinis, to beef tenderloin.