Trump's CPAC "Thank You" Forgets Muslim Americans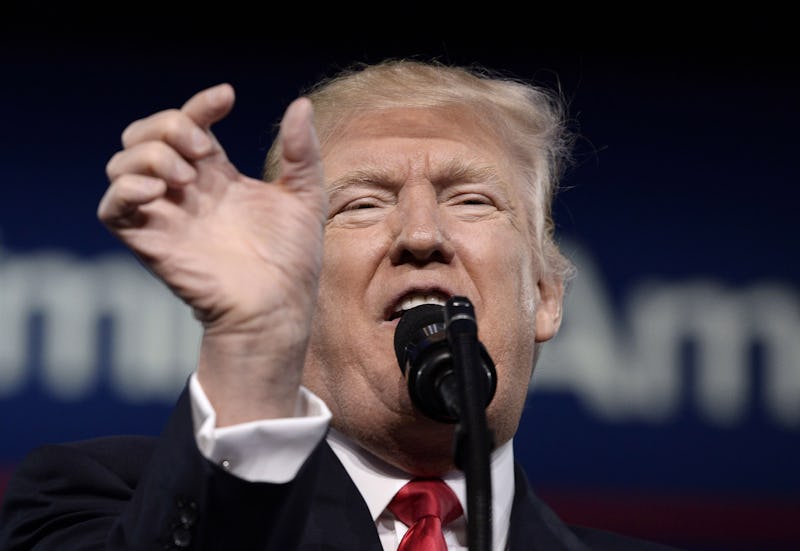 Pool/Getty Images News/Getty Images
The Conservative Political Action Conference (CPAC) is a big deal in the right-wing world, a four-day who's who of speeches and events featuring Republican and conservative leaders and thinkers. In 2016, then-candidate Donald Trump actually canceled his scheduled speech, possibly due to rumors that a planned walk-out was in the works. In just one year, if the applause interruptions during his 2017 speech are any indication, CPAC attendees have changed their tune to a degree of 180. Towards the end of his speech, Trump made a point of thanking another demographic besides right-leaning politicos who took some time to warm up to him — religious groups. Specifically, Trump thanked Christian and Jewish "pastors" and "rabbis," but made no mention of Muslim leaders.
True to his preferred mode of veering off-script, it's difficult to ascertain if Trump was referring to religious leaders in toto, or specifically the ones who supported him. Here's the full quote: ""And I want to thank, by the way, the Evangelical community, the Christian community. APPLAUSE. Communities of faith: rabbis and priests and pastors and ministers. Because the support for me is a record, as you know." Immediately prior to this passage, Trump had been celebrating how all Americans, regardless of background or race, are equal in the eyes of "Almighty God."
While Trump has certainly antagonized many Muslim Americans with his rhetoric about the Middle East, terrorism, and his recent attempted travel ban on seven Muslim-majority countries, not all Muslims oppose Trump. In fact, in the fall of 2015, Saba Ahmad founded the Republican Muslim Coalition, a Washington, D.C.-based advocacy group. And here's another fact that may surprise many who follow politics: according to the Council on American-Islamic Relations (CAIR), three times as many Muslims voted for Trump as they did for 2012 Republican candidate Mitt Romney. Trump earned 13 percent of the Muslim vote, whereas Romney received just 4.4 percent.
All of that is to say, even if Trump were simply thanking religious leaders and voters who had supported him in his presidency, it doesn't make sense to leave out Muslim Americans. And considering how often Trump seems to enjoy mentioning how he outperformed Romney with African-American voters, it is further curious as to why he does not make such a big deal about his similar gains amongst Muslim American voters.
It's good to see Trump go beyond just Christian congregations, and recognize Jewish communities as well, especially given some of the previous White House messaging regarding anti-Semitism. However, to disregard the existence and relevance of Muslim Americans by leaving them out of his designated "religious" groups to be thanked is, at the very least, a regrettable oversight.