How Trump's Trade War Could Make Jeans Around The World More Expensive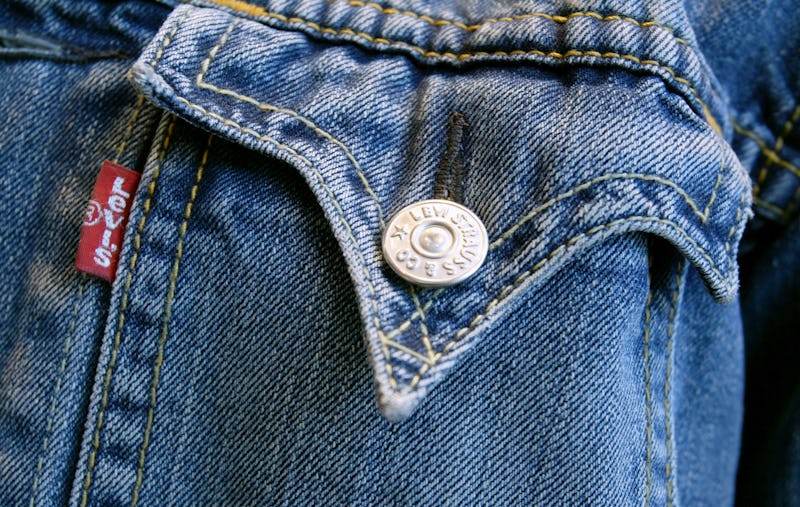 Justin Sullivan/Getty Images News/Getty Images
Running counter to a big portion of the Republican Party and some of the president's own economic advisers, Trump seems poised to announce new tariffs on aluminum and steel imports, tweeting about his proposal Monday morning. He explains it as a way to bulk up domestic industry, but it could have the opposite effect. While the new proposals may help the aluminum and steel industries, the unintended victim of Trump's trade tariffs could be blue jeans.
That's because the European Union and other trading partners could slap tariffs on American-made products in retribution for the forthcoming Trump aluminum and steel tariffs, expected to be 25 percent on steel and 10 percent on aluminum. Cecilia Malmström, European Union Commissioner for Trade, told BBC News that jeans could be one of the American imports to the European trade bloc that would be subjected to a corresponding 25 percent tariff — that means that for the European consumer, prices would rise by 25 percent.
Imagine a jeans store in Rome. In addition to the price of the jeans, paid to the U.S. company, they would need to pay a 25 percent tariff (essentially a tax) to their government. That increased cost would be passed on to their customers in the form of higher prices.
This only applies to jeans that are made in the United States; a significant portion of even Levi's jeans (perhaps the most quintessential American brand) are made overseas. But for U.S.-based clothing manufacturers, the loss in sales could be huge — Levi's alone has sales of more than $1 billion in Europe.
The new EU tariffs could make European brands like Zara or Top Shop more affordable in comparison and hurt Levi's and others, driving down their sales and ultimately costing American profits and jobs.
American consumers wouldn't necessarily notice a change in the price of their blue jeans, though. That only becomes a concern if a true trade war begins and the Trump administration were to retaliate against the Europeans or another trading partner by adding a tariff to clothing. Then, clothes made in Europe or other countries could rise in price.
The tariffs that Trump talks about are taxes that American consumers would be paying. But it's not jeans that will cost more. Prices of goods made with steel or aluminum will. MillerCoors says that beer will start to cost more, and jobs will be lost in the beverage industry. Car prices may go up too.
And don't think the Europeans are kidding. European Commission President Jean-Claude Juncker even mentioned Levi's by name on German television.
"We will put tariffs on Harley-Davidson, on bourbon and on blue jeans — Levis," Juncker said last week. The EU began a study of what products and industries to add tariffs to and has countermeasures "ready," officials said.
Nor is Trump — he's welcomed a trade war. "When a country (USA) is losing many billions of dollars on trade with virtually every country it does business with, trade wars are good, and easy to win," Trump wrote on Twitter Friday.
That rhetoric continued over the weekend and on Monday morning, when he threatened the country's closest neighbors. "We have large trade deficits with Mexico and Canada," Trump wrote. "NAFTA, which is under renegotiation right now, has been a bad deal for U.S.A. Massive relocation of companies & jobs. Tariffs on Steel and Aluminum will only come off if new & fair NAFTA agreement is signed."
In addition to jeans, Europeans have noted that Harley-Davidson motorcycles and bourbon could see new tariffs, too. On both side of the Atlantic, consumers will end up paying the price.