This One Tweet Perfectly Explains How Trump Manipulates You So Easily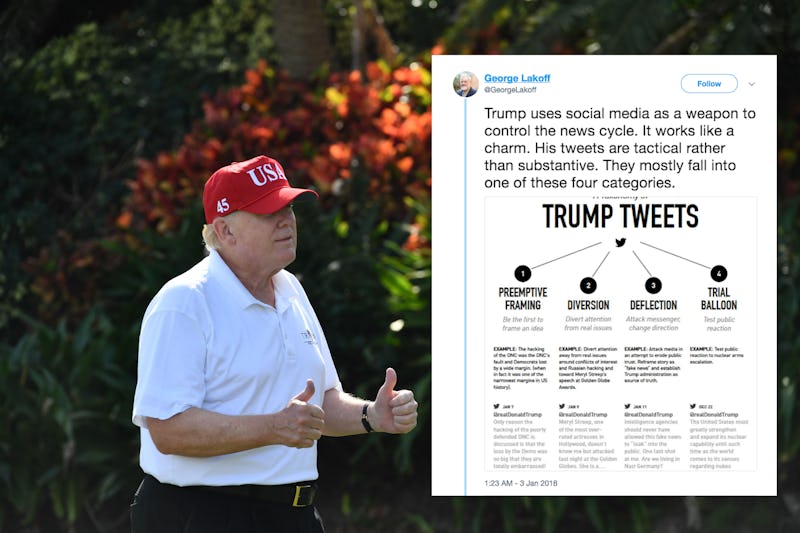 Time and again, Donald Trump has been cited as the reason why the news cycle in America has changed for the worse. But one tweet shared on Wednesday by a linguistics philosopher, George Lakoff, cracks the code of just how Trump uses social media to easily manipulate you. With the help of the linguist's taxonomy, you can see how the president's tweets are more about strategy and less about the substance in his words.
"Trump uses social media as a weapon to control the news cycle. It works like a charm. His tweets are tactical rather than substantive," Lakoff tweeted. You may not know who Lakoff is; as a cognitive linguist, author, philosopher, and former professor of linguistics at the University of California at Berkeley, he studies, analyzes, and writes about how human beings create and use language in culture, society, and politics. He now works as the director of the Center for the Neural Mind and Society.
In his tweet, Lakoff shared four categories in which Trump influences his American audience and the news media. Those four categories are "preemptive framing, diversion, deflection, and trial balloon." Lakoff presented his thoughts in a detailed graphic created with the help of a visual designer, Greg Gibilisco, of MAYA Design:
Using Lakoff's taxonomy, readers can approach and decode Trump's tweets without being taken in by them. He gives real-life examples to explain how those four categories work in Trump's favor. As an example of what he calls preemptive framing, Lakoff shared a Trump tweet from January 2017 where he framed the Democratic National Committee's hacking as its own doing. "The hacking of the DNC was the DNC's fault and the Democrats lost by a wide margin [according to Trump]. In fact, it was one of the narrowest margins in U.S. history," Lakoff said.
There's also diversion and deflection. Lakoff found an example of Trump doing this with a tweet about actress Meryl Streep (who he called "overrated") during a moment of increased national interest in possible Russian interference in the 2016 presidential race.
Lastly, there's the "trial balloon," which Lakoff said is how Trump tests the public's reaction to something — and perhaps their tolerance for aggression. Possible examples of such tweets could include Trump's retweeting of a far-right Islamophobic group in the United Kingdom last year, or his retweet of an anti-Semitic Twitter account in 2016.
Lakoff's analysis not only can help people read the context behind Trump's tweets, but also read into his possible intentions. The linguistics philosopher said:
Imagine if we took a different approach to Trump's social media antics. Imagine if we put them in a small, quiet corner of the newspaper. Imagine if they were only a minor throwaway item at the end of the newscast. Imagine greeting them with calm clarity, not instant outrage.
He added: "We have the power stop him. But we must stop letting him control our media -- and our minds. It's time to give Trump a Twitter Time Out. Let's shrink him down to size. Let's take this weapon out of his hands."
The linguist's breakdown of Trump's news cycle manipulation strategy via Twitter seems to be a great (and free!) resource for American citizens. With the help of Lakoff's analysis, you can see how Trump frames an idea; directs mainstream attention away from critical issues of the moment; deflects by attacking personalities and institutions (especially by calling them "fake news"); and then tests the public's patience and reaction with aggressive declarations. It may sound like a lot of steps for one person to go through when reading every Trump tweet, but it works, as Lakoff said, "like a charm."