This Poll Shows How A Woman's Political Party Affects Her Thoughts On A Female President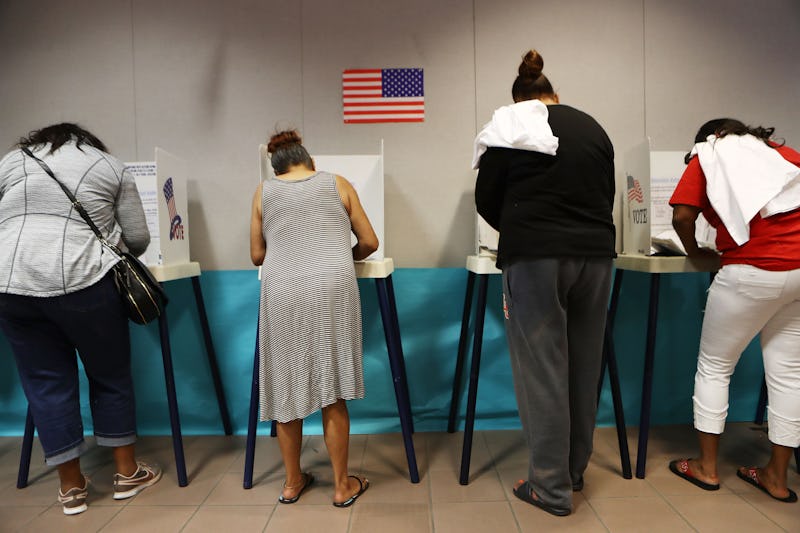 Mario Tama/Getty Images News/Getty Images
As we close in on the final days of the 2018 midterm elections, it simply means the 2020 presidential primaries can begin in earnest. For Democrats, the field of potential candidates include a number of qualified women. For Republicans, there's even potential female candidates outside the current president. But, according to polls, a woman's political party affects her views on female presidents, with dramatically different outlooks among Republican and Democratic women.
A new poll by TIME and SSRS released on Monday found that among American women, 56 percent think that a woman being elected president in 2020 is "unlikely." The numbers get interesting when you dive into the party breakdowns. Among Democratic women surveyed, 53 percent said a woman is "likely" to be elected in 2020, while only 35 percent of Republican women surveyed thought so. "I would like a female to take the reins. However, I don't feel most of the country agrees with me," Dawn Zimmerman, a Republican in her 50s from Omaha, told TIME in an email.
For Republican women, it's not unusual to see the assumption that President Donald Trump would run again. No modern incumbent president hasn't run for their second term, according to NPR. Zimmerman noted that she hopes for Trump's re-election.
This new poll from TIME is in line with other polling of women along party lines from groups like YouGov and the Pew Research Center.
In August, the Pew Research Center found that an increasing share of Americans are hoping for a woman to be elected president — 45 percent in comparison to 38 percent in November 2014. In that same November 2014 poll, 56 percent of Democrats surveyed hoped to see a woman president; now the Democratic belief sits at 63 percent.
By comparison, the Republican numbers haven't moved all that much. The Pew Research Center found that 23 percent of Republicans hoped for a woman president in 2014 with the number only increasing to 24 percent in the 2018 poll.
Among women, 51 percent say they think they'll see a woman president in their lives. For men, the number is only at 38 percent.
In April, a poll from The Economist/YouGov found that a majority of those surveyed think they'll see a woman president — the first — before they die. When asked about their personal hopes to see a woman elected to the highest office, 59 percent of Republicans answered no. By comparison, when Democrats were asked, 89 percent said yes, they hope to see a woman elected as president before they die. Even 63 percent of independents surveyed said they hoped to see a woman elected president.
After Tuesday, Americans will once again be in the weeds of a primary presidential campaign season. Though there might be likely female candidates on the Republican side, it's likely Trump will still run. This means the jockeying for another women to potentially be the first female president will happen on the Democratic ticket. Women such as California Sen. Kamala Harris and New York Sen. Kirsten Gillibrand have already been named. We'll have to see if they can answer the hopes of those surveyed.