Viola Davis Reflects On Growing Up Poor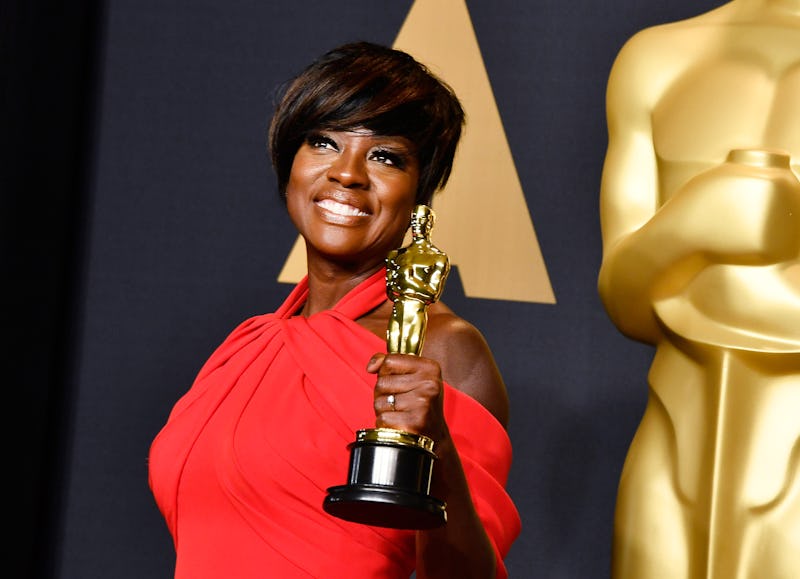 Frazer Harrison/Getty Images Entertainment/Getty Images
One of the thrills of #ThrowbackThursday is comparing how you looked, dressed, and felt back in the day to who you are now. For Emmy, Tony, and now Academy Award-winning actor Viola Davis, memories of living in abject poverty remind her of how far she's come. The 51-year-old, who was born in a one-room shack in St. Matthews, South Carolina, told People magazine that she only has one picture of herself as a child. And, apparently, looking at her kindergarten photo prompts her to reflect on her "blessed" life.
"I have this expression on my face — it's not a smile, it's not a frown," Davis told People. "I swear to you, that's the girl who wakes up in the morning and who looks around her house and her life saying, 'I cannot believe how God has blessed me.'" The Juilliard-trained actor's hard-earned success hasn't gone to her head. She explained that growing up with five siblings and her parents in a rat-infested apartment in Central Falls, Rhode Island, only pushed her to dream of a life beyond her circumstance:
"It became motivation as opposed to something else — the thing about poverty is that it starts affecting your mind and your spirit because people don't see you. I chose from a very young age that I didn't want that for my life. And it very much has helped me appreciate and value the things that are in my life now because I never had it. A yard, a house, great plumbing, a full refrigerator, things that people take for granted, I don't."
These days, the How to Get Away with Murder star and her husband Julius are raising their daughter Genesis in her dream home. During Variety's Power of Women event in 2014, Davis said rather than indulging in fineries that she can now afford, she simply enjoys being a homebody, according to The Washington Post. "Because I grew up in such tight spaces, I don't get manicures, pedicures, I'm not into cars, but I am into a fabulous house. I wanted the spiral staircase, clean sheets on the bed, to be able to take a shower," Davis said.
At first glance, living in a place like Hollywood and being humble seems improbable. Entertainers often seek validation for their work by collecting countless accolades. But award season has only further proven that Davis is different. The acclaimed actor may be one Grammy award away from the EGOT, but she still sees herself as the grateful, hopeful aspiring thespian from South Carolina.