How Wildfang Became The Go-To Brand For Badass Feminists Everywhere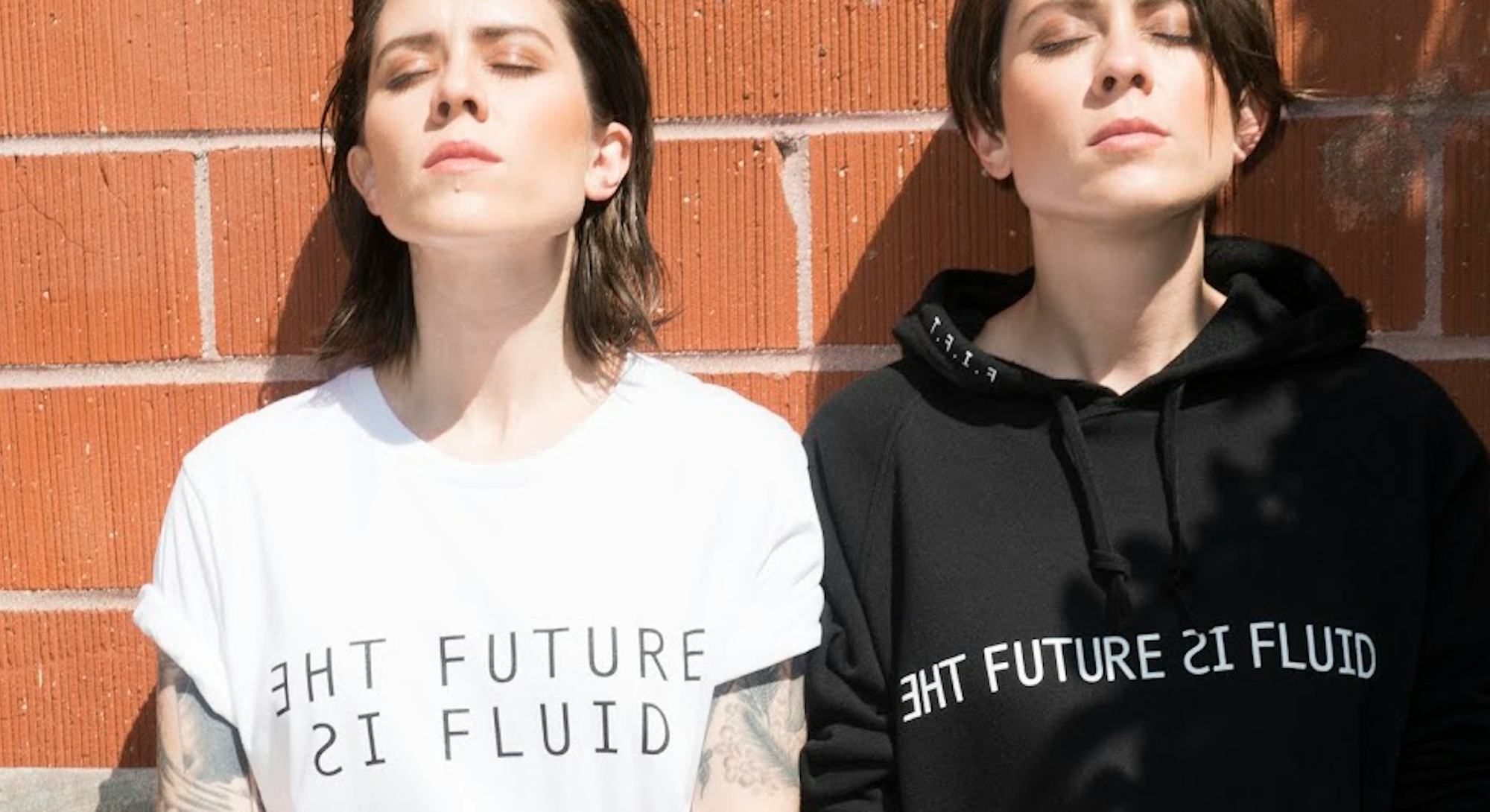 In 2010, Emma McIlroy was working at Nike and struggling to find clothes that fit her style and her body. One day, she and her co-worker Julia Parsley decided to hit a department store and shop for new work clothes, first visiting the women's section. Amidst dresses and floral pants, they found themselves bored with the women's fashion on offer. A self-proclaimed tomboy, McIlroy craved blazers and tailored pants that fit her small, female frame.
McIlroy and Parsley eventually found themselves asking questions that would set them on a course: "Why the hell can you not get a great blazer in the women's department? Why can you not get a great jean jacket in the women's department? Why are they all cropped and tight and pastel? Why are we forced into this particular box?"
Fed up with waiting, the pair created tomboy fashion brand, Wildfang.
McIlroy and Parsley convinced their fellow Nike employee and fashion creative, Taralyn Thuot, to quit her job and become their first employee. The three of them spent many late nights working together, before launching Wildfang — which means "tomboy" in German — in 2013. Today, Wildfang has 25 employees, a booming online business, and two brick-and-mortar stores (a flagship store and an outpost) in Portland, Oregon.
Wildfang's most popular collection is Wild Feminist, a range of T-shirts, jackets, and accessories that tout the provocative eponymous phrase. McIlroy came up with the phrase in early 2015.
"I was nerding out with the creative director, Taralyn Thuot, about what the consumer was thinking. We started interviewing consumers and when we asked them about feminism, we got some confusing answers back," McIlroy explains.
After hearing excuse after excuse about why people refused to call themselves feminists, McIlroy decided she wanted the brand to embody her feminist ideals, and also wanted to give Wildfang loyalists a feminist mantra to live by — and thus, Wild Feminist was born.
"If you're not a wild feminist," McIlroy says, "Then don't fucking bother."
Celebrities have responded to the brand as well: Janelle Monae wore a Wild Feminist shirt on stage at Coachella in 2016. The brand has been worn by Ellen Page, Miley Cyrus, and Tatiana Maslany. Ilana Glazer and Phoebe Robinson collaborated on a limited edition clothing collection for the brand in October 2017. Most recently, indie rock sensations Tegan and Sara recently worked with Wildfang on a new collection titled The Future is Fluid, which includes a series of T-shirts, a bomber jacket, and even an adorable baby onesie.
"Tegan and Sara are some of the most engaged and involved people," McIlroy says. "When they say they are going to do something, they are really deeply involved. They are so inspiring with their passion."
In addition to selling merchandise with a message, the Wildfang flagship store is more than just a place to get lost in perfectly tailored button-downs and patterned bomber jackets: It is also a place for community. Every month, Wildfang hosts an event at their flagship store called "Free Speech," which is a space for women to come together and listen to each other's stories.
"We take six people we know and love from our community and ask them to tell personal stories." McIlroy says. "It's not a TED Talk or a presentation, it's a personal story. And the line-up is always 50 percent POC and 50 percent queer; that's something we feel very strongly about."
The stories Wildfang's supporters share are candid and personal, and range from a woman talking about the time her boyfriend tried to put chocolate in her vagina to an ex-Marine describing the multiple rapes she faced during service.
"It's incredibly powerful, these intimate moving stories that people tell because of the safe space we created," McIlroy says. "It's very special."
Wildfang's community has been particularly important to McIlroy since the 2016 presidential election.
"Personally, it was devastating," McIlroy says. "I don't have any problem telling you that. We held a party on the night of the election; 600 people came because they wanted to party with us when we elected our first woman president."
When Clinton lost, McIlroy questioned Wildfang's existence: "If someone like Trump can get into office," she remembers thinking. "Maybe we don't have a future, maybe we don't need to exist."
Her doubts didn't last long: The three days after the election were some of Wildfang's biggest days of the year. "Our consumers spoke, and our consumers spoke widely," McIlroy says. "They said, you need to exist, you absolutely need to exist, we are not going away and we are not going to take this shit lying down."
McIlroy always makes a point to tell people that while she is queer and their events are a safe space for LGBTQIA+ people, "Free Speech" and Wildfang in general are not exclusively for queer people.
"I don't know which coffee at the grocery store is queer, or which soda is queer, and I don't know if the Levi's jeans I wear are queer, and I don't know what it means to be just a gay brand." McIlroy explains, "We don't need to be exclusively queer, we just work really hard to be inclusive and diverse."
As for the future, McIlroy is determined to take Wildfang as far as the world will allow. Right now, they are working on expanding suit sizes up to 2XL and opening a store in New York City. Additionally, they donate 10 percent of their Wild Feminist line's profit to Planned Parenthood and the ACLU, and continue to provide a platform for queer small businesses.
And when McIlroy has gone as far as the world will let her? "Well, I'll just reinvent the rules."