Wilson Cruz & Anthony Rapp Tease How 'Star Trek: Discovery' Might Resurrect Dr. Culber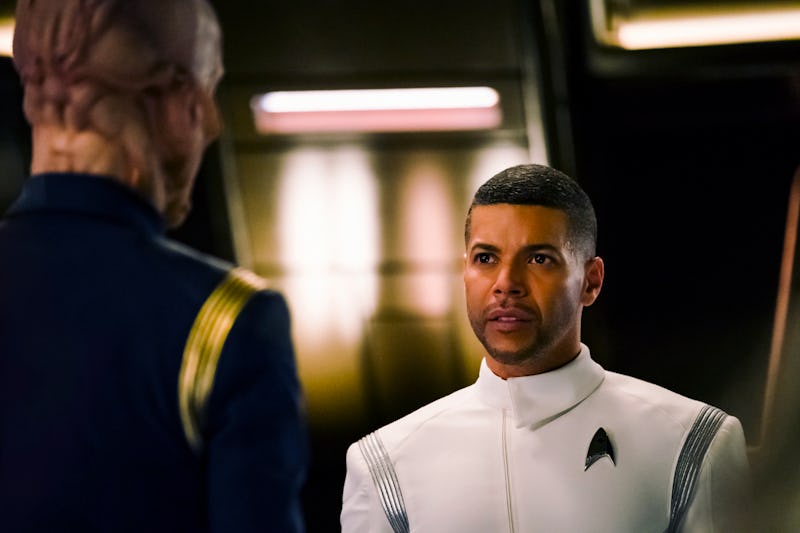 Jan Thijs/CBS
Fans were dealt a serious blow when Star Trek: Discovery returned from its mid-season break in early 2018. After Voq was awakened within Ash Tyler in Season 1, Dr. Hugh Culber sought to ground Tyler in hopes of assessing the truth of his identity, only when he did, Voq emerged and snapped Culber's neck, killing him in an extremely untimely death. The loss shook fans, especially considering that he was the other half of one of the series' most central romantic relationships (he and Anthony Rapp's Stamets are the epitome of OTP), but it wasn't long before Culber actor Wilson Cruz began teasing the character's possible return. And after San Diego Comic-Con, the return is completely and totally confirmed. Luckily, he also spilled a few teasing details about how Culber will return to Star Trek: Discovery.
"I can say that I come back," he says with a laugh, when we speak after Discovery's big Hall H panel. "The way I come back is really awesome." Of course, he won't spill any details about exactly how he manages to unsnap that neck of his — things like that tend to be pretty final — but he will help eliminate some theories. And by some, I mean, all of them.
"Part of the fun this past year is just hearing all people with different theories of how they think it's gonna happen, because we were really up front pretty quickly about the fact that I'd be coming back. But I can say that nobody's gotten it yet. Which is pretty awesome," he teases.
Of course, the how is interesting, but the true mystery is what happens once this character returns. Anyone who's seen characters return from the dead in just about any sci-fi or fantasy series knows that people don't tend to come back from these sorts of things without a little — or a lot of — damage (see: Buffy The Vampire Slayer Season 3, when Angel comes back from hell as the vampiric equivalent of a rabid dog or the flip side on Game of Thrones, in which Kit Harington's Jon Snow comes back more assertive and extra broody). And according to Cruz's hints, Culber is not immune to this rule of resurrection.
"Honestly, I can say that you can't go through any trauma in your life, which is what Culber has gone through, and not have it affect you and your life and every element of your life. So we all carry trauma around us and even ancestrally, so it changes us in ways we're not even aware of and I think we find a bit of that," he offers, speaking of the new season and the mysterious return. And some trouble along the way is important, if this series hopes to remain grounded in real human emotion — a hallmark of Season 1, among all the mirrorverse twists and Starfleet jargon.
It's likely going to be particularly hard on Stamets, who Rapp says will finally have a moment to actually process the loss — something Rapp says wasn't explored enough in Season 1.
"The first big question that didn't really get to be explored as deeply because there wasn't time for it is, how do I go forward from it? How does that lead to the possibility of being reunited somehow? Stamets doesn't know when [Season 2] starts how that might happen," Rapp says, putting fans and the lieutenant commander in the same boat. (At least we're all in the dark together, right?)
The one thing Rapp does confirm, however, is that when Stamets and Culber do finally reunite, we are all sure to be satisfied with the scene — at least he's mostly certain we will.
"When we were filming that stuff, Wilson and I were like, knowing how hard we worked to make this good, if they're not satisfied by this I don't know what we could do," he says with another laugh. "We throw up our hands."
And at the very least, knowing that this OTP couple gave their eventual reunion their all is all fans can truly ask for. OK, that, and more adorably intimate nightly routine moments.