Miami Is In The "Worst Possible Position" When It Comes To Hurricane Irma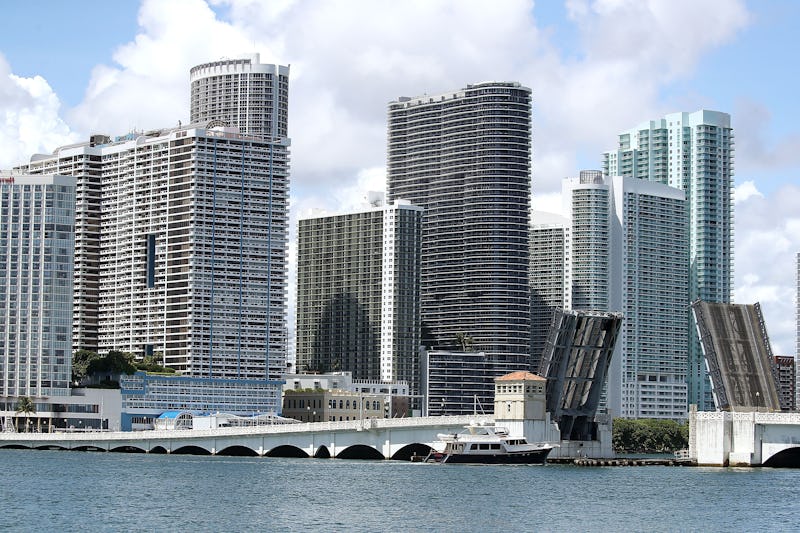 Mark Wilson/Getty Images News/Getty Images
Hurricane Irma is storming through Haiti and the Dominican Republican, and it's expected to hit the southern coast of Florida by Saturday. The Category 5 hurricane has already claimed 10 lives, and on Thursday, its projected path was shifted to the west. As a result, it's likely that Hurricane Irma will hit Miami very hard by the time it reaches the city.
"It looks like [Irma's path is] shifting. Even though it may be just 20 miles, it puts Miami right in the worst possible position," said CNN meteorologist Tom Sater. "Because when you look at the formidable storm, the strongest winds, the strongest storm surge, the bands of heavy rain are always in that north, northeastern quadrant."
Irma is expected to reach Miami on Sunday, and the city is already feeling the effects in the form of fuel shortages. According to CNN, only half of the gas stations in the city are open, one of which had a line of cars stretching around the corner and an hour-long wait to pump gas on Thursday. Florida Gov. Rick Scott said in a press release that state police will escort fuel trucks through evacuation routes, and emergency contractors have procured 1.5 million gallons of fuel to help alleviate the shortage.
As for the storm itself, the National Hurricane Center says that it will likely bring "life-threatening storm surge and wind impacts to much of the state," especially the southern regions. Storm surge is what happens when a hurricane approaching a coast "drags" excess ocean water to the shores, resulting in flooding of coastal communities; the National Hurricane Center says that South Florida could experience storm surge of up to 10 feet. In addition, Irma is expected to bring winds of up to 129 mph and gusts as strong as 154 mph to Miami, according to NBC News.
"Miami has no choice but to prepare for a strong Category 4 hurricane," NBC's meteorologists said. "Most of the damage in South Florida is expected from the storm surge and winds."
Mandatory evacuation orders are already in effect in parts of Miami-Dade County. More than half a million people in South Florida have been told to leave the area, which has caused major traffic problems and gridlock on nearby freeways.
If there's any good news, it's that Irma has already peaked in intensity, and is expected to weaken from Category 5 to Category 4 by the time it hits Miami. In addition, it's been moving rather swiftly and isn't likely to linger in Florida for very long; this is a contrast with Hurricane Harvey, which meandered aimlessly over Texas for days before dissipating.
Nevertheless, Florida residents should treat Irma as nothing less than an emergency situation, and heed all local warnings and advisories as the storm approaches the continental United States.