How Trump's Three Tweets Will Cut Short Thousands Of Military Careers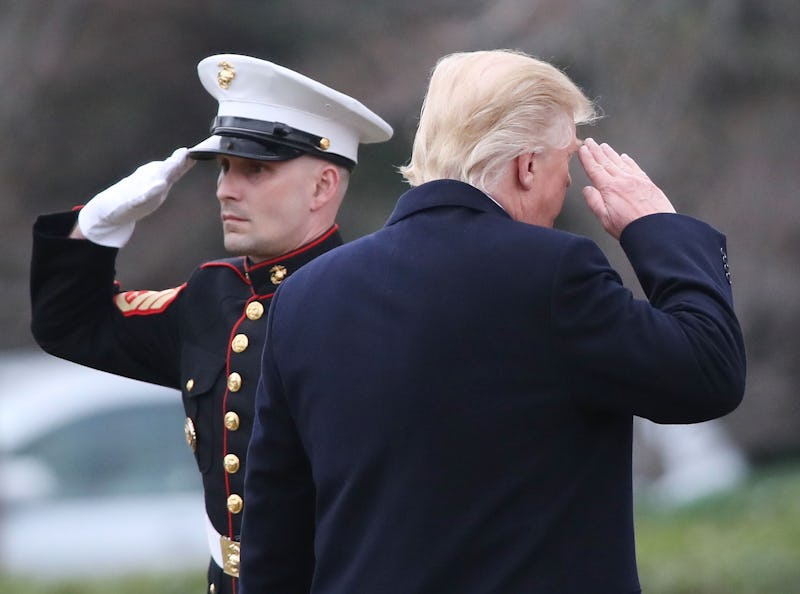 Mark Wilson/Getty Images News/Getty Images
Sixty-nine years to the day after President Truman desegregated the military, President Trump took to Twitter to undo another former Democratic president's legacy on the armed forces: an Obama-era directive allowing transgender individuals to openly serve.
"It's a kick in the gut," says Jennifer Long, a transgender retired Sergeant Major. "Some of them were just coming out, waiting for the news on open service, and served openly. And now their careers have been jeopardized. They feel betrayed and with that betrayal, they're feeling uncertainty."
A directive issued by former Secretary of Defense Ash Carter last year effectively ended a ban on transgender Americans serving in the U.S. military by preventing service members from being discharged or denied re-enlistment solely for being transgender. An estimated 7,000-15,000 transgender individuals currently serve in the military. Now, according to Trump's tweets, they will no longer be allowed.
"After consultation with my Generals and military experts, please be advised that the United States Government will not accept or allow Transgender individuals to serve in any capacity in the U.S. Military," Trump tweeted Wednesday morning. "Our military must be focused on decisive and overwhelming victory and cannot be burdened with the tremendous medical costs and disruption that transgender in the military would entail." The President punctuated his three-piece Twitter announcement with "Thank you."
"The President just pink slipped 15,000 trained military service members just because they're transgender."
While the President warned of the "disruption" transgender people in the military "would entail," retired military personnel and LGBTQ advocates point to the thousands of transgender individuals who, as of Wednesday morning, have had their careers upended.
"The President just pink slipped 15,000 trained military service members just because they're transgender," says Sue Fulton, a former Army captain and a member of the LGBT military advocacy group SPARTA. "Transgender service members are commanding troops, training new recruits, conducting special operations, and flying and crewing jets. Pulling them out disrupts the units and jeopardizes the mission."
"Those tweets are essentially an instruction to the Defense Secretary to begin kicking people out because of who they are," says Harper Jean Tobin, Director of Policy for the National Center for Transgender Equality. "I think we have to take the President at his word that this is effectively an instruction for the Pentagon to carry out, even if it's contrary to the study and the experience that they Defense Department has had. They're expected to follow the President's instructions at least until the policy is challenged in court."
Do Transgender Soldiers Really Cost More?
The 2016 study by the RAND Corporation shows that the cost of medical care and effect on military readiness, two issues Trump pointed out in his tweets Wednesday morning, would be negligible if transgender individuals openly served in the military.
According to the study's estimates, the new policy would result in fewer than 300 new hormone treatments or gender-related surgeries over the course of a year, and while the additional healthcare costs could run between $2.4 million and $8.4 million, that's just around a tenth of a percent more (0.13-percent) than the cost without changing the policy.
More than a dozen countries allow transgender military personnel to serve openly, including the United Kingdom, Canada, Israel, and Australia. While the RAND Corporation study reported instances of harassment and bullying, along with a note those issues could be mitigated with proper training, it found "little to no impact" on military readiness, operational effectiveness, or unit cohesion. "Commanders noted that the policies had benefits for all service members by creating a more inclusive and diverse force," the study says.
"We are never stronger when we kick out trained, qualified troops," Fulton says in response to Trump's decision. "Today's Wednesday and he's banning transgender troops. What's he going to ban next week? Gay, lesbian, and bisexual troops?"
For Christian Fuscarino, the Executive Director the New Jersey-based advocacy group Garden State Equality, that question resonates. "My partner serves in the Marines," Fuscarino says. "We are both openly gay. An action like this hits close to home. It's not just uneasy for trans service members, but it creates a feeling of uneasiness for any member of our military who was once discriminated against."
Will Transgender Servicemen & Women Be Kicked Out Of The Military?
When Trump took office, the Pentagon had been in the midst of a year-long process to educate and train all service members on the new policy, provide gender transition medical care to service members, and begin accepting transgender recruits. The initial policy required recruits to be stable in their preferred gender for 18 months and meet the same physical and mental fitness standards as everyone else.
"Open service by transgender Service members, while being subject to the same standards and procedures as other members with regard to their medical fitness for duty, physical fitness, uniform and grooming, deployability, and retention, is consistent with military readiness," according to a memo from the Department of Defense detailing the launch the Obama-era policy.
No one has a darn clue what the answer is now.
"This is a direct repudiation of the directive and the policy that was set forth in June 2016 to find a way to integrate," Bradley Moss, a national security attorney who's represented members of the U.S. armed forces, says, "just as the military has managed to integrate racially in the past, and with respect to women over the past 50-60 years."
Did The Pentagon Know This Was Coming?
A month before the last phase of the 2016 policy shift was set to take effect, President Trump's head of the Department of Defense, Secretary James Mattis, announced that the Pentagon would be reviewing the impact of the policy and would delay implementing any changes. Trump's tweets appeared to catch the Department of Defense off-guard: shortly thereafter, the Department issued a statement referring all questions to the White House.
"It seems like a slap in the face to Mattis and many in the military," Tobin says. Moss calls it a "shoot-from-the-hip type of moment" from the President.
"This appears to have been done without proper coordination or discussion with the proper stakeholders. How it will be implemented, how it will address existing service members, past service members, future service members, no one knows right now."
It's also a reversal for President Trump, who pledged as a candidate to be an ally of the LGBTQ community.
"I think it's been fairly clear, for somebody wanting to make a quick statement on what people consider 'traditional values,' I think an easy, quick win would be to shut down an inclusion program in the military that wasn't fully implemented in the last administration," says Kristen Rouse, the founder and director of the New York City Veterans Alliance. "I think it's kind of low-hanging fruit."
Rouse joined the military in 1994, when "Don't Ask Don't Tell" was the brand-new official policy. Rouse, a lesbian, tells Bustle she thought of the policy as ridiculous and short-lived. "How long is this going to last?" she remembers thinking. "And the answer is, 17 more years."
"I was on bases that were literally being attacked. We were on these tiny bases that were vulnerable," Rouse says about her second of three tours in Afghanistan.
"We had an enemy that wanted us dead, and I'm sitting here in our dining facility watching on network news, elected officials, leaders of prominent veterans organizations, saying that I am a threat to national security. And I had to sit there in silence."
"That right now is what our trans brothers and sisters are feeling right now," Rouse says. As the founder and director of the New York City Veterans Alliance, she's speaking out for inclusion and diversity. "Hate and prejudice and discrimination is what weakens us. That is what threatens unit cohesion."
Advocates for transgender rights point out Trump's tweets could have a chilling effect outside the LGBT community. Tobin says, military personnel working alongside transgender service members "have to worry [about losing] somebody they may be serving with and may be relying on every day."
How exactly the thousands of openly transgender individuals currently serving in the military are affected by the President's tweets is anyone's guess.
"That's the 64,000 dollar question," Moss says. "No one has a darn clue what the answer is now."