Here's Exactly How (And When) Trump's Birth Control Rule Will Affect You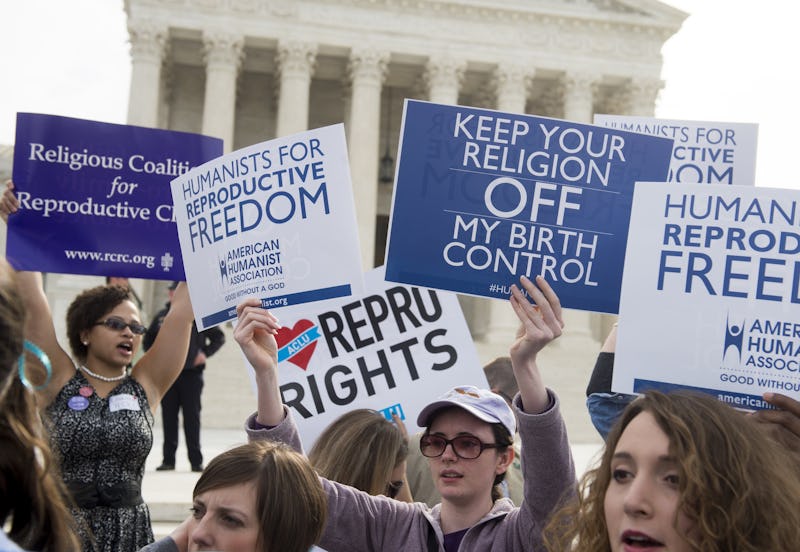 SAUL LOEB/AFP/Getty Images
As of this week, virtually any employer with a religious or moral objection can claim an exemption from covering birth control in their health care plan. The Trump administration made a sweeping rollback on Obamacare's birth control mandate, which required most employers to include contraception in their health care plans at no out-of-pocket cost. The decision went into effect immediately after the White House announced it last Friday.
While employers are not required to register their decision to opt out of birth control with the government, employers must notify their employees of any changes in their health care plans. So, the best way to find out when it will affect you is to find out directly from your employer, who can change its plan at any point — which would then increase the cost of your birth control.
The Trump administration outlined two regulations that dismantle Obamacare's birth control mandate. One explains how an employer can claim exemption for religious beliefs, and the second explains how an employer can claim exemption based on "sincerely held" moral convictions. Prior to this, the contraceptive coverage mandate under the Affordable Care Act, also known as Obamacare, only gave exemptions to nonprofit religious organizations, including hospitals and institutions of higher education. The mandate guaranteed 55 million women access to no-cost birth control.
Now, thanks to the Trump administration's broad exceptions, many, many women could lose access to birth control. Under Trump's order, both nonreligious and for-profit companies can seek an exemption, regardless if it's a small, family-run business or a company owned by thousands of shareholders. This means that virtually any employer — yes, including yours — can opt out of providing birth control coverage if they claim a religious or moral objection to it.
Andrea Miller, president of the National Institute for Reproductive Health, tells Bustle that the sweeping rollback of the contraceptive coverage mandate affects not only women who work explicitly for religious institutions, but to any woman who works for a boss who wants to assert a personal agenda in denying her coverage.
"A woman's right to control when and whether to become a parent, and thus to determine the course of her life, is inseparable from her ability to access contraception," Miller says. "If we support full rights and equality for women, we should not be separating out birth control from the spectrum of health care that is covered by health insurance. A boss's personal agenda should not determine which aspects of health care an employee gets."
In contrast, Scott Phelps, founder of the Abstinence and Marriage Education Partnership, told Healthline he's concerned about the declining fertility rate in the United States and that a policy that promotes contraceptive coverage "is backward." Phelps added: "We don't see pregnancy as a health problem. We see it as a necessity for a growing, thriving society and economy."
The Guttmacher Institute found that under the Affordable Care Act, the percentage of insured women on the pill who were projected to pay $0 for it jumped from 15 percent in 2012 to at least 67 percent in 2014. Both the Guttmacher Institute and the CDC also reported that the percentage of women with an IUD has also increased in recent years. Some research indicates that an increased use of birth control leads to less abortions and unintentional pregnancies. The ability to determine whether and when to have children could provide women with better social and economic opportunities, the Guttmacher Institute reported.
Birth control users are also speaking up to remind people that birth control is not limited to preventing pregnancies. Women also use birth control for other health issues.
The Obamacare birth control mandate sparked dozens of employers, including Hobby Lobby, to file lawsuits. Most lawsuits attacking the Obama-era mandate claimed the policy violated the Religious Freedom Restoration Act of 1993. New lawsuits, however, could claim the Trump-era mandate violates that same law, which "does not provide protection for nonreligious, moral conscientious objections."
In response to the new rules, California Attorney General Xavier Becerra and the ACLU have sued the Trump administration. More lawsuits are expected to follow. If you're concerned about how exactly Trump's birth control order will affect you, now's the time to find out from your employer.