The California Wine World Is Still Dominated By Men. That Didn't Stop Amy Atwood From Building An Empire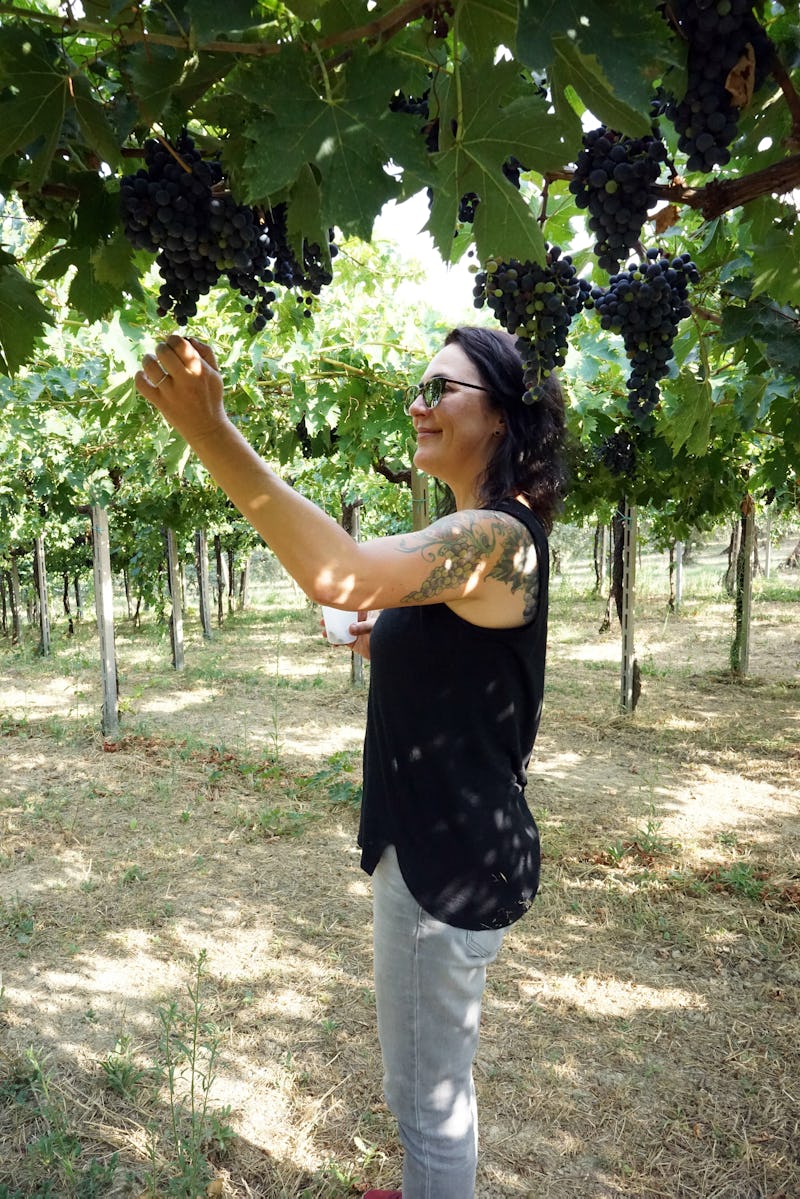 Courtesy of Amy Atwood
When she was a child, wine maven Amy Atwood associated wine with fancy occasions. Growing up in Dallas, Texas, she says, her parents would always break out the vino for dinner parties or other social occasions. Little did she know, as she watched the adults toast with glasses of red and white, that she would one day be known as a pioneer in very industry that creates the delectable beverages.
"I think she would love it," she says, when I ask what that little girl in Dallas might think of her life today. Atwood lives in Los Angeles, is a leader in the natural wine community, and travels constantly — in fact, as we speak, she's en route to LAX for yet another adventure. "I mean one thing I definitely did know, from a very young age, and that I did start doing as soon as I possibly could, is I knew I wanted to travel and see the world, and see the world through other people's eyes, from other cultures, and that's one of the biggest things the wine business has given me, is the ability to do that. So I basically kind of incorporated, basically envisioned how I wanted my life to be, and then I created a job and a career around that."
Travel literally led her to wine. "Long before the time of Google," she jokes, she lived in Australia for about six years, where she worked in restaurants and got into wine culture. Back then, for lack of a search engine, the only way to learn about her new hobby was to just do it (and, well, drink it). Now, she finds herself as the owner of a producing, wholesale, and importing company appropriately called Amy Atwood Wines, which specializes in natural wines (see: sustainable wine) and houses her own wine label (OENO) as well as 21 other labels. And, if you ask her, supporting those other 21 labels is what she's most proud of.
I think just more women in general ... are feeling more support and more confident to start their own companies, to speak their minds.
"[I'm proud of] being able to support these winemakers, who are oftentimes financially strapped. They're also taking a chance starting out — and especially some of them in the early days, starting out making natural wines, which weren't always understood or received well," she says, adding that her favorite story involves a young, female winemaker — a rarity in an industry that as of a 2018 study by Women Winemakers of California sees only 10 percent of the wineries in California run by women. Luckily, Atwood is able to help change that herself. She recalls just last year, calling up this young winemaker and telling her she wanted to represent her wines. "I was like 'Can I buy everything you have?' and she was like 'You literally just, that was everything, you just saved me.' I think she actually said. 'You just took all of my worries away.'" It's the ability to support young woman and others like her that Atwood says makes her most proud. The desire to work with them comes from a deep reverence for their craft, "especially the natural winemakers," Atwood adds. "I mean I view them as, they're artists."
Atwood is also hopeful that the industry — which she points out, is like most industries when it comes to its gender imbalance — is at a turning point, and that women are starting to be bigger players in the vineyard game. "I think just more women in general, if we even look at the last two or three years, are feeling more support, and more confident to start their own companies, to speak their minds," she says, pointing to the backlash against the election of Donald Trump as the impetus for many women to just do the dang thing in male-dominated fields. "I was just having a conversation with a friend of mine, a couple days ago, who is also a business owner, not in the wine business, but is in the food business, and we were saying that there's been a positive backlash since the election. I have a good friend of mine who just won office in Texas, who I don't know if even five years ago she would have even run. So I think it's just more women saying, Oh, I'm gonna do this. I can do this, and I'm gonna do it."
[In] the natural wine world, we have so many female sommeliers, and even importers and distributors now. We didn't as much 10 years ago.
And there are stats that back up Atwood's suspicion, especially in the wine industry. According to Wine Enthusiast, the number of women studying enology and viticulture is actually on the rise — a 2015 survey at UC Davis (one of California's premiere agricultural schools) saw a graduating class that was half women, as compared to 1999's class, which saw a third less women.
For Atwood, the natural wine world might actually be helping this uptick — though this side of the industry is growing now, it was a risky business to start out in back in 2012 when Atwood started her own company. "I think [in] the natural wine world, we have so many female sommeliers, and even importers and distributors now. We didn't as much 10 years ago," she says, adding that one of her colleagues was recently "blown away ... by all of the female wine professionals in L.A."
Of course, this world wasn't always such a booming landscape. When Atwood started out, she really was a bit of a pioneer — and not just because she was one of the few women trying to start her own wine company. She accredits one colorfully named policy for getting her through — one any woman, in any industry, should probably adopt.
"One of the things I definitely said to myself when I was starting my company was that there was going to be a zero asshole policy. And that anybody who was just like, not a pleasant person for whatever reason, that I didn't need to do business with them," she remembers with a chuckle. "And of course, I'm lucky, but it's actually been a rare occurrence anyway, because so many cool people are attracted to [natural] wines."
Clearly, luck has not been the only factor in Atwood's success, but one thing is for sure: She's suffered no fools along the way.