Here's How You Can Buy Meghan Markle's Stella McCartney Wedding Reception Dress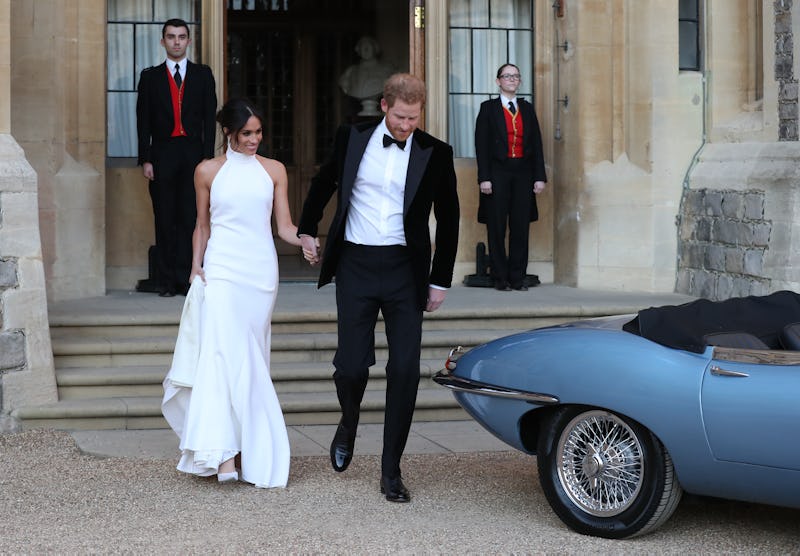 WPA Pool/Getty Images Entertainment/Getty Images
Viewers barely had a moment to catch their breaths from seeing the gorgeous Givenchy haute couture gown Meghan Markle wore for her May 19 wedding ceremony to Prince Harry when the Duchess of Sussex stepped out in a second piece of sartorial elegance for her reception. While the bespoke halterneck stunner was then a one-of-kind from Stella McCartney, you can buy Meghan Markle's royal wedding reception dress, a rep for McCartney confirmed to Elle on Thursday, June 14.
The photo of the chivalrous Duke of Sussex opening the door of his vintage Jaguar for his new bride — clutching tight to the train of her floor-length white silk crepe gown — could have come straight from a fairy tale. Unfortunately for most, scoring one of McCartney's creations may also be nothing more than something rooted in fantasy.
That's because the UK designer is only creating 46 near-replica's of the gown Markle wore to her second reception, hosted by Prince Charles. The main difference with the new version is that the fabric will be sustainable viscose, instead of silk, according to Elle. And if the odds were already against wishful shoppers, of the 46 dresses, only 23 will be available in lily white, while the other 23 will be offered in onyx black. The price tag: £3,500 (approximately $4643.76 USD) each.
The number 23 is in homage to McCartney's newly opened global flagship store, located at 23 Old Bond Street in London. But even though the doors have opened to the public, the dresses will be a bit trickier to buy. According to Harper's Bazaar, "clients will need to request an invitation from the brand to simply get a chance to try on one of these gowns, let alone purchase one."
The publication also added that those hoping to score one of McCartney's personal invitations, must e-mail to request an appointment. This might as well be your shot.
Looking to just catch a glimpse of one of the pieces, available through the designer's Made with Love line? You won't have much luck there either. The Telegraph reported that the gowns are housed in a private exhibition space within the boutique and aren't set out for public viewing. The good news: A McCartney spokesperson did confirm to The Telegraph that the brand intends to extend the Made with Love line into a special spring 2019 wedding collection.
Following the royal wedding ceremony that took place at St George's Chapel, Windsor Castle, McCartney released a sketch of Markle's wedding reception dress via Instagram on May 21. "I am so proud and honoured to have been chosen by the Duchess of Sussex to make her evening gown and represent British design," she captioned the post. "It has truly been one of the most humbling moments of my career. Congratulations Harry and Meghan!"
For those keeping track, Markle accessorized her evening look with Aquazurra shoes, made in silky satin, with nude mesh and the soles painted in baby blue, per a tweet from Richard Palmer, the royal correspondent for London's The Daily Express. A particularly sentimental addition, per Elle, came in the form of an Aquamarine ring the belonged to Princess Diana, Harry's late mother.
While it won't necessarily compare to a McCartney original design, a much safer bet for those of us mere mortals, not lucky enough to be one of the 46 lucky buyers of Markle's look would be to shop a convincing replica of the dress. Originally priced at £22 ($29.19 USD) Boohoo's Faith High Neck Extreme Split Front Maxi Dress is now available for £16.50 ($21.89 USD). OK, so it's made from 95 percent Polyester, but who doesn't love a budget-friendly buy? The bad news, however, is that it's no longer available in white. The company does have red, lilac, and black versions for sale though.
It's unlikely that anyone else could possibly glow the way Markle did in her one-of-a-kind gown, but McCartney is certainly being kind to give a select group the chance to do their best imitation.