You Can Now Get Starbucks' PSL At Your Grocery Store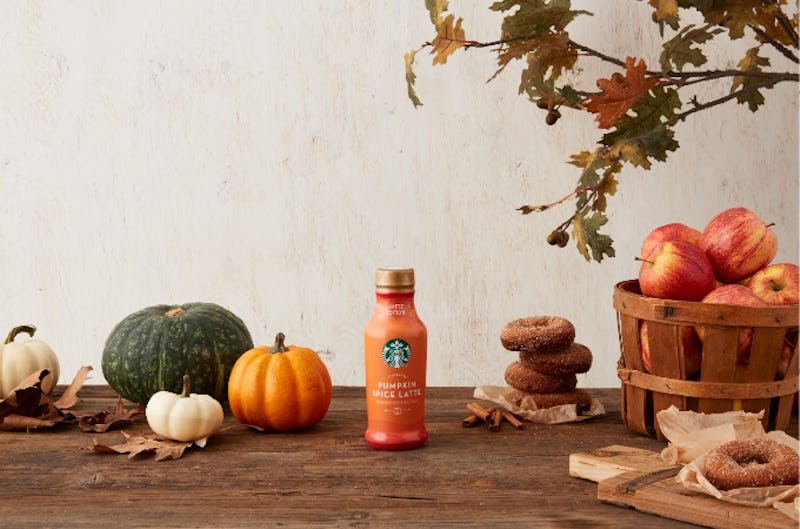 Starbucks
I know, I know: It's still summer, and therefore it's way to early to start talking about things to look forward to in the colder months. We're all holding onto summer with blazing knuckles, happy to take sweltering heat over snow and sleet any day. But, I'm sorry to say (well, OK, not that sorry) that I need to interrupt your summer programming for just one second to tell you that, soon, you'll be able to have a Starbucks Pumpkin Spice Latté at home thanks to two new products hitting grocery stores soon. That doesn't ruin your summer vibes, does it? It's just a little something to look forward to, you know, to help ease you into fall.
It's still not clear when the actual Pumpkin Spice Latté is going to return to the menu at Starbucks, but hopefully this will help to hold us all over until that day comes.
So, what are the new PSL products that are going to hit grocery store shelves?
Pumpkin Spice Flavored Ground Coffee
First up is the Pumpkin Spice Flavored Ground Coffee, which is already available in stores across the country. It's Starbucks' lightest roast, and features that pumpkin, cinnamon and nutmeg flavor that we all know and love. All the pumpkin spice without ever having to leave the house? Heck yes!
Ready-To-Drink Pumpkin Spice Latté
Next up is the chilled, ready-to-drink Pumpkin Spice Latté, which is coming out later this month. It's made with high-quality arabica coffee and, of course, cinnamon, nutmeg, clove spices, and creamy milk. It's perfect to have in your fridge for when you're running out the door but still need that PSL fix. The drink will cost $2.79 for a 14-fluid-ounce bottle — that's almost two cups of pumpkin goodness to go!
Also returning this year will be old favorites like the Pumpkin Spice K-Cup Pods, Iced Espresso Classics Pumpkin Spice Latté, Via Instant Pumpkin Spice Latté, and the Pumpkin Spice Frappuccino Chilled Coffee Drink for when you want those fall flavors without the heat.
OK, now you can go back to your beach trip planning. I'm not trying to speed up the end of the summer — I'm just trying to make sure you know there are things to look forward to come fall. Pumpkin things.