People Think Huda Beauty's Foundation Range Isn't As Inclusive As The Brand Claims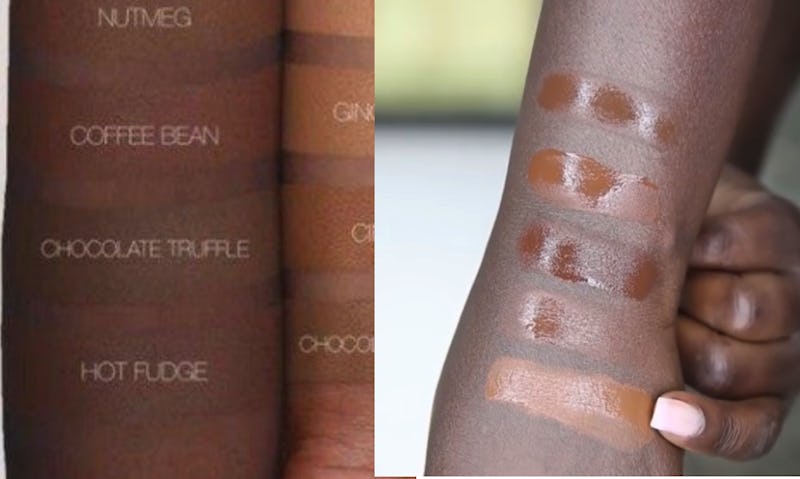 Huda Beauty/Nyma Tang
Women of color are accusing Huda Beauty of promoting inaccurate images of the brand's Faux Filter Foundation, alleging the brand has made the range appear more inclusive than it actually is. And, unfortunately, the evidence is compelling.
In a Twitter thread, user Zee aka @LeCocoapuff explained why women of color are critiquing Huda Beauty's shade range. Zee points out that while the range is quite large at 30 shades, the deepest hue appears to be markedly deeper in Huda Beauty's marketing materials than it is in real life.
In the thread, Zee sources a video by beauty vlogger Nyma Tang, who tested the darkest shade of Huda Beauty's foundation. Despite appearing to be of similar complexion as some of the models used in Huda Beauty's marketing materials, the darkest shade of foundation is too light for Tang's skin tone.
The photo on the left is from Huda Beauty's marketing campaign, while the top right is a still from Tang's video.
Twitter users immediately latched on to the critique, saying models in Huda Beauty's campaign appear to be Tang's complexion. Therefore, the foundation should not match them just as it didn't match Tang.
On her website, Kattan also features a shade matching chart that compares the shades in her range to those of other brands. For the darkest shade, Huda Beauty's chart shows Fenty Beauty 490, the deepest shade in Rihanna's foundation range, as a "slightly darker" compared to Huda's own deep shade.
While some may say it's just semantics since Kattan does admit to Fenty Beauty 490 being "slightly darker," Tang's comparison of the two shades in her video review shows that the hues are much further apart than the chart appears to suggest. Tang swatches Faux Filter first and compares it to other brands, one of which is Fenty Beauty 490 which is the second to last foundation on Tang's arm.
Nyma Tang compares the darkest shades of different brands of foundation. From left to right: Huda Beauty, MAC Cosmetics, NYX, Fenty Beauty, and Lancome.
While Fenty 490 is not the deepest shade shown, it is appears to be more than "slightly" deeper than Kattan's own. Bustle has reached out to Tang regarding criticism of the foundation's shade range.
Responding to Bustle's request for comment about the allegations, Kattan said:
The woman, Yvette, who modelled our darkest shade in our campaign imagery, is actually who we benchmarked the shade Hot Fudge on. We literally formulated it with her in mind so it is basically her skin tone in a bottle. When we first applied the foundation to Yvette's skin, it didn't look like it would be a match but it's because our formula is so heavily pigmented that it needs to be buffed into the skin. At first, it looks like the swatches won't match the skin but once you blend the foundation out, it gives the most incredible skin-like finish. Anyone who knows our brand, knows that we would never have digitally alter those photos. It just isn't what we stand for.
I hope people understand that I hand-mixed the formulas myself, made the shade elaboration, and tested the updated formulas. We shade-matched hundreds of people to ensure that our final selection would be all-inclusive. Creating this foundation was very emotional for me and my entire team.
Huda Beauty also sent a video to Bustle detailing the creation of the Faux Filter that features Yvette, the model with the deepest complexion in the promotional materials. While the video is compelling, there still appears to be a disconnect between how deep Yvette's skin is in marketing images versus how deep her skin is in the promotional video.
Kattan has seen Tang's video, according to her statement to Bustle, and said she appreciates the feedback and is open to subsequent criticism.
"I really appreciated Nyma's video, and I am so glad she made it," Kattan said. "We are listening to her and everyone else's opinion, and I hope that everyone understands how much we care."
The criticism surrounding Kattan's foundation seems to have majorly taken off following critique from vlogger and outspoken advocate for women of color in beauty Jackie Aina. In a YouTube video, Aina explains that she was hesitant to use the Huda Beauty Faux Filter Foundation for a myriad of reasons, including the lack of dark-skinned women on Huda Beauty's Instagram and her own uncertainty regarding Kattan's motivations for launching 30 shades. While Aina received more than her fair share of criticism for calling out Kattan, Revelist found that her assertion that fewer women of color are featured on Kattan's feed is, in fact, true.
When deeper complected women are featured, Revelist found, the posts are typically gags — like this post where a woman does ridiculous makeup rather than a serious beauty look.
While Aina may be one of the most high-profile people to critique Huda, she's not alone. In fact, women of color have been critical of Huda Beauty for quite some time. Revelist sourced tweets from women of color dating back to May regarding Huda Beauty's lack of diversity on Instagram.
Huda Beauty says it is hearing all this feedback by women of color, and taking it to heart when it comes to expanding the line in coming months.
"We are taking all feedback on board, and we're doing our best to grow our shade range in the new year," Kattan says.