Huda Kattan Almost Never Started A Makeup Line At All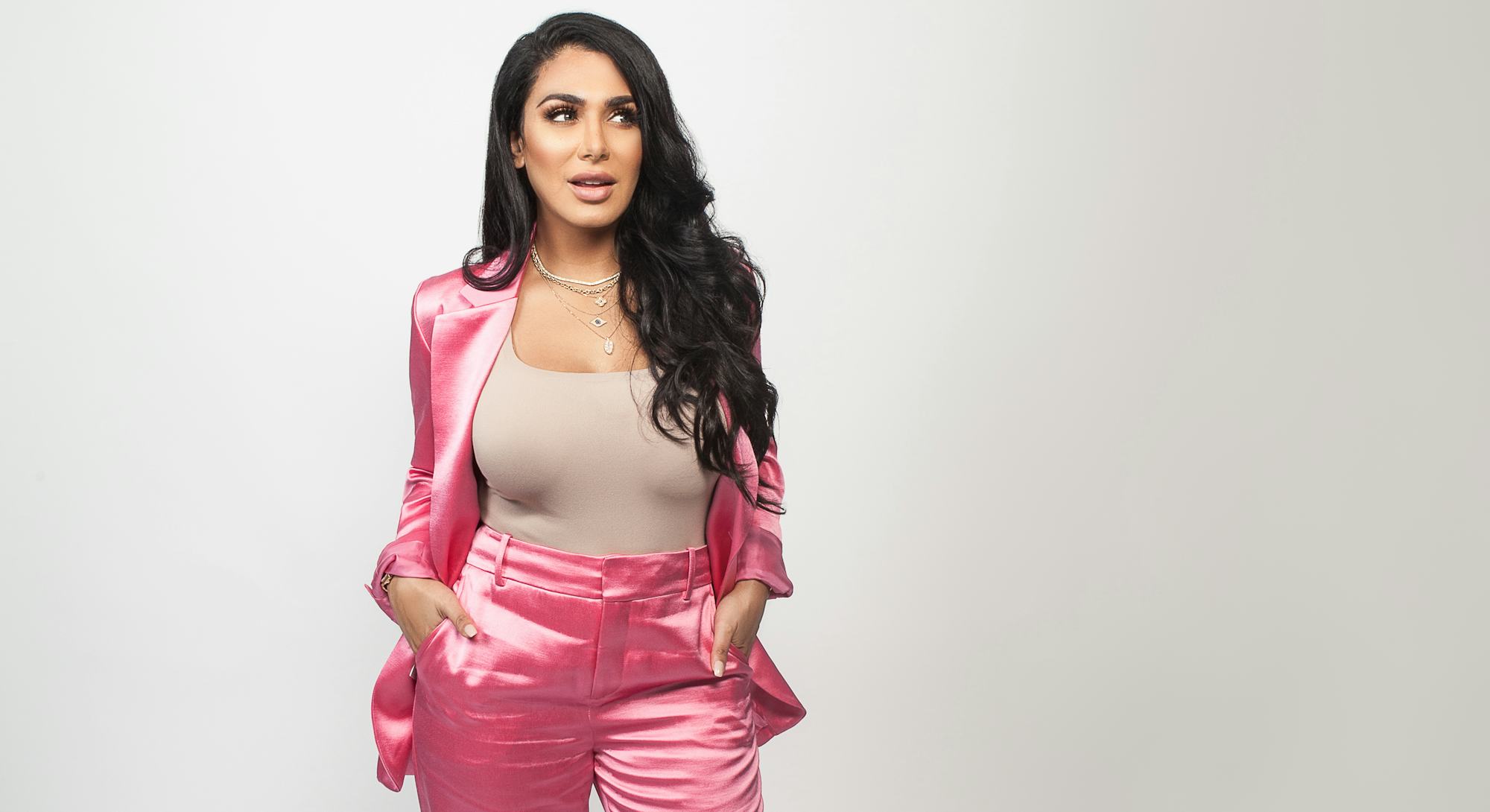 Emily Assiran/Bustle
Huda Kattan's Instagram account boasts 25.7 million followers and over 13,000+ posts. All of the photos and videos on @HudaBeauty highlight beauty — everything from hair to makeup to skin care. And although Kattan's makeup line shares the same name as her Instagram account, only about 30 percent of those posts actually feature Huda herself. The makeup mogul isn't the first or last beauty blogger to create a beauty collection, but in a world where personal brand is often as important as actual product, Kattan has drawn a line in the sand. Huda Beauty might share her name, but much like her Instagram account, the company isn't really about Kattan at all.
"We need to be able to give people what they deserve at the end of the day. I really feel like and think about that a lot," Kattan tells Bustle. "It's just a genuine need to create things that people will really love and feel like [are] useful." Huda Beauty wasn't created just because Kattan had a following, or under the pretense that her fans would buy anything just because she put her name on it. It started with one small product (lashes) and grew slowly, with Kattan assessing what products people deserved to have better options for, and then making them.
As of 2018, just five years after its small launch, Huda Beauty offers 142 individual products, many of which sell out nearly instantaneously. Take the brand's famous Rose Gold palette for instance, which sold out multiple times at Sephora and became a highly sought-after fan favorite almost instantly. In early 2018, Kattan launched a new version of the Rose Gold palette. Not because the original was bad, but because she thought it could be even better. Now that palette is sold out at Sephora, too. The Rose Gold palette is a perfect example of Kattan's one simple goal: to create excellent makeup. But this wasn't always the plan.
In fact, Huda Beauty wasn't originally a makeup brand at all. It was first a WordPress blog, started by Kattan in 2010. Kattan had been working as a makeup artist in the U.S. and Dubai, and she used the Huda Beauty blog to share beauty tips and tricks. After seeing a gap in the market for high quality fake eyelashes, Kattan launched Huda Beauty lashes. And then came eyeshadow, highlighter, foundation, and everything in between. But somewhere in between the simple blog and the beauty empire was a significant pause, and a moment where Kattan questioned whether to start the brand at all.
"I didn't actually want to launch a beauty brand at all — at all. That was never my plan. My plan was to be a beauty blogger; I wanted to stay in my lane and that's what I wanted to do," Kattan says. "I was like, 'I will never do makeup, like that is too big of a project!'"
Kattan's sisters, Mona and Alya — the latter of whom was already helping manage the @HudaBeauty Instagram — encouraged Huda to create her own line. But she wasn't convinced, so she started with something she knew like the back of her hand: lashes. In a 2015 interview with Fashionista, Kattan says that she started with lashes beacause she was "risk adverse."
"I said, 'Let's just start with a few thousand, and if we don't sell them, I'll just use them all.' My sister Alya was my first investor. My whole thing was, if I wasn't going to sell in Sephora, I wasn't going to sell anywhere," Kattan told Fashionista.
"I was a blogger," Kattan tells Bustle nearly three years later. "I didn't want the brands to see me as competition."
But, eventually, with the support (both moral and monetary) of her sisters, Kattan decided to expand her Huda Beauty lashes to other makeup products. Now, five year's after launching the first Huda Beauty product in 2013, Kattan's business includes over a hundred products — and that number is only growing.
One product Huda Beauty doesn't currently offer, though? Concealer. As the first episode of Kattan's new Facebook Watch show, Huda Boss, features, the Huda Beauty concealer was almost ready to launch — until it wasn't.
"It ended up not being a good concealer to launch," Kattan says, explaining that while she did like the concealer overall, there were a couple shades that oxidized and that therefore, it just wasn't good enough. "You know, ultimately, it wasn't right for people. I want people to trust our brand and buy it with confidence. I want them to not feel doubt."
This aspect of the business — the imperfection of it all —  is one that all businesses experience, of course, though few are transparent about. Huda Boss, in Kattan's eyes, is a way for the world to see the ups and downs of running a business with your family, even if it isn't always comfortable.
"We were about to launch [the concealer] and I was about to tease it, and...we didn't want to film then. [We told producsers], 'Really, we can't film right now, there's a lot of shit going on.' And they were like, 'No! We gotta film then! This is like perfect, we have to film now!'"
Huda Beauty isn't perfect, but no brand is. While the brand started with a good dose of uncertainty, Kattan continues to push herself to build the business step by step — even if it scares her a little. Something like Huda Boss is one of those very scary things, Kattan says. The show highlights everything from family dynamics to huge business decisions, but all of it is very raw.
"The show is scary for us...I watched the first episode you know, three or four times, after already seeing it so many times," Kattan says, reiterating how sensitive she is to how she is seen by her friends, family, and followers.
Kattan is very open about her fear of failure. She is genuinely scared of disappointing her followers and her customers. But just like the makeup brand and now, the Facebook Watch show, she pushes forward anyway. Because as Kattan says, at the end of the day, Huda Beauty is her dream — even if it started out as just a tiny idea.
"I think that's kind of how things start, like you start with like a small dream, and then it becomes bigger and bigger and bigger and bigger."