Another Retail Company Just Ditched Ivanka-Branded Products All Of A Sudden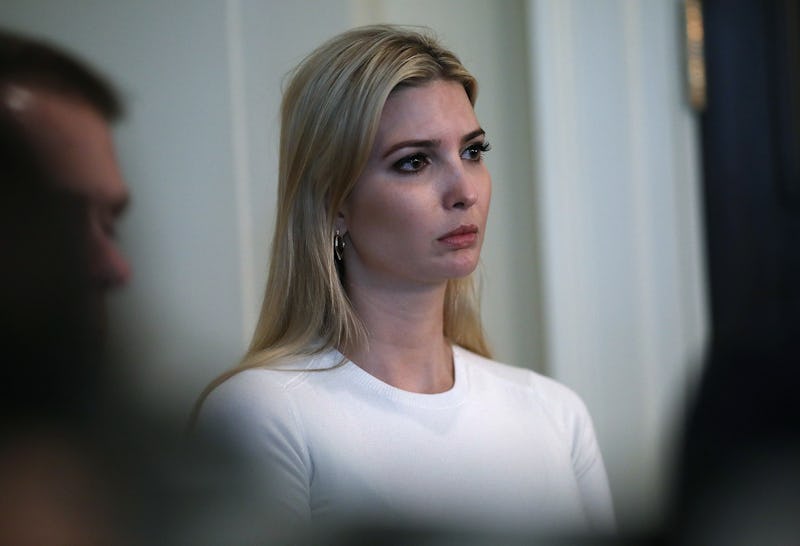 Win McNamee/Getty Images News/Getty Images
Racked reported Friday that Canadian department store Hudson's Bay has dropped all Ivanka Trump products from its website. Shannon Coulter, who started the #GrabYourWallet movement to boycott against that sell Trump-branded products, told Racked that the number of Ivanka-branded clothing items and shoes for sale at Hudson's Bay dropped from 168 on Thursday to zero on Friday.
Coulter founded the #GrabYourWallet movement in 2016 after the leak of the infamous Access Hollywood tape, which depicted Donald Trump bragging that he can grab women "by the p*ssy" without their consent, and Hudson's Bay is one of many companies that its activists have targeted. Although it's unclear if the boycott is directly connected to Hudson's Bay's decision, the company told journalist Richard Southern that it pulled Ivanka's products from its online store due to poor sales.
"Hudson's Bay is phasing out this brand through the fall based on its performance," the company said. "As part of our regular course of business, we review our merchandise offerings and make appropriate changes." A source told the Guardian that Hudson's Bay informed Ivanka's brand of its decision in fall of 2017.
Regardless of the reason, Hudson's Bay is now the latest over two dozen companies to either stop selling Trump-branded products or otherwise end their affiliation with the family since #GrabYourWallet launched, Coulter said on Friday. Its decision comes a year and a half after Nordstrom's stopped selling its Ivanka Trump line; Nordstrom's cited poor sales as well but, unlike Hudson's Bay, explicitly denied that it was taking a "political position" by pulling Ivanka's products. This didn't prevent the president from accusing the company of treating his daughter "so unfairly," however, after the company made the decision.
As a Canadian company, Hudson's Bay had come under increasing pressure to pull Ivanka's products amidst steadily deteriorating relations between the United States and its northern ally. In June, Trump announced that his administration will impose tariffs on Canadian steel and insulted Canadian Prime Minister Justin Trudeau on Twitter after the G7 conference.
Coulter first expressed her reluctance to support Trump-affiliated companies in an October 2016 Twitter thread, wherein she discussed the discomfort she felt shopping at Nordstrom's.
".@Nordstrom: as a woman, longtime customer, and huge fan of your brand, I'm concerned that you carry the Ivanka Trump collection," Coulter wrote in a series of tweets. "I wouldn't be concerned if Ivanka Trump just happened to be the daughter of Donald, but she's not. She works for him, campaigns for him. Although I know there's little way @Nordstrom could have seen any of this coming, I'm not sure how I feel about shopping w/ you now..."
According to Racked, she then teamed up with another Twitter user, Sue Atencio, to compile a list of companies that did business with the Trump family. The list, which Coulter posted online and frequently updates, was later expanded to include companies whose CEOs were politically involved with Trump — for instance, by sitting on various presidential advisory councils — as well as companies involved with Trump's conservative media allies, such as Sean Hannity and Alex Jones.
"What this boycott means to me is that companies that I love, like Nordstrom and Amazon, are making money from the Donald Trump campaign, which to me is synonymous with hate and divisiveness so I can't, in good faith, shop there anymore," Coulter told Racked in 2016. "People aren't boycotting them to punish them or ruin any businesses. They want to support these companies but can't do so in good conscience."
Interestingly, Coulter notes on the #GrabYourWallet website that some types of retailers are exempt from the boycott, such as bookstores that carry books by the Trump family.
"Not only do bookstores sometimes have publisher-level (versus title-level) deals in place, but written material about political figures provides valuable strategic insight, even when that material financially benefits those figures," Coulter wrote.
Despite the success of #GrabYourWallet, several high-profile companies still carry Trump-branded products, including Macy's, Amazon and Walmart.