The Latest Hurricane Harvey Updates Are As Scary As It Gets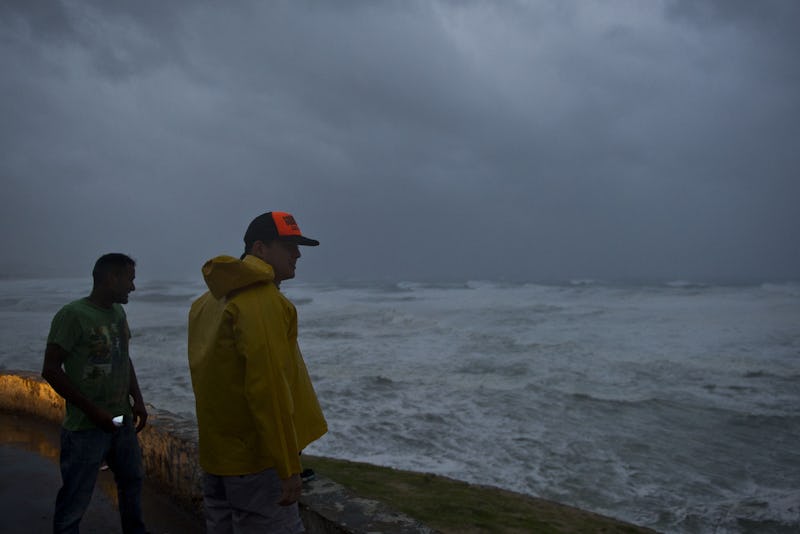 RONALDO SCHEMIDT/AFP/Getty Images
According to some of the most recent Hurricane Harvey updates, the Texas coast will soon be hit with one of the most dangerous storms the United States has seen in years. What was once a mere tropical storm has transformed into a Category 2 hurricane, and mandatory evacuations have been issued in cities and counties across the state's coast.
The National Hurricane Center is regularly updating its predictions about the hurricane's trajectory, timeline, and severity. According to the most recent update, the storm — which is expected to make landfall on Friday morning — could bring "life-threatening and devastating flooding" to the Texas coast, with wind reaching a sustained maximum of 85 miles per hour in certain areas. The total rainfall from Harvey is expected to be between 15 and 25 inches, but middle and upper parts of the Texas coast could see as much 35 inches of rain between when the storm reaches land and the following Wednesday.
Texas Gov. Greg Abbot has declared a state of disaster for 30 Texas counties, and evacuation orders have been issued throughout the coast. As of this writing, mandatory evacuations are in effect in the cities of Port Aransas, Aransas Pass, and Ingleside, as well as well as Calhoun, San Patricio, Brazoria, Refugio, Jackson, Nueces, and Matagorda counties, although some of those orders only apply to certain parts of the counties. In addition, voluntary evacuation orders were issued in Corpus Christi, Victoria County, and the Bolivar Peninsula.
Evacuees can find refuge in San Antonio, a federally- and state-designated evacuation center. It has shelter facilities available to those forced to flee Harvey, and the city is preparing for a deluge of refugees from evacuated cities and counties, according to the San Antonio Express-News. The hurricane is expected to remain in place for several days after it makes landfall, according to ABC News meteorologist Melissa Griffin.
As a result of Harvey's impending impact, coastal residents have been stocking up on emergency supplies, which has led to runs on food, water, and gasoline in some places. ABC 13 posted a picture of a nearly-empty shelf from a grocery store in Missouri City, and there have been reports of long lines at gas stations as well. In response, grocery store Kroger is sending truckloads of water to Southeast Texas from its warehouse in Dallas Fort Worth, according to WFAA.
Hurricane Harvey is also expected to produce a storm surge, which is when coastal water levels rise as a result of the atmospheric changes that accompany a hurricane. Because of this, water levels may rise up to 10 feet along the coast. Waves are expected to be as high as 20 feet, which does not include the expected 10-foot rise in water levels.
In addition to declaring 30 states of disaster, Abbott also ordered the State Operations Center to elevate its readiness level from IV ("normal conditions") to II ("escalated response conditions").
"I ask that all Texans keep those in the Gulf Coast region in their thoughts and prayers as they prepare for this severe weather event," Abbott said in a press release.