This Is One Of The Things Hurricane Harvey Victims Need The Most Right Now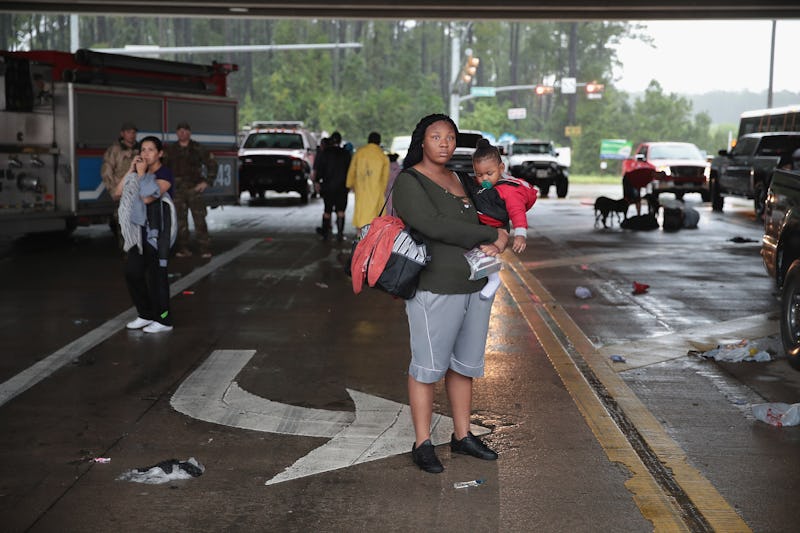 Scott Olson/Getty Images News/Getty Images
Your period can be a hassle on even the best of days. Now, imagine you have your period in the middle of what federal emergency management officials have called the worst natural disaster to ever hit Texas. For many women in Houston, it's not something they need to imagine because it's simply their reality. Hurricane Harvey victims are in need of menstrual products. Here's how you can help.
While Hurricane Harvey may have passed on, Texas still faces widespread damage and devastation. According to CNN, at least 47 people were killed and tens of thousands more were displaced by the storm, which dumped roughly 27 trillion gallons of rain over Texas and Louisiana in just six days.
But, as I Support the Girls founder Dana Marlowe told Circa, "periods don't stop for hurricanes." Women impacted by Hurricane Harvey are in dire need of menstrual products like pads and tampons. And while relief organizations and emergency shelters are working tirelessly to help those impacted by the storm find shelter, food, dry clothing, clean water, and other necessities, they're not always able to provide menstrual products.
Thankfully, there are organizations working to fill that gap by providing women affected by Hurricane Harvey with everything they need for their period. If Hurricane Harvey has inspired you to give back, consider helping the organizations below in giving women impacted by the storm one less thing to worry about: their periods.
#HappyPeriod
Traditionally the non-profit organization #HappyPeriod works to provide homeless and low-income women with pads, tampons, underwear, wipes, and soap – all the necessities for a happy period. The organization is now also working to aid women impacted by Hurricane Harvey. Those looking to help can donate to #HappyPeriod or directly to the group's Houston chapter. You can also choose to purchase items from the organization's Amazon wishlist, which will be used in their Harvey relief efforts.
Distributing Dignity
While the New Jersey-based non-profit Distributing Dignity has already shipped a mountain of tampons to Houston, they're eager to send more along with pads and bras. Donations to the organization's Houston relief efforts can be made via this crowdrise fundraiser.
Simply The Basics
Simply The Basics founder Meghan Freebeck is looking to send thousands of hygiene and menstrual products to emergency shelters in the Houston area. This isn't the first natural disaster the San Francisco-based group has responded to. In 2016, they sent more than 2,000 menstrual hygiene products to those impacted by flooding in Baton Rouge, Louisiana. Those looking to help fund Simply The Basics' hygiene and menstrual kits can donate to Simply The Basics' Harvey relief fund here.
I Support The Girls
The non-profit organization I Support The Girls has so far sent hundreds of bras and tens of thousands of tampons and pads to Hurricane Harvey victims, but they're hoping to send even more. Monetary donations to I Support The Girls (which can be made here) help cover not only the cost of products but also the cost of shipping products to Houston.
The Menstruation Proclamation
Helping I Support The Girls purchase and fundraise for feminine hygiene products is The Menstruation Proclamation, an initiative started last year by a Murray State University student looking to increase accessibility to period products. You can help them purchase pads, tampons, and underwear for Harvey victims by donating here.
Other relief organizations like the Central Texas Red Cross, the National Relief Network, Samaritan's Purse, Global Giving's Hurricane Harvey Relief Fund, and Southern Baptist Disaster Relief are also working to help those displaced or otherwise affected by Hurricane Harvey and need both volunteers and financial donations. Whether you're local and can volunteer your time or are located across the country and able to provide much-needed supplies or a one-time financial donation, every little bit helps.