FEMA Just Gave A Terrifying Update On Hurricane Irma's Potential Damage To Florida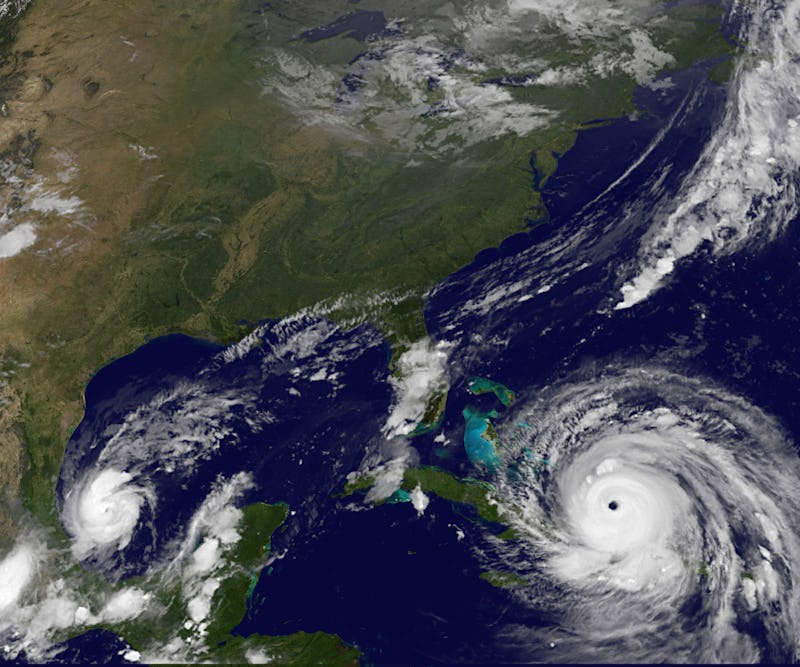 Handout/Getty Images News/Getty Images
Texas has barely begun recovering from Hurricane Harvey and already the United States' southeastern coast is steeling for another major storm, this one likely to be even more disastrous. At a press conference on Friday morning, Director of FEMA Brock Long gave Hurricane Irma updates, warning Florida in grave terms about the damage to come.
Long said that Irma remains "a threat that is going to devastate" the United States, and cautioned states along the southeast coast to prepare for what's likely to come. "Anybody right now from Alabama to basically North Carolina needs to be monitoring and taking preparations," Long said.
But his more dire warning was to Florida, where Gov. Rick Scott has issued a statewide emergency anticipating the force from what was the most powerful Atlantic Ocean hurricane ever recorded. "It's not a question of if Florida's going to be impacted," Long said. "It's a question of how bad Florida's going to be impacted."
Barreling across the Atlantic, Irma has caused widespread damage on Caribbean islands like St. Martin and Barbuda, where it first made landfall as a Category 5 hurricane. Prime Minister Gaston Browne of Antigua and Barbuda told a local network, "Barbuda right now is literally a rubble. ... It is just a total devastation." Photos and videos that have emerged from the islands show buildings torn apart and monstrous winds battering down on what's left standing.
Meanwhile, Floridians have been stocking up on essentials and hastily reinforcing their homes, or grabbing a go-bag and hightailing it out of their cities — if they can get through the traffic on the roads. The state government has issued evacuation orders for many areas and closed public schools in preparation.
The worst damage Florida sustained from a hurricane was when Andrew, a Category 5 storm battered the state in 1992. But forecasters expect Irma — which is far larger, about the size of Massachusetts — to be worse. On Wednesday, Gov. Scott told Florida residents:
I want everybody to understand the importance of this. This is bigger than Andrew. This could be worse.
Already struggling with a dwindling budget and recovery efforts from Hurricane Harvey, FEMA is bracing for more damage from Irma. Irma was downgraded to a Category 4 hurricane on Friday morning (with sustained winds of 155 mph that are still incredibly powerful), but if continues on its trajectory, Florida will lie directly in its path — before potentially heading north, affecting the likes of Georgia, the Carolinas, and, as Long said, Alabama.
Preparations only go so far in anticipation of a natural disaster. With Irma churning toward Florida, Long's warning on Friday for the potentially unprecedented damage is ominous: "I don't know anyone in Florida that has experienced what's about to hit South Florida."