Hurricane Michael's Category 4 Rating Could Break A Dangerous Record In Florida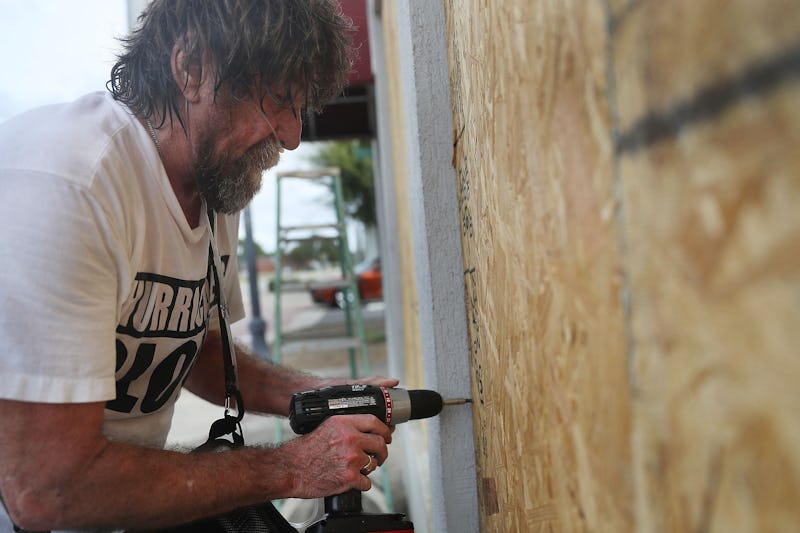 Joe Raedle/Getty Images News/Getty Images
A major storm is expected to strike the state of Florida on Wednesday afternoon — and its strength could be record-breaking. Hurricane Michael's Category 4 rating means the storm will be accompanied by dangerously high winds that could produce significant damage and pose extensive safety risks. As the Washington Post reported, there has never been a record of a Category 4 storm striking the Florida Panhandle since record keeping began in 1851.
As The BBC reported, a Category 4 storm can have winds that reach up to 156 miles per hour. The storm's unprecedented strength could severely impact the Florida Panhandle, causing extensive flooding and structural damage. Florida's governor, Rick Scott, warned of the dangers posed by the storm shortly after it was upgraded to a Category 4 on Tuesday. As Scott tweeted:
Tonight the @NHC_Atlantic forecasted that Hurricane Michael will be a Category 4 storm when it makes landfall. Just as we've said over & over, this storm is DEADLY and could be catastrophic to the FL Panhandle. Do not take this lightly -take action now to protect your life & the life of your family. Stay vigilant & listen to your local authorities and local news reports for the most up-to-date information. Families under mandatory evacuation in the Panhandle and Big Bend need to move inland RIGHT NOW. The decisions you & your family make over the coming hours could be the difference between life & death.
Meteorologists also expressed concern about Michael's strength. As the Associated Press (AP) reported, Ryan Maue of weathermodels.com implied to the AP on Tuesday night that the storm's categorization was quite shocking. "I guess it's the worst case scenario. I don't think anyone would have experienced this in the Panhandle," he said. "This is going to have structure damaging winds along the coast and hurricane force winds inland," he added.
As The Weather Channel reported, a hurricane warning has been issued for much of Florida's Gulf coast, from the Alabama and Florida border to Suwanee River. The warning also includes the southwestern portion of the state of Georgia and some southeastern counties in Alabama. Many other parts of Florida, Alabama, and Georgia are under tropical storm warnings. Other areas in these states, as well as in the Carolinas, are under tropical storm watches.
The Weather Channel also noted that Hurricane Michael is expected to initially strike the Florida Panhandle sometime on Wednesday afternoon. After making landfall, it will likely head upward through the southeastern United States, producing heavy winds and extensive rainfall as it makes its way through the region.
Local officials, including Governor Scott, are warning those who are in the storm's path to make sure they are prepared. As the governor indicated in his aforementioned tweets, people who reside in areas where mandatory evacuation orders have been issued should leave immediately. Those who are in storm-affected areas where evacuation orders have not been issued should make sure they are ready for the storm's arrival.
According to the Daily Express, preparation includes having a hurricane preparedness kit that contains food, water, medications, battery charging packs for electronics, and other essential items. It also means that residents should regularly tune in to local media to make sure they have the latest updates about the storm, especially in case they need to evacuate.
Overall, Michael's unprecedented Category 4 classification means that the storm could have a profoundly devastating impact on the Florida Panhandle. If you are in the storm's path, make sure you heed warnings and take every precaution necessary to ensure your safety.