I Custom Made My Own St. Ives Lotion & Here's The Verdict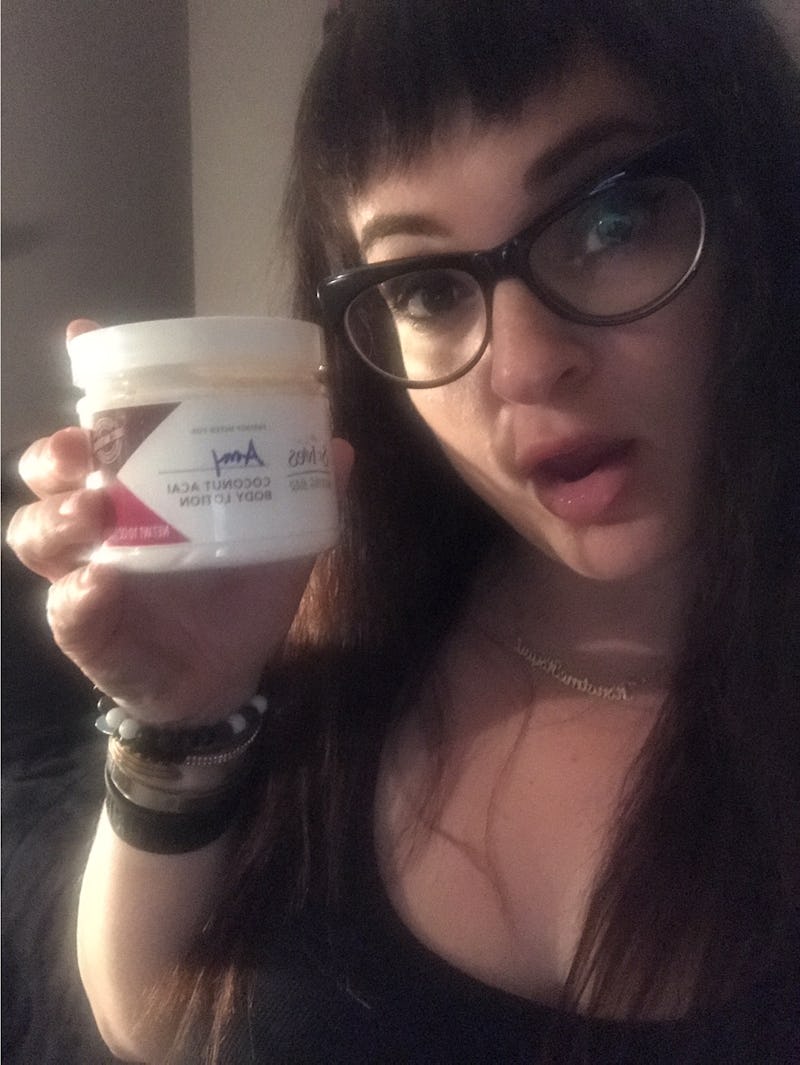 Courtesy of Amy Sciarretto
When I think St. Ives, I think, "Iconic drugstore brand." I loved the company's now-discontinued Swiss Vanilla lotion for the yummy scent and not-too-thick formula, and the signature Apricot scrub, which was my first-ever exfoliant. The brand isn't solely about nostalgia, though. The St. Ives Mixing Bar in NYC is a skincare pop-up shop where you can customize your own lotion and/or face scrub. The pop-up thoroughly modernizes the brand and makes for quite an experiential process.
UPDATE on August 2, 2018: The 2018 St. Ives Mixing Bar is located at 168 5th Avenue at 22nd Street. It is open until September 2018. The following story is about the 2017 pop-up.
EARLIER: The pop-up is only open for six weeks. If you have any plans to hit downtown Manhattan, cruise on over for a little skincare fun.
I customized my very own body lotion at the store preview yesterday and here's the verdict.
First, know this going into the experience. You are not wearing a white lab coat and hair net or scooping out, measuring, and hand-mixing the ingredients. Someone else does that for you... while you watch.
It's only three easy steps. Choose your product, choose your formula/ingredients/scents, and watch it all coagulate and materialize.
Upon arrival, a cheerful greeter with a clipboard and form asked me if I wanted a scrub or a lotion.
Since I am pretty stocked up on exfoliants and because I have a lotion obsession, I made a game-time decision and opted for the latter.
You pick your consistency — light or rich— based on your skin's needs. I elected rich, with Coconut and Acai, because mmmm!
Next, you take your slip to an assigned mixing station, where your lotion maker customizes the concoction in front of you. Say hi to Sophie, the amazing associate who made my lotion.
Alchemy... right in front of my face!
Even as a spectator, it was super fun to watch the lotion come to life and be born before my eyes.
Since I chose a richer formula, it was truly a customized jar, as the mass-produced, on-the-shelves versions are usually lighter.
The moisturizer was then mixed, shaken, stirred, and voila! I was handed a still-warm jar of fluffy white lotion with my name on it.
I used it this morning, right out of the shower while my skin was damp but not soaked.
Despite usually preferring a lighter layer of lotion in hot months, my skin soaked up the thick, yummy-scented cream. The pleasant fragrance has lingered for hours, but not in an overpowering way.
Overall, making the custom lotion is easy, quick, and inexpensive. Sure, it would have been to get my hands a little, uh, dirtier, but that's not practical. Regardless, a moisturizer doesn't get much more fresh than made-to-order.
There are more than 50 customizable combinations, including never-before-seen St. Ives ingredients, such as volcanic sand, papaya, pistachio, lychee, ginger, and many more.
If you like your lotion and your skincare to be uniquely "you," this is the way to do it.