This Holographic Peel-Off Mask Looks Weirdly Satisfying & Totally Instagram-Worthy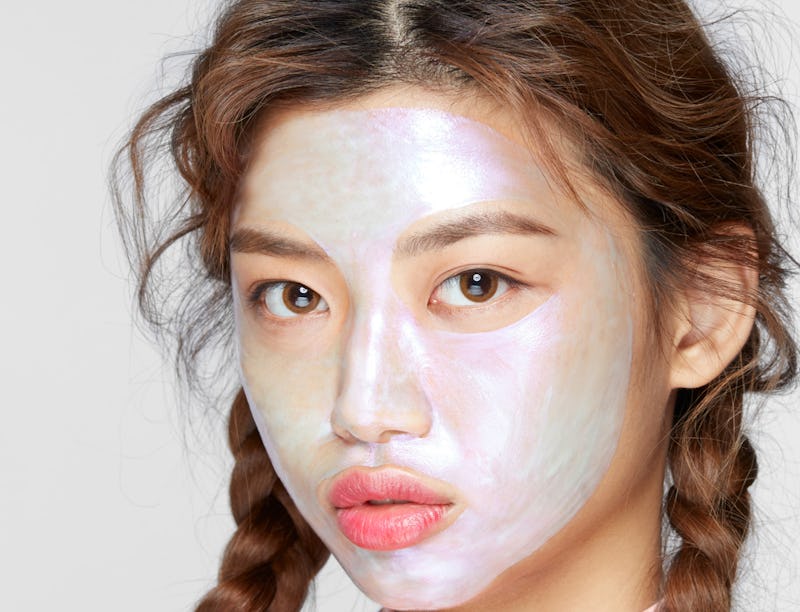 Courtesy of Memebox
The holographic trend isn't relegated to highlighters and lip gloss. Not. Even. Close. It's crossing over into the skin care realm — beautifully so. I Dew Care's Sugar Kitten holographic peel-off mask has arrived and it's about to be Instagram's new favorite masking product.
The 'Grammable mask from Memebox's in-house brand is a legit gem. Seriously. It's infused with real ruby and pearl powder. It's also packed with rose water and hyaluronic acid, which work in concert to hydrate skin and to leave you with that always-desired, extra dewy glow. The formula is packed with good-for-skin stuff.
But here's where the real fun starts. The Sugar Kitten mask starts out as a shimmering, iridescent emerald color. It slowly but surely morphs into a soft, holographic pink upon application. You'll be posting selfies left and right!
But that's not all. I Dew Care has also dropped the Space Kitten Mask. This mask boasts a galactic dose of glitter, which is a burgeoning skincare trend seen in the e.l.f. peel off mask and others.
Space Kitten is also infused with several skin-loving ingredients, such as charcoal, topaz, and diamond powder. The black, peel-off mask sparkles with royal blue glitter. Shimmer always makes skin care feel more like a party than a chore.
Space Kitten's recipe includes volcanic ash and witch hazel. Those elements exfoliate, absorb impurities, and control sebum. You'll be left with a bright and beautiful complexion.
I Dew Care Sugar Kitten Hydrating Holographic Mask, $23, Ulta
The lavender jar will wake up your vanity as an added benefit. To use the mask effectively, apply a generous, even layer to clean, dry skin. Be careful to avoid your eyebrows and hairline. You don't want to be picking crusty mask bits out of your hair days later.
Allow the mask to dry for 30 minutes. Then, gently peel it away from the outer edges of your face. Rinse away any residual product with warm water. Finish your face with toner or moisturizer. Proceed to enjoy your new glow.
You can use the mask in the morning or evening. It's totally up to you, since the product works wonders for skin at any time of the day. If you do indeed opt to apply the mask before your morning makeup routine, it'll ensure some extra glow and a smooth canvas.
I Dew Care Space Kitten Peel-Off Mask, $23, Ulta
Space Kitten lives in a black jar. You use it the same way as Sugar Kitten. Be judicious around your hairline when applying it, since you don't want to gunk up your follicles. Let it do its thing and dry. Remove it gently. Wipe away any excess. Then proceed to go about your day or night.
The blue glitter looks like stars in a night sky. Don't you want to dive in? Both Sugar Kitten and Space Kitten work hard to reveal your best skin, all the while having a good time along the way.
These "meowgical" masks will get you excited about your skincare routine. They both change colors and shimmer, in addition to effectively addressing your skin's needs. Sometimes you need a little motivation to go that extra mile for your skin, beyond the usual cleansing and moisturizing. The new I Dew Care masks will provide all the inspo you need on those lazy days.
A holographic mask makes you a.m. or p.m. routine so 'Grammable. It fits right into the masking culture and community on social media channels.
Sugar Kitten and Space Kitten are part of I Dew Care's "Kitten Dynasty" peel-off masks, which includes last year's viral Disco Kitten Diamond Peel-Off mask. The feline face masks are totally the cat's meow and they are about to take over Instagram.