This Is Going To Be Your New Hamilton Obsession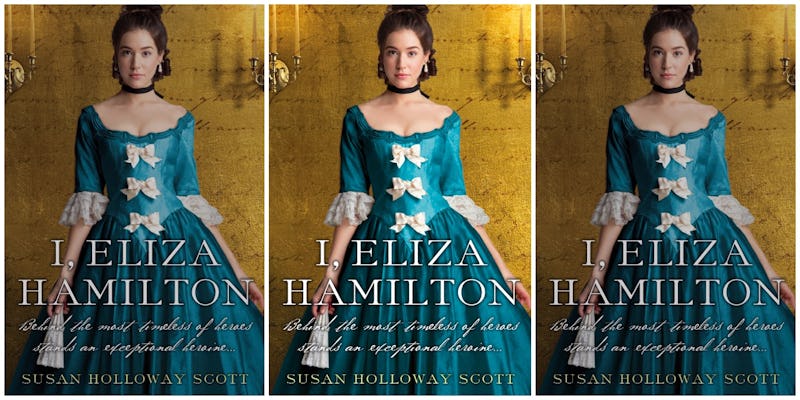 It's 2017 but it's still the year of Hamilton. Sure, the worldwide phenomenon debuted back in 2015 (which feels like a million years ago now, doesn't it?) and it was 2016 that saw its most massive successes. Last year the show's soundtrack won a Grammy and the cast, crew and creatives took home 11 Tony Awards. Hamilton also spawned the behind-the-scenes book Hamilton: The Revolution, a hilarious episode of Drunk History, the PBS documentary Hamilton's America, and The Hamilton Mix Tape, an incredibly powerful album from beloved hip-hop and pop artists, performing songs inspired by the musical.
So, with the original Schuyler Sisters just having smashed a performance at the Superbowl and Lin-Manuel Miranda (hopefully) poised to become the youngest ever EGOT with his recent Oscar nomination, what else does 2017 have in store? Hamilton books. And lots of them.
Books about and inspired by Alexander Hamilton and his fellow revolutionaries are popping up everywhere this year, from young adult to non-fiction. But of course, no Hamilton story would be complete without some romance, and no Hamilton romance exists without Eliza Hamilton, his sweet-tempered but fierce, oft put-upon yet loyal wife. On Broadway, its Eliza who finishes the story. In Susan Holloway Scott's new romance novel I, Eliza Hamilton, its Eliza who starts it. Before we get any further into the details of what's sure to become any Hamiltrash's newest obsession, let's take a look at the cover.
I, Eliza Hamilton by Susan Holloway Scott, $11, Amazon
By now, most of us know the general story of Eliza Schuyler Hamilton. As the daughter of a respected general, she lives a privileged life of socializing with dignitaries and soldiers. Then she meets Alexander Hamilton, and everything changes. They marry swiftly, and make it through the tumult of the American Revolution.
But when Alexander soon becomes one of the new country's most important figures, their life together is anything but simple. While Eliza is an adored and respected member of society, and she manages a growing household while assisting and supporting her husband in his political endeavors, she is unable to prepare for the public scandal, betrayal, personal heartbreak that is soon to follow.
Despite it all her indomitable strength that made her not only Hamilton's most crucial ally in life, but his most loyal advocate after his death, allowed her to preserve his legacy while pursuing her own extraordinary path. So, what makes Holloway Scott's story so intriguing? Well, now we get to see all that we know about Eliza from her own perspective.
In this historical fiction we get to read Eliza's internal thoughts, her reactions to falling in love and being betrayed by her larger-than-life husband, how she felt about motherhood, sisterhood, the war and the forming of a new country. It's an exciting prospect for any Hamilton fan, most especially any obsessed with their romance. While we got to see A. Ham on stage getting frisky with Maria Reynolds and projecting some serious heat with Angelica Schuyler, we didn't get to revel in as much of Eliza and Alexander's love life. Holloway Scott has published over 50 historical novels and historical romances...so you know this one's going to be good.
I, Eliza Hamilton won't be released until September 26, 2017, so you've got a while to wait for some steamy scenes with our favorite founding couple. But luckily you've got a lot of other Hamilton material to hold you over until then.
I, Eliza Hamilton by Susan Holloway Scott, $11, Amazon